Famously Played by the Rolling Stones' Brian Jones in the '60s, Vox's Teardrop Guitars Remain as Distinctive as Ever
These quirky cousins of the familiar AC30 and AC15 combos established an iconic look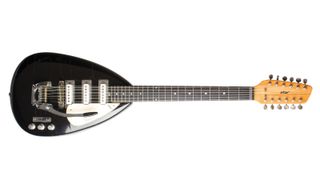 (Image credit: PHOTO BY GEORGE ASLAENDER/GUITAR COURTESY OF RETROFRET VINTAGE GUITARS )
The words classic and Vox might bring to mind that musical-instrument manufacturer's iconic three-letter logo inscribed on the front of a 1960s British amp. But Vox guitars had their brief moment in the spotlight too during those heady years of the British Invasion.
These quirky cousins of the familiar AC30 (opens in new tab) and AC15 (opens in new tab) combos established a look that remains familiar today, even if the instruments themselves are less well known than the tube amps they accompanied in the catalogs of Jennings Musical Industries (JMI), the brand's original owner.
Consider the 1966 V223 Mark XII 12-string shown here. Many guitarists will be familiar with its six-string sibling, the Mark VI, which Rolling Stones guitarist Brian Jones famously used. It's a strikingly original design, but Vox had created others before it came up with this teardrop-shaped model.
Desiring a guitar line to accompany its amps, which were rapidly attaining broad popularity, JMI commissioned the London Design Centre in 1962 to come up with a design, resulting in the original Vox Phantom series.
More coffin shaped than the rounder Mark series that joined the fold in '63, the Phantoms were assembled in JMI's Dartford plant using necks and other parts made in Recanati, Italy, by guitar maker Eko, along with some U.K.- sourced components.
The Phantom and Mark series were produced through the '60s, taxing JMI's already overstretched facilities. In 1966, the company moved guitar production over to the Eko factory, and both lines show signs of this quirkily stylish Italian manufacture.
Despite its very different looks, the Mark XII is essentially laid out like a Stratocaster, with three similar single-coil pickups (Strat-like in themselves, yet with a telltale rectangular cover), three control knobs and a three-way switch.
The vibrato tailpiece found on this Mark XII would be odd on any 12-string, and not very desirable from a tuning standpoint. Regardless, it's a cool visual feature and makes for some bold and unusual sounds.
The unit was a JMI creation called the Hank B. Marvin, named for the influential guitarist of the Shadows, a U.K. beat group best known for its instrumental hit "Apache." The design was essentially taken from the Bigsby template, with a roller bar added to aid string tension.
Other unusual construction features of the Mark XII include the channeled metal double-T bar, which is set within the bolt-on neck for stability, a clip-on padded back cover to guard against buckle rash, and a zero-fret in place of the traditional string nut.
The 12-string Vox models arrived in '65 after George Harrison popularized the electric 12-string sound the year before with his Rickenbacker 360/12. The Mark XII hit the U.S. market in '66, the year this example was made.
A glance at the Vox U.S.A. price list for that year shows the V223 Mark XII retailed for $369.90, plus $44.90 for the Deluxe plush-lined contoured case, which was about $50 more than you'd have paid for a Fender Stratocaster of the same era.
In addition to Brian Jones' endorsement back in the day, various models of Vox six- and 12-strings were seen in the hands of guitarists with Paul Revere and the Raiders, the Hollies and the Dave Clark Five.
Come the new wave, the Cure's Robert Smith would play a Mark VI when assisting as guitarist with Siouxsie and the Banshees, and, later still, Coldplay's Chris Martin would strap on a Mark VI.
In any era, the model's styling remains as distinctive as ever.
Essential Ingredients
Bolt-on maple neck with internal "double-T bar" support
Ebony fingerboard
25-inch scale length
Hank B. Marvin vibrato unit
Three single-coil pickups
Distinctive "teardrop" body shape
Guitar Player would like to thank RetroFret (opens in new tab) for showing us this fantastic example.
All the latest guitar news, interviews, lessons, reviews, deals and more, direct to your inbox!
Dave Hunter is a writer and consulting editor for Guitar Player magazine. His prolific output as author includes Fender 75 Years (opens in new tab), The Guitar Amp Handbook (opens in new tab), The British Amp Invasion (opens in new tab), Ultimate Star Guitars (opens in new tab), Guitar Effects Pedals (opens in new tab), The Guitar Pickup Handbook (opens in new tab), The Fender Telecaster (opens in new tab) and several other titles. Hunter is a former editor of The Guitar Magazine (UK), and a contributor to Vintage Guitar, Premier Guitar, The Connoisseur and other publications. A contributing essayist to the United States Library of Congress National Recording Preservation Board's Permanent Archive, he lives in Kittery, ME, with his wife and their two children and fronts the bands A Different Engine and The Stereo Field.