Watch The Cure's Spellbinding Live Performance of "The Forest" from 1981
By Guitar Player Staff published
Synonymous with the Fender Jazzmaster, Robert Smith is one of the most underrated guitar players of the modern era.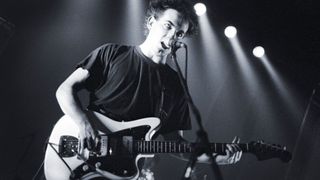 (Image credit: Gie Knaeps/Getty Images)
In The Cure's videos, he was traditionally seen without an electric guitar, leaving the impression that former co-guitarist Porl Thompson was behind the group's densely shimmering six-string magic.
But Robert Smith is an excellent guitarist who's applied his colorful tones and melodies to the group's songs in the studio and live on stage, as seen in this clip from 1981.
"Even people who are quite close to the band are surprised to learn that I played the solo on 'The Edge of the Deep Green Sea,'" he told Guitar Player in 1990.
"Everyone would immediately assume it's Porl."
While many of the Cure's detractors have probably let Smith's personal flamboyance divert their attention from the band's phenomenal pop craftsmanship and stylistic range, as their gargantuan worldwide following proves, the Cure combine sublime pop and heartfelt expressivity like no other band.
As the group's only constant member, Smith richly deserves his due as a guitarist.
Browse The Cure's catalog here (opens in new tab).
Get the latest news, reviews and product advice straight to your inbox.
Thank you for signing up to The Pick. You will receive a verification email shortly.
There was a problem. Please refresh the page and try again.