"I Can See in People's Faces That They Really Feel His Presence. I Feel It, Too": Mike Campbell Talks New Tom Petty and the Heartbreakers Release, 'Live at the Fillmore 1997'
The Heartbreakers' first lieutenant reveals what went down when the band got back to its roots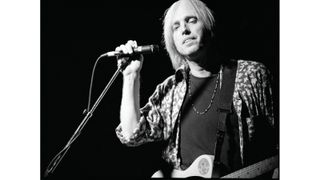 (Image credit: MARTYN ATKINS)
Mike Campbell's musical resume is long and accomplished.
He's recorded and written with Bob Dylan, Johnny Cash, Neil Diamond, Don Henley, Stevie Nicks, Aretha Franklin, Brian Setzer, Joe Cocker, Jackson Browne, Lone Justice, Warren Zevon, Chris Stapleton, Roy Orbison, Roger McGuinn, Paula Abdul, Dwight Twilley – and that's naming just a few. He also toured with Fleetwood Mac during 2018–'19, and leads his own band, the Dirty Knobs, which Campbell formed some years ago.
Primarily, however, Campbell is known as the lead guitarist in Tom Petty and the Heartbreakers. He, Petty and keyboardist Benmont Tench joined forces circa 1970 as part of the Gainesville, Florida, band Mudcrutch, which moved to California and released a single before breaking up in 1975.
A year after that, Campbell, Petty and Tench formed the Heartbreakers, which released 13 studio albums and was inducted into the Rock and Roll Hall of Fame before Petty's shocking death on October 2, 2017, at the age of 66.
In that band, Campbell served as first lieutenant, co-writing, co-producing and lighting up the shows with his ferocious solos. In fact, the Heartbreakers' guitar-drenched 2010 album, Mojo, was inspired by a 1959 Gibson Les Paul Campbell purchased a couple of years prior, and he was also onboard for Petty's three solo albums as well as a resurrection of Mudcrutch in 2007.
Given that background, it's not surprising that Campbell has remained part of the Petty camp, helping to curate and produce the posthumous archival releases that have included the compilations An American Treasure (2018) and The Best of Everything (2019) as well as 2021's Finding Wildflowers, an immersion into Petty's acclaimed 1994 solo outing, Wildflowers.
Campbell was also the driving force behind the latest package. Live at the Fillmore 1997 (Warner Records) hails from the Heartbreakers' ground-breaking 20-show residency at the Fillmore Auditorium in San Francisco during January and February of that year.
It was a landmark stand for the band, stretching beyond the Heartbreakers' own catalog to include a wealth of covers – the album even kicks off with Chuck Berry's "Around and Around" – ad hoc audibles on the stage, and guest appearances by the Byrds' Roger McGuinn and John Lee Hooker, who put the Heartbreakers through their improvisational paces during a nearly eight-minute "Boogie Chillen."
The album is a lengthy look at a highly instinctual band that, while known for its tightly constructed and meticulously produced studio tracks, had the capacity to surprise an audience, and sometimes even its own members.
But the 63 songs on the highly recommended Super Deluxe edition are only part of the story. As Campbell acknowledges, putting Live at the Fillmore 1997 together was a labor of love – and a bittersweet experience without Petty around to be part of it. But the good memories were a balm as he dug into what Campbell says still ranks as one of the best experiences in his long career.
You're an integral part of the Heartbreakers' archive team. Was releasing the Fillmore shows your idea?
Well, it was the one thing I wanted. There are a lot of reissues of the albums with bonus tracks; the estate is taking care of that. Tom's daughter Adria is in charge of cultivating that stuff. I'm involved in a peripheral overseer kind of role. If there's something I don't like, I will object to it, but typically we're all on the same page as far as what the bonus tracks should be and when they should come out.
But the one thing that I really wanted to get my hands on was the Fillmore stuff, 'cause I remembered it being really special. So I always had that in my mind. I kept bringing it up, bringing it up. When it came time to do it, everybody was onboard.
What was it like diving into the tapes and making the album?
Well, it was a lot of material, and it was emotional, because Tom was not there at the re-listening. But we went through it all. Basically, I let Ryan Ulyate, the engineer, do a lot of the initial listening. The rule was, if the vocal is great then put it on the list; if the vocal for some reason is not in the magic zone, we would skip those songs.
Most of the time, the vocals were good, and when the vocals were good the band was almost always good. We went through it and earmarked the best things, and I sat down after Ryan had done the initial logging and signed off on the ones I thought were really good. Then I left the rest to him to mix it.
How did the Heartbreakers wind up doing a Fillmore residency in the first place?
It was during a lull in the routine of touring arenas and recording, and we just felt like we were kind of in a rut. So the idea from Tom came up: "Why don't we go up to the Fillmore? We've got a new drummer [Steve Ferrone] and it'll be a good way to get back in touch with why we started playing music in the first place – to a nice crowd in a smaller room; change the set every night."
Mostly that was it – a chance to change the set and play a bunch of songs we don't get to play in the arena shows.
And it worked. You guys sound like you're having the time of your lives.
It was a great time, yeah. And the Fillmore has a very special spirituality to it, which we picked up on. You can feel the ghosts in that room of all the players that came before you. And the crowds were amazing, the sound was amazing. We had a lot of fun.
Did you prepare for it any differently than you would for a tour, knowing that it was likely to be an anything-goes type of situation?
We had some rehearsals and threw some ideas of covers and deep tracks we could try. And the energy of the rehearsals kind of spilled over at the Fillmore. It was almost like being at a Heartbreakers rehearsal, because anything does go. We might change a song or we might do a song we never played before. It was just very kinetic.
Because you could wind up playing anything, did you, like, take your entire guitar collection and every pedal you owned?
[laughs] I couldn't even get all the guitars I own into the building. We just brought the usual arsenal of things we need: a 12-string for this and that, Gibsons, Fenders, Rickenbackers for certain things. It was approached pretty much like any tour, the same gear. I had an electric Dobro, a black thing with a pickup in it, that I played on one song.
That's pretty vague, but it was a long time ago. I mostly remember the usual arsenal of guitars that we used, with the odd extra thing thrown in, but nothing too extravagant.
So what was a given night like among the 20?
Every day we would put together a set list before the show, and during the set, if it felt like a song didn't seem right coming up next, we might change it in the moment, or a new song might appear. We might say, "Let's play 'Gloria' here," and everybody would go, 'Okay – 1, 2, 3, 4, here we go...'" Anything could happen.
What were some of the more memorable audibles?
You would ask me that... [laughs] Some of the covers we did, like the Zombies song "I Want You Back Again" – that was thrown in a few times. I love playing that song. Not many people know it but we did a good version of it.
There was the odd surf song here and there. "Guitar Boogie Shuffle" might be thrown in at the last second. We had this song called "The Date I Had With That Ugly Old Homecoming Queen" that was actually some music I put together in the afternoon and took to the soundcheck and taught to the band. It was just a riff, a Zeppelin kind of riff thing, and Tom said, "I'll make some words up for that. We'll put it in the show tonight."
So that's how spontaneous it was. From the afternoon to the stage, anything could happen.
There's a nice moment when you play "Slaughter on Tenth Avenue" for your birthday on February 1.
Yeah, Tom picked that song 'cause over the years we would do a surf song now and then. But I always liked that one a lot. So when Tom suggested it, I was happy to dig in and learn the chords. It's a bit complicated, but we got it.
As you re-immersed yourself in these tapes, what did you hear about the evolution of the Heartbreakers as players and a band?
It's interesting, because we did kind of get back to how the band started, which was playing smaller places in Gainesville, like women's clubs or university auditoriums. In those days we weren't afraid to stretch things out and jam a little bit.
But after the Heartbreakers started doing arena shows, there wasn't much room to get all those songs people wanted to hear and also allow the band to stretch out and take chances musically. So at the Fillmore it was looser. There were some songs that might not have an end, that might go on for a minute or might go on for four minutes, and me and Ben and Tom and the band could just kind of jam.
We were really good at playing our hits and making them sound like the records, but I don't think that people knew we were that good of a jam band, 'cause a lot of jam bands tend to get in A minor and noodle, and play for 10 minutes and not go anywhere.
But I think when the Heartbreakers jammed there was more of an arc to it, more of a melodic interplay, and we really listened closely to each other. It was like a musical conversation, and I think that's something that didn't get shared in the arena shows as much. But at the Fillmore, we could show people how good we were at really doing that.
How did the Heartbreakers go about arranging the guitar attack, which was sometimes three of you with Scott Thurston?
Well, I told everybody what to do. [laughs] I'm kidding of course. It was organic. We would learn a song, typically Tom would play the chords and sing, and I would come up with a complementary part, which I always did with him. We had an empathy where he would play something and I could just find the right thing to help him along.
And we'd have Scott: We called him our Swiss Army knife. He could do anything over there, and if we needed an extra guitar part, we'd have him play it. And then on some of the stuff, like "Good to Be King" or "Gloria," stuff where it's going on for a while, I might take a pause on playing solos and Tom might hit a wah-wah and play his solos.
And he wasn't too shabby, either.
Tom had a John Lennon approach to the guitar, where it was all feel. He wasn't, like, an up-and-down-the-neck type of player, but he could get inside the notes and make it sound really good. So he had a chance to do some of that as well.
How were you different as players at the Fillmore compared to those early days in Gainesville?
Older. Hopefully a little wiser. Maybe the nuances were a little more tuned-in over time. You pick up nuances in your tone and your playing – just some maturity, to an extent. But I think we also tapped into the raw, teenage abandon, to borrow a phrase of the early days.
So it was growing and getting more mature and better at your instrument, but also retaining the urgency of the initial excitement of learning to play.
At the end of Fillmore, Tom tells the audience it was the high point of the group's career up to that time. How does it stack up 25 years later?
It's still a high point, and a lot of it is because it was the first time we had done something like that, and it was the Fillmore Auditorium, and that history and the audiences there are so tuned in that it was a real joy to play there. In the following years, we did more of that type of thing.
We did one at the Beacon in New York, at the Vic in Chicago and the Henry Fonda in L.A. – never for a whole month but for a week here and there, so we could go back and revisit that approach occasionally.
Recordings of those will probably come out at some point, 'cause there was some really good stuff there. But the Fillmore stands alone because it was the first one.
Any ideas yet about what the next archival release will be?
I don't really know. Right now they're pushing this one, and it's kind of all-consuming for the machine. I think after this there's a Long After Dark reissue [Tom Petty and the Heartbreakers' 1982 album], maybe, and at some point for me I wouldn't mind looking at the Vic in Chicago run. There was some really good stuff in there.
And also the Beacon. There were some moments there, so maybe we'll dig into that during the next couple of years.
I imagine it's a bittersweet experience for you?
Of course it is, 'cause Tom's gone and that's kind of a hard thing for me to deal with, to sit there and listen to stuff and hear his voice. It touches on some grief that I'm still processing. But I'm a big boy. I can deal with it.
There's a lot of material and it's important, I think, because some of the young people have maybe never heard the old catalog, so when they're re-issued there's a chance for that stuff to be re-experienced.
Is there anything like an entire lost album in the vaults that never came out for some reason?
No. There's a few extra tracks here and there. A lot of them have already come out. But, no, there's no mystical album that's sitting on the floor. There's the live stuff, like I mentioned before. Those are the main things that have never been heard.
You've delighted fans at the Dirty Knobs shows when you've played some of Tom's or the Heartbreakers' songs. Do you feel you have a mission to keep those songs alive and in front of audiences?
Yeah, I feel like it's my responsibility, 'cause I am actively touring and playing shows. It's always bittersweet and emotional, but I think I owe it to the audience to give them some of my past, and they really like hearing those songs the way they should be heard.
Not that I'm a great singer or anything. But I can get inside the songs and I understand how they're supposed to feel, and I understand how the lyrics should be delivered because I was there and I co-wrote a lot of the songs. Some of them I do it just like the records, but I have the freedom to take some license, too.
"Refugee," for instance, it starts off as kind of an Irish waltz, the lyrics right up front, and at the end we kick into the old guitar solo feel. I also do "Southern Accents" as a waltz, just one guitar and very little band, just to get Tom's words across and get the heart of the meaning. I can see in people's faces that they really feel his presence. I feel it, too, and I feel like it's an honor and my responsibility to carry that on.
Are you happy with the progress the Dirty Knobs have made after two albums?
Definitely. We worked really hard last year. It was a wonderful year for us. We built our brand, played a lot.
And then we ended our tour opening for the Who. That was a phenomenon for me to open for them, especially at the Hollywood Bowl, which was our last show and also the last place I played with Tom [in 2017], so that was emotional, but I was proud to have the Dirty Knobs opening for the Who. Who could've dreamed that would happen?
What's next?
We're gonna do a third album in January. I've got quite a few songs left over that didn't make the first two albums that I want to revisit, and then some new songs. They're all in the Dirty Knobs vein – guitar rock, not a lot of production overkill. We've found our little niche and we're gonna stick with it.
And then I want to play more, maybe take it over to Europe, just play as much as we can.
You were part of the last touring lineup of Fleetwood Mac during 2018–'19. What would you like to say about Christine McVie in the wake of her death?
Oh god, yeah, Christine… I really loved her. She was such a sweet soul. Of all the people on that tour, she was just the kindest. Everybody was kind, but she was just so sweet all the time, always cheerful and happy to see you and just happy to play together and so jovial all the time.
And she could really play. She came from a blues background, so she understood the essence of that music, which I really appreciated.
And she's a great songwriter – her songs were the hits, y'know. I just tried to work on her songs and make them sound true to the way she recorded them and just respect where they were coming from.
I'm very sad she left us. It's a great loss for a lot of people, but god bless her. She was really one of a kind.
Order Live at the Fillmore 1997 here.
All the latest guitar news, interviews, lessons, reviews, deals and more, direct to your inbox!