Roger McGuinn's Five Acts of Legend
As a founding member of the Byrds, Roger McGuinn launched the mid-'60s folk-rock movement and, subsequently, heartland rock.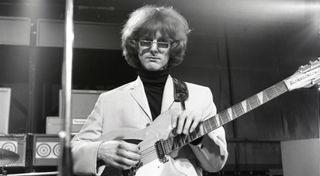 (Image credit: Jeff Hochberg/Getty Images)
Act One
As a founding member of the Byrds, Roger McGuinn launched the mid-'60s folk-rock movement and subsequent heartland rock style that brought acts like Bruce Springsteen and Tom Petty and the Heartbreakers to prominence in the 1970s.
He was born Jim McGuinn on July 13, 1942, in Chicago, and by his mid-teens had become a fan of emerging rockabilly artists, including Johnny Cash, Gene Vincent and Elvis Presley, whose "Heartbreak Hotel" inspired him to take up guitar.
When the Old Town School of Folk Music opened in Chicago in 1957, McGuinn signed up to study five-string banjo.
"My music teacher was friends with [American folk singer] Bob Gibson," he told the Chicago Tribune in 1999. "She invited Bob over to play for one of our assemblies, and when I saw this guy carrying a banjo, I thought, 'Ugh.' But he blew me away. I had to find out more about this folk music stuff, and my teacher told me to check out the Old Town School." Unable to afford a banjo, McGuinn strung his electric guitar with banjo strings.
Act Two
McGuinn spent the late '50s and early '60s performing in coffeehouses on the folk circuit with acts like Judy Collins and the Limeliters, and doing session work on recordings by Collins and Simon & Garfunkel.
When pop singer Bobby Darin jumped on the folk bandwagon in 1963, he took on McGuinn as guitarist and backup singer, and eventually hired him to write songs for his publishing company in New York City's Brill Building.
Act Three
In 1964, McGuinn relocated to Los Angeles and began performing at the Troubadour. His technique of giving traditional folk songs a rock and roll treatment caught the ears of fellow folkie Gene Clark, and they formed the Jet Set with fellow guitarist David Crosby, bassist Chris Hillman and drummer Michael Clarke.
After hearing an acetate of Bob Dylan's then-unreleased "Mr. Tambourine Man" that summer, the group, following McGuinn's lead, recast the tune with a rock-band arrangement. Invited to hear the band perform his song in the studio, Dylan raved, "Wow, man! You can dance to that!"
The Jet Set had changed their name to the Byrds by the time the song was released on April 12, 1965, launching the folk-rock movement. McGuinn changed his own name from Jim to Roger in 1967 after joining the Subud spiritual association, when he was told a name beginning with R would better "vibrate with the universe."
Act Four
As a folk-rock founder, McGuinn defined its guitar sound and technique, both in his choice of the Rickenbacker 360/12 12-string electric and use of banjo-picking techniques.
"I liked George Harrison's Rickenbacker 12," he explained, "but I couldn't find one that looked like his, with the pointy cutaways, so I bought the blonde 360 model."
Despite his love for the guitar, McGuinn was unhappy with its lack of sustain until recording engineer Ray Gerhardt applied tube compression (most likely from a Teletronix LA-2) to it at the "Mr. Tambourine Man" recording session.
"That's how I got my 'jingle-jangle,'" McGuinn said. "I found I could hold a note for three or four seconds."
Using a flatpick, with metal fingerpicks on his ring and middle fingers, McGuinn made use of the banjo-style picking he'd learned at Old Town School. "I discovered I could instantly switch from fast single-note runs to banjo rolls and get the best of both worlds."
Act Five
McGuinn went solo after the Byrds broke up in 1973. He worked with Dylan on the soundtrack to Sam Peckinpah's film Pat Garrett and Billy the Kid, which featured the song "Knockin' on Heaven's Door," and took part in Dylan's Rolling Thunder Revue in the mid '70s.
He's worked with former Byrds Hillman and Clark, and in 2018 he and Hillman toured for the 50th anniversary of the group's' influential Sweetheart of the Rodeo album. McGuinn continues to run the Folk Den, a website he founded in 1995 to preserve folk music, and to perform and record.
All the latest guitar news, interviews, lessons, reviews, deals and more, direct to your inbox!
Guitar Player is the world's most comprehensive, trusted and insightful guitar publication for passionate guitarists and active musicians of all ages. Guitar Player magazine is published 13 times a year in print and digital formats. The magazine was established in 1967 and is the world's oldest guitar magazine.
When "Guitar Player Staff" is credited as the author, it's usually because more than one author on the team has created the story.