Mike Campbell on the Dirty Knobs' Long-Awaited Debut and Finding Joy Playing Small Amps in Small Venues
Former Heartbreaker Mike Campbell discusses gear, songwriting and the secret to successful collaboration.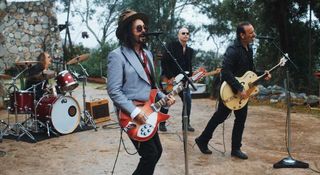 (Image credit: Future/Sheva Kafai)
If he ever tired of his day job as a guitarist, songwriter and producer, Mike Campbell could always go into team counseling. During his nearly 50-year career in music, the veteran picker has become something of an authority on interpersonal relationships.
"You learn a lot about how people tick by being in bands," he notes. "Keeping a group together requires a lot of care and management. A band is like a marriage, but one with four or five brains in it, and each one has a different idea of how things should go."
He pauses, then adds, "It can be a struggle at times, because things flare up. Band members can be like brothers - they get into tangles. But I'll tell you something: When the chips are down, your brothers are there for you. That's the most important thing I've learned."
A dozen or so years ago, Campbell was looking to blow off steam and showcase some of his songs that didn't make their way into the repertoire of Tom Petty and the Heartbreakers, so he formed a side band, the Dirty Knobs.
While a guitarist of his stature could have put together a supergroup, he assembled the Knobs with a batch of stellar, yet under-the-radar players.
The first to join the fold was Jason Sinay, a journeyman guitarist who has played with Jerry Lee Lewis and Neil Diamond, among others. "I did a session and met Jason," Campbell says. "We talked and played a little bit and then just said, 'Let's get together and play some more.'"
Next, Campbell's roadie suggested drummer Matt Laug, an alumnus of Alanis Morrissette and Slash's Snakepit. Laug came to Campbell's house and brought up the name of Lance Morrison, a bassist who had played with artists as diverse as Rod Stewart and the Corrs.
"There was no real audition process for how it came together," Campbell says. "These were the first guys who showed up, and things turned out great. It's a miracle, really."
It took a while for the Dirty Knobs to get around to cutting a proper album ("a dozen years is a bit much," Campbell says with a laugh), but the band's debut release, Wreckless Abandon (BMG), is well worth the wait.
Brimming with soaring and sturdy rockers ("Sugar," "Aw Honey"), gripping ballads ("Anna Lee") and a boatload of raw blues ("Don't Knock the Boogie," "Loaded Gun," "Don't Wait"), it finds Campbell handling the lion's share of lead vocals, with outlaw country star Chris Stapleton guesting on two tracks: the roadhouse-ready "Pistol-Packin' Mama" and the shimmering love song "Irish Girl."
"It took me a while to get a handle on being the guy alone at the mic," Campbell admits. "Playing in bars with these guys got me to a comfortable place where I can engage with the audience. And, of course, I did a song on my own with Fleetwood Mac, so that gave me a lot of confidence."
Universally hailed for his impeccable, elegant riffs and solos, Campbell plays a rougher and rowdier style of guitar on Wreckless Abandon. Many of the album's songs have a decidedly early '70s Stones-like vibe, and the guitarist responds with requisite grit and bravado.
"Keith Richards has always been a big inspiration for me," he says. "I think there were strains of that in the Heartbreakers, but probably more so now. We all love the Stones.
"The rest of the band is a bit younger than me, but they get into the '60s, and I've been educating them. So you hear Keith in what I do, and also some George Harrison and Pete Townshend. Those were some of the guys who turned me on when I was coming up, and they still do."
I imagine cutting this record was both gratifying and bittersweet. You formed the Dirty Knobs with the idea of it being your side band when you weren't busy with the Heartbreakers.
I think "cathartic" is a good way of putting it. It's been a labor of love for me. We would play between Heartbreakers tours. I could workshop songs - some I would give to Tom, others not. But in the back of my mind, this was what I would do if the Heartbreakers ever stopped. Unfortunately, it's happened in a way I didn't expect.
You were no doubt itching to make this record, but your dance card has been full, first with the Heartbreakers and then with Fleetwood Mac.
I was busy. [laughs] That's the long and short answer. I spoke to Tom once about it when I started thinking, 'Wow, I could make a record with these guys,' and he was a little uncomfortable about it. It was kind of funny. Typical Tom, he goes, "Have you got some good songs?" And I go, "Yeah, I think so." He said, "Well, why don't you give them to me?"
Of course!
His take on it was, "Why are you doing that? You've got this," meaning the Heartbreakers. Which I totally understand. And so out of respect for my brother and partner, whom I love, I just decided to keep it on the back burner until some time opened up.
You guys started playing clubs and bars right after you formed.
Which was great. That's really what I wanted - a band that could learn some songs and go play them in bars. That's as far as I thought. As long as we've been together, the Knobs never considered this a commercial venture. Sure, we've made a little money along the way, but it's really been just for fun. We play together, and it works.
You do understand how strange that might sound to some readers currently playing bars and clubs. They'd likely say, "Wait a minute - I want to play arenas!"
Yeah, I know - it's kind of the opposite. You know, God blessed me. I've been so lucky to have all this success, but I started out playing little places. Going back to bars feels like home for me. It's been kind of cathartic not to be at the Royal Albert Hall but to go back to where I began.
Just to be in a room with 200, 300 or 400 people and be able to do whatever I want at any given moment. I can play a song nobody's ever heard of. I don't know - it's felt very comfortable to go back and get in touch with that again.
How would you describe your guitar relationship with Jason?
It's very natural and instinctive. It came together very easily. We just started playing, and there it was. I mean, he kind of looks up to me, because he's a little younger than me, and he's trying hard to fit in with what I was doing.
He has a great instinct for when to step up and when to hold back and how to complement what I'm playing. Jason's a great lead player. I definitely made space on the record for him to play.
But we don't talk about it much. It's funny: Our engineer, Ryan Ulyate, worked with the Heartbreakers. He came over one day, and I played him a song. He went, "Is that all you on the guitar?" And I said, "No, that's me and Jason." I liked that. It proved to me how well Jason and I fit together.
Any leads you can point to that he played? Because it is hard to tell who's doing what.
On "F*ck That Guy," he plays lead. I played rhythm because I was singing, and I said, "Here, why don't you play some slide guitar?" And I gave him something tuned a certain way, and he played great on it. He sounds like J.J. Cale.
He did really good on that, and I don't think he ever played that type of thing before. There's another song called "Loaded Gun," and he plays the screaming guitar part on the end of the song. It's really great stuff.
"F*ck That Guy" is interesting. When I saw the title, I thought it would be a fierce rocker, but instead it's peaceful and meditative, and the guitar solo is beautifully languid.
Chris Stapleton reached out to me. He wanted to come over and write some songs. For about three days, we sat and we wrote several things, and one day he said, "I've got an idea for a song called 'F*ck That Guy.'" And immediately I went, "I say that at least three times a day to somebody." [laughs]
So I wrote words to it, and the band played it once - it was right there. It's got a great swampy J.J Cale groove, and yeah, Jason does a cool solo. But if Chris never came up with that title, there would be no song.
The solo on "I Still Love You" is very dramatic - the sound, the phrasing. Do you have to be in a particular mood to play something like that?
It's dark, but it's also hopeful. It's an older song, and it's the only time I'm referencing a real person. It's about my wife. We were going through a rough patch, and the song speaks to those feelings.
I get very emotional playing it, and in the studio I was in an angst-ridden, tortured, "please forgive me" state of mind. I played it live on the floor; an overdub just wouldn't work. Yeah, that one was close to the bone.
You have a pretty extensive guitar collection. What did you end up using on this album?
I do have a lot of guitars. [laughs] I like to use all of them, actually, but if I had to pick a few that got the most use, well, there would be my 1950 Fender Broadcaster. I can't live without that one.
About 10 years ago, I got a '59 Gibson Les Paul that I used with the Heartbreakers. That was on Mojo and Hypnotic Eye. Those two guitars got a lot of work on this album. For 12-string stuff , there's my '67 Rickenbacker. That's a sound I always love to have.
Obviously, if a song requires blues phrasing or bending, you don't use a Rick. I mean, you can a little bit: You can find a relative open string that can ring underneath the solo. That gives it a kind of bagpipes sound, sort of Roger McGuinn–ish. I love the harmonic ring of Ricks. The older ones sound amazing.
Amp-wise, what did you use?
The same guitar amps I've used for a long time with the Heartbreakers, Fleetwood Mac and the Dirty Knobs. I like little amps, so I use a Fender Princeton and a tweed Deluxe. I've got backups in case they blow up, but they're pretty dependable.
Awhile ago, I did some club gigs with Bassmans and AC30s, but they were too loud and drowned out the vocals. So the combination of the Princeton and tweed Deluxe is just right.
Did you use pedals, or were effects added later?
I used pedals because I wanted to get the sounds live; I didn't want to add those textures during overdubs. For overdrive, I have a [Way Huge] Camel Toe. They don't make 'em anymore, but they're great. They don't sound like a fuzz tone unless you set them that way; they sound like an amp turned to 11.
Actually, they have two sounds I like: one is an overdrive, and the other is a louder, punchier overdrive - an overdrive plus. Between those two sounds, I get my distortion and sustain. For delay, I use a Line 6 DL4. I like it for both long delays that I want to sing or for quick rockabilly delays.
And I have a Line 6 [ToneCore Tap] tremolo. It's got a chorus that I rarely use, and it's got a flanger. Occasionally, I'll hit that if I want to sound psychedelic, and there are times when I use a wah. That's pretty much it. I don't go too crazy with effects.
Are some of the songs on the album things you showed to Tom?
I think there were a couple. Some are pretty new, but there's a handful that have been around for 10 years or so. I'm sure I must have run some of the music past Tom at various points. Like I said, I used to give him a lot of material to go through, so whatever he didn't want to use, I just started stockpiling.
There's certain tracks I think he could have done. "Wreckless Abandon," for instance. It's got the 12-string jangle on it. It crossed my mind a few times: 'God, I wish Tom could have done this one;' I would like to have heard him sing it.
But you know, things turned out the way they did, so I just had to press on and do things the best I could. And the truth is, for good or bad, my guitar sound is a lot of the Heartbreakers' sound. Any time I play, it's going to sound a little bit like that, because that's who I am.
The Dirty Knobs' debut album, Wreckless Abandon, will be released on September 18th via BMG and is available to pre-order.
All the latest guitar news, interviews, lessons, reviews, deals and more, direct to your inbox!
Joe is a freelance journalist who has, over the past few decades, interviewed hundreds of guitarists for Guitar World, Guitar Player, MusicRadar and Classic Rock. He is also a former editor of Guitar World, contributing writer for Guitar Aficionado and VP of A&R for Island Records. He's an enthusiastic guitarist, but he's nowhere near the likes of the people he interviews. Surprisingly, his skills are more suited to the drums. If you need a drummer for your Beatles tribute band, look him up.