"It's so Raw, It's Bloody": Jim Campilongo Explains Why Muddy Waters' Chess Blues Masters Series Album Is His Undisputed Desert Island Blues Disc
The father of modern Chicago electric blues along with Little Walter, Willie Dixon, James Cotton, Otis Span, Tat Harris and others work their mojo on this collection of groundbreaking masterpieces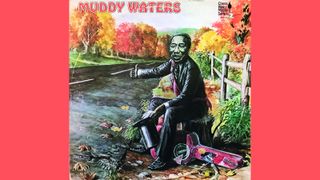 (Image credit: Chess Records)
I purchased Muddy Waters' Chess Blues Masters Series around 1978, when I was a mere 20 years old.
This great double-record set was originally released in 1971 as McKinley Morganfield a.k.a. Muddy Waters and is a compilation of many classic Muddy recordings spanning 1950 to 1956.
At the time, I had enjoyed a few of the great bluesman's tracks, but when I saw this album's cartoonish cover, I knew it was the LP for me.
Soon after buying it, I became a Muddy Waters disciple. I listened to him at home and when I drove, and if I was going over to a friend's house to play Monopoly, I'd bring a Muddy Waters cassette.
Basically, if I was awake, I was listening to Muddy Waters.
Muddy is known as the father of modern Chicago electric blues, and his singing and songwriting have made indelible marks on our musical culture.
The Beatles, the Rolling Stones and Bob Dylan each owe a debt to him. When the Beatles first visited the United States in 1964, John Lennon said he wanted to meet Muddy and went on to mention him by name in his song "Come Together."
"She's All Right" is the first track from this record that I'll spin for the uninitiated.
It features a repetitive riff that speeds up perfectly as the band's emotion grows to a fury. The lyrics swell in intensity too: Muddy sings, "I could've had religion" and "Let the poor boy pray," while the band digs in even harder.
It's so raw, it's bloody.
On the other hand, "The Same Thing" plays like a great pop song, with strong hooks and an almost film noir atmosphere, as Muddy sings, "What makes a man go crazy when a woman wears a dress so tight."
"Rollin' Stone," "I Just Want to Make Love to You," "Rolling and Tumbling," "Long Distance Call," "I'm Ready," "She Moves Me," "Kind Hearted Woman" and many other tracks included in this set are, in my opinion, masterpieces.
The musicians on these tracks include Little Walter, Willie Dixon, James Cotton, Otis Span and Tat Harris, to name a few, and they play a big role in transporting Muddy to another plane.
Little Walter's crying harmonica is a large part of that trajectory. He and many of the sidemen are credible solo artists in their own right.
Additionally, Chess Records cofounder Leonard Chess (credited here with playing bass drum) once noted in an interview that a typical Muddy Waters recording session was packed with attractive female fans.
That might explain why many of the performances are so earthy, seductive and interactive.
Sure, it's the singing and songs that matter most, but in my opinion, Muddy's guitar work is vital as well. Playing the iconic red Telecaster he used for most of his career, he picked out slide licks so emotive that they transcended melody and became pure feeling.
His "take no prisoners" approach to soloing still inspires me to say something meaningful – to throw out the scale/theory book and get my fingers dirty.
And I've always been impressed by the rhythmic approach of these tracks, which often combine a straight feel and a swing feel.
I love how his band switches between the two without it being obvious or sounding manufactured, like they're working some ancient magic.
Muddy Waters records are still my favorite blues music, and if I had to choose one blues album to take to a desert island, this set would be my first choice.
All the latest guitar news, interviews, lessons, reviews, deals and more, direct to your inbox!
Jim Campilongo has 14 critically acclaimed instrumental records available on vinyl, CD and digital download here.