Truefire's Black Friday Blitz: 60% Off Some of the Best Guitar Tuition Around
By Scott Rowley published
Truefire have slashed their prices on annual membership, courses and more.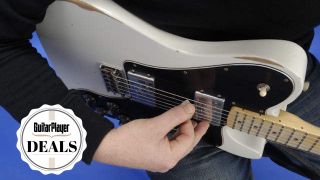 (Image credit: Future)
Online guitar tuition Company Truefire have over 50,000 hours of guitar lessons available from some of the world's greatest player, from Grammy Award winners to top session players.
You can buy courses individually or an all-you-can-eat package. Either way, Truefire have added some serious discounts to fight for their share of the Black Friday weekend action. And that means good deal for you, if you're in the market for pro-shot lessons from the likes of Robben Ford, Larry Carlton, Matt Schofield, Andy Wood, Oz Noy, Tyler Grant, Josh Smith et al.
All Truefire's video guitar lessons include tab, notation, practice jam tracks, slo-mo, looping, and more. And at 60% off (opens in new tab), it's a steal.
Truefire All-Access: was $249, now $99 (opens in new tab)
Truefire's Black Friday Blitz has several time-limited deals, but perhaps the greatest is the annual all-access deal. $99 for access to all the guitar tuition you can manage for a year? I don't know how much you're paying for real-life guitar lessons, but this is going to put our guitar tutor out of a job. (Sorry Dave.)
Also worth remembering is that the Editors of Guitar Player's sister magazines (Guitar World, Guitarist, Total Guitar etc) have collaborated with Truefire (opens in new tab), handpicking their favourite lessons by the likes of Robben Ford, Larry Carlton, Matt Schofield. So if you do pick up this offer, be sure to check their courses out.
If you're looking for more great deals like this check out our Black Friday Guitar Deals page where you can browse hot bargains on all kinds of guitar-related products.
Scott is the Content Director of Music at Future plc, which means he's responsible for the editorial strategy on online and print brands like Guitar Player, Guitar World, Total Guitar, Louder, Classic Rock, Metal Hammer, Prog, Guitarist and more. He was Editor in Chief of Classic Rock for 10 years and Editor of Total Guitar for 4 years. Scott regularly appears on Classic Rock's podcast, The 20 Million Club (opens in new tab), and was the writer/researcher on 2017's Mick Ronson documentary Beside Bowie (opens in new tab).
Over the years Scott has interviewed players like Jimmy Page, Slash, Brian May, Poison ivy (the Cramps), Lemmy, Johnny Depp (Hollywood Vampires), Mark Knopfler, Robin Guthrie (Cocteau Twins), Will Sergeant (Echo & The Bunnymen), Robert Smith (The Cure), Robbie Robertson (The Band), Jonny Greenwood (Radiohead), Joe Bonamassa, Scotty Moore (Elvis Presley), J Mascis (Dinosaur Jr), Mick Jones and Paul Simonon (The Clash), Pete Shelley (Buzzcocks) and more.
Get the latest news, reviews and product advice straight to your inbox.
Thank you for signing up to The Pick. You will receive a verification email shortly.
There was a problem. Please refresh the page and try again.