Best Practice Amps 2021: 20 Of The Best Amps for Practice Made Perfect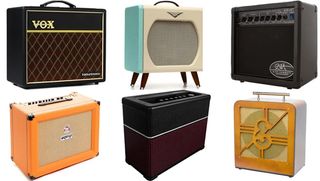 (Image credit: Vox/Orange/Line 6/Ibanez/Epiphone/Randall)
There's only one way to get better at guitar – by practicing. Of course, it helps to have a great guitar amp, one that not only gives you great tone but also inspires you to play.
And if it has built-in effects and utilities like a tuner, metronome, and connectivity to the digital world of apps, downloads and MP3s, so much the better.
Guitar Player went out to find the best practice amps currently on the market, from the most basic-featured combos (for those who like their amps simple) to the best outfitted. Below, you'll find practice combos and heads that are perfect for woodshedding sessions, some that pull double-duty as studio and rehearsal amps, and others that offer computer, USB, Bluetooth, iOS and Android connectivity.
Whether you like your amps with tubes, solid-state circuitry or loads of features, you'll find what you want among these 20 great practice amps.
Explore the latest news and guitar gear offers on our Black Friday guitar deals page.
Bugera V5 Infinium
The Bugera V5 Infinium is a practice and recording amp that serves up five watts of Class A output through a custom-engineered Turbosound eight-inch speaker that reproduces classic vintage sounds. The V5 Infinium features single 12AX7 and EL84 tubes, and it includes Bugera's revolutionary Infinium Tube Life Multiplier Technology, which constantly monitors and tweaks output performance and extends power tube lifespan up to 20 times.

LIST PRICE: $229.99
bugera.com
Line 6 AMPLIFi 75
The Line 6 AMPLIFi 75 combines a high-performance guitar amplifier, a streaming Bluetooth speaker system and a breakthrough iOS app in one device. The amp's full-range, five-speaker stereo design delivers powerful, detailed tones, and Bluetooth connectivity lets you stream tracks from any Bluetooth-enabled device directly to AMPLIFi 75, which is perfect for jamming at full volume, playing back songs at rehearsals and hearing every detail of your favorite songs.

STREET PRICE: $399
line6.com
Carr Amplifiers Raleigh
The Carr Amplifiers Raleigh is a versatile practice/studio amp that delivers pristine clean and heavily overdriven tones at usable volumes. Features include three watts of output, an all-tube design (one EL-84, two 12AX7), two voices (Sixties Clean and Heavy Sustain), an OD channel master volume, a Hemp-cone 10-inch Lil Buddy Eminence American-voiced speaker, point-to-point wiring, Solen Aerospace Satellite power-supply capacitors and Custom Carr power/output transformers.

STREET PRICE: $1,350
carramps.com
Port City Amplification Merino
This hand-wired, 10-watt tube amplifier recalls the tweed-style tones of the past and provides a clear and smooth platform for a wide variety of playing styles. With a very useful and simple set of volume and tone controls, it lets you achieve your ideal sound in seconds. The combo comes with a WGS G12C, a speaker that works together beautifully with the Merino to give the player smooth speaker breakup at reasonable volume levels. At a strong 10 watts, this amplifier is capable of easily holding its own with a full band or keeping it controlled for small practice spaces.

STREET PRICE: $1,650
portcityamps.com
Mesa/Boogie Transatlantic TA-15
The lunchbox-sized all-tube Mesa/Boogie Transatlantic TA-15 has two footswitchable preamp channels containing five modes and three selectable power choices per channel. The TA-15 also features multiwatt channel-assignable power that offers three classic power choices per channel: 25 watts of dyna-watt power for maximum headroom, 15 watts of Class A power or five watts of single-ended Class A output for the ultimate vintage clip.

LIST PRICE: $899
mesaboogie.com
Yamaha THR10C
Yamaha's THR10C portable combo guitar amplifier delivers amazing classic tube amp tones along with incredibly useful tools for songwriting, recording, and practicing. Choose from five intricately modeled classic tube amp types, or plug in your bass or acoustic guitar directly. You also get a three-band EQ, four modulation effects, and four reverb/delay styles to shape your sound. Use the THR10C's stereo speakers for external playback from your iPod or computer. Battery power lets you take your tones anywhere and, thanks to its USB connectivity, it can fit easily into your studio.

LIST PRICE: $465
usa.yamaha.com
Roland Cube-10GX
Roland's Cube-10GX is a compact 10-watt guitar amp with custom-designed eight-inch speaker. It features three COSM amp types – Clean, Crunch and Lead – as well as chorus, delay and reverb (including plate and spring reverb types). Custom COSM amps can be downloaded with the free Cube Kit app for iOS and Android devices.

LIST PRICE: $139
rolandus.com
Marshall MG10CF
Marshall's MG10CF is one of the company's best-selling compact practice amps, and it can be found backstage at countless concerts. This sturdy 10-watt amp has one 6 1/2–inch speaker, Clean and Overdrive channels, an MP3/line input and a headphone jack for silent practice.

STREET PRICE: $79.99
marshallamps.com
Vox Valvetronix VT 20+
The Vox Valvetronix VT 20+ has 33 amp models and 25 effects that can be quickly edited and adjusted from the amplifier panel. Each amp model features three variations, for a total of 99 ready-to-use presets. The amp's power level can be lowered to get full, rich tone at modest listening volumes and can be raised up to 30 watts. Other features include a stereo MP3/CD line input and a headphone/line out jack with Vox emulated speaker response.

LIST PRICE: $245.99
voxamps.com
Epiphone Limited-Edition 75th Anniversary
Inspired by a 1939 Century Amp: This 18-watt reissue of an art deco masterpiece from Epiphone's early days in New York City features redesigned electronics, two 6V6 and two 12AX7 tubes, one 12-inch speaker, a Boost mode, a master tone knob, and bright, normal and dark inputs. Other features include an extension speaker output, footswitch jack and internal bias adjustment.

LIST PRICE: $665
epiphone.com
Carvin Vintage 16
Available as a VT16 micro head and as a 1x12 combo, Carvin's Vintage 16 is a low-wattage, boutique-style recording/practice tube amp. The soak control lets you create everything from stout clean tones with rich midrange body to an upper-midrange tweed-like snarl, and the amp's all-tube design incorporates one 12AX7 preamp and two EL84 output tubes, creating a crisp 16 watts in Pentode mode and five watts in Triode mode.

PRICES: VT16 head, $369; Vintage 16 combo, $399
carvinaudio.com
Randall Kirk Hammett KH-15
The Randall Kirk Hammett KH-15 is a 15-watt practice combo with 6 1/2–inch Randall speaker. It features two channels – Clean and Hammett Overdrive – and includes a boost, a three-band EQ section, a headphone jack and a CD/tape input.

LIST PRICE: $179.99
randallamplifiers.com
Peavey VYPYR VIP 1
The Peavey VYPYR VIP 1 is a 20-watt amplifier that features Peavey's Variable Instrument Performance technology, which contains bass guitar, acoustic guitar and electric guitar amplifier models. The amp uses a combination of powerful 32-bit, floating-point SHARC processors and patented Transtube analog circuitry to create its modeling amplifiers. The USB port provides an easy way to record, connect to Peavey VYPYR software and practice to backing tracks.

STREET PRICE: $129.99
peavey.com
Fender Mustang I V.2
The Fender Mustang I V.2 is a 20-watt amp featuring one eight-inch Fender Special Design speaker and 18 amp models, five of which are new and include '57 Twin and Sixties Thrift. The amp also includes new modulation, reverb and delay effects and intelligent pitch shifting. USB connectivity and Fender FUSE software allow deep editing of programs as well as preset storage, patch swapping and free artist content.

LIST PRICE: $169.99
fender.com
Orange Crush Pro 60
The Orange Crush Pro 60 is an analog, solid-state, two-channel, 60-watt amplifier based on the Orange Rockerverb range. The Dirty channel uses a circuit based on four stages of gain and a three-band EQ that provides a wide pallet of overdriven and distorted sounds. The Clean channel is based on a two-stage, two-band EQ design that delivers a clear but warm sound that, when cranked, begins to break up into overdrive.

STREET PRICE: $499
orangeamps.com
Blackstar ID:Core 40
The Blackstar ID:Core 40 is a 2x20-watt wide-stereo guitar amplifier that lets you custom design your own tones using its Voice control, which features six settings – Clean Warm, Clean Bright, Crunch, Super Crunch, OD 1 and OD 2. Blackstar's patented ISF control lets you dial a combination of American- or British-style tones, and the amp's effect section delivers studio-quality modulation, delay and reverb effects simultaneously that you can also store with your sound.

LIST PRICE: $280
blackstaramps.com
VHT i-16
The VHT i-16 combines 16 watts of real tube amp tone with VHT Tone-Link circuitry that provides access to iPhone, iPad and iPod Touch modeling apps. The VHT i-16 features a 12AX7 preamp tube running at 300 volts for tube amp dynamics and texture, and has controls for volume, tone and master. The volume control has a footswitchable pull-boost feature, and the i-16 also has jacks that provide easy access to PC-based software and virtual instruments.

STREET PRICES: $239.99; 1x8 combo, $269.99
vhtamp.com
Ibanez TSA5TVR
The retro-looking Ibanez TSA5TVR is an all-tube, Class A five-watt combo with a genuine TS808 Tube Screamer circuit, accessible by a control-panel toggle switch or optional IFS1G footswitch. The Tube Screamer mates perfectly with the amp's 12AX7 preamp tube and 6V6GT power tube. The TSA5TVR features an eight-inch Jensen C8R speaker, selected for its excellent response to overdrive distortion.

LIST PRICE: $533.32
ibanez.com
Hughes & Kettner Tubemeister 5 Combo
Featuring one channel with clean and drive options, the Hughes & Kettner Tubemeister 5 combo delivers five watts of warm tube tone and offers up a phenomenally dynamic range, from sparkling cleans to harmonically rich distortion. The amp features an eight-inch Celestion speaker housed in a vented, dovetailed birch-ply enclosure tuned to broadcast its big, bold voice.

LIST PRICE: $629
hughes-and-kettner.com
Nace Amps PRO-18
The PRO-18 vacuum tube guitar amplifier is packed with new features not found in other boutique amps. They include a true variable power output control that can vary output power from one watt to 18 and all points in-between, giving you a practice amp and stage amp in one. High- and low-impedance input front-panel jacks let you easily daisy chain multiple amps or use the low input to add recorded rhythm from your IPhone, IPad, or other portable device. New back-panel features include a 1/4-inch jack boost control, effect loop, and 1/4-inch balanced and unbalanced record outputs that emulate the SPL of the Celestion 12-inch Greenback.

STREET PRICE: $1,799
naceamps.com
Get the latest news, reviews and product advice straight to your inbox.
Thank you for signing up to The Pick. You will receive a verification email shortly.
There was a problem. Please refresh the page and try again.