An all-in-one solution for practice, learning and home recording, Spark is a feature-packed desktop amplifier and a triumph of amp innovation.
Pros
+

Fantastic amp and effects modeling from BIAS FX.

+

App delivers more than 10,000 BIAS-powered tones.

+

Auto Chord Recognition and jamming accompaniment is an excellent learning tool.
Cons
-

Auto Chord Recognition not always accurate.

-

Volume jumps when changing amp models.
You can trust Guitar Player. Our expert reviewers spend hours testing and comparing guitar products so you can choose the best for you. Find out more about how we test.
Practice amps have come a long way from the low-tech combos of yore. Digital modeling and effects, built-in tuners and even rhythm patterns have become customary on modern examples, helping guitarists get great tone and assistance for woodshedding and songwriting.
Positive Grid's new Spark practice guitar amp and app take that idea to an entirely new level. Spark's comprehensive features allow it to integrate fully into your musical life at home, from practice to recording to jamming and songwriting.
Designed for electric, bass and acoustic guitar, Spark is a 40-watt desktop combo that offers modeled amps and effects from Positive Grid's award-winning BIAS FX line.
It can also play music in stereo via Bluetooth from streaming services or from external sources patched into its aux input and USB I/Os. And it can even serve as a two-in/two-out interface for your DAW.
But what makes it a "smart" amp is the Spark app's Auto Chord Recognition feature, which displays chords in real time for any song on your iOS or Android device. The app also has a virtual rhythm section you can jam with in a variety of genres, and its Smart Jam feature can learn and provide backing to any eight-measure chord progression you create.
First and foremost, though, Spark is a desktop amp, and a tidy-looking one at that, dressed in supple black textured vinyl and sporting a classic-looking brown-and-tan grille cloth and removable leather handle.
Weighing nearly 12 pounds and measuring roughly 14 by 7 by 7.5 inches, Spark looks and feels solid. Its top panel has controls for amp type, gain, bass, mid, treble and master volume.
The effects section provides controls for modulation, delay and reverb, and there are individual knobs for your signal's output volume and the volume of accompanying music from streaming or sources patched into the aux and USB connections. Look closer and you'll find a tap/tuner button and a line of four LED-lit preset switches.
In Play mode, the tap button sets the tempo for the delay effect, and the preset buttons let you save and recall your favorite settings. In Tuner mode it becomes a tuner, with the four LED switches indicating pitch.
Finally, around back are a Bluetooth status indicator, 1/8-inch aux input for an analog device, USB port for connecting to a computer for recording and firmware updates, and the DC input for the supplied 19-volt adaptor.
Don't be fooled by its size. Spark has 40 watts of full-range sound from two custom-designed four-inch speakers, with a tuned bass-reflex port that allows it to produce deep and full bass as well as pure, crystalline highs.
As an amp, it's dead simple to use: Simply plug in, choose your amp type and dial in your preferred tone and effects.
Spark has five types of modeled guitar amp - clean, glassy, crunch, hi-gain and metal - as well as one bass and one acoustic amp model onboard. The models all sound great, with the glassy setting delivering the softer, warmer and compressed tone you'd expect from a tube amp.
The individual mod (chorus), delay and reverb controls make it easy to dial in effects, too. Connect to the app for iOS and Android, however, and things kick into high gear. The app comes preloaded with 30 additional presets styled after famous amps you know and love, and you can dial them in as you wish, add effects and more.
The app is also your key to the Positive Grid ToneCloud, an ever-growing library of more than 10,000 amp-and-effects presets created by professional and famous guitarists, session players, studio engineers and producers. The options are seemingly endless, and the BIAS tone engine delivers them in stunning realism.
Spark's Auto Chord Recognition feature is also accessed through the app, which connects with platforms like YouTube, Spotify and Apple Music to analyze and display chords for songs in real time.
When you select a track to play, the app will either begin streaming the song and displaying chord blocks or, for songs it's unfamiliar with, ask you to wait 15 seconds or so while it begins transcribing.
The app works seamlessly, with no time lag whatsoever. However, as automated chord detection is still in its infancy, I wasn't expecting perfection.
In my tests, Auto Chord Recognition was largely accurate, even on songs with lots of chord changes, but it seemed to be thrown by extended chords and busy bass lines.
For example, while the Spark app had no trouble deciphering the sophisticated chords in Glen Campbell's recording of Jimmy Webb's "Wichita Lineman," it simplified some of them, rendering major 7 chords as standard major triads, and frequently suggested passing chords that the song's main guitar wasn't playing.
The results were similar with an easier song like Tom Petty and the Heartbreakers' "Don't Do Me Like That," and the app occasionally offered up different chords on later verses than it had suggested in the previous ones.
Commendably, Auto Chord Recognition worked even with songs whose pitch falls between the cracks, and at this point in time I wouldn't quibble too much about any shortcomings. The feature will train your ears to identify chords and help you learn virtually any song you throw at it.
In addition, the app can slow the song and loop sections to help you practice your way through any difficult passages. Next up, I decided to try a little jamming.
The Spark app currently provides prefab jams in four genres (pop, rock, funk and blues), offering thousands of different drum and bass combinations in typical song format, all while displaying chord blocks and letting you dial in bpm.
These are great for noodling and woodshedding, but if you'd like to make up your own jam or work on songwriting, the app's Smart Jam feature will learn an eight-measure piece of music of your own creation and provide a virtual drummer and bassist to accompany you.
Simply select a virtual drummer, each of which are designed to play a specific genre or style, and jam away. As of this writing, there was just one virtual drummer, and while it will keep you busy with hundreds of drum and bass patterns, more drummers are on the way.
As mentioned above, the Spark amp is also a useful, if spartan, two-in/two-out recording interface and comes with PreSonus Studio One Prime recording software, should you currently be DAW-less.
Spark's interface has a fixed sample rate of 48kHz, and while it won't replace your existing digital audio interface, it makes it easy to get sounds from Spark into your DAW (or vice versa), and when combined with a laptop is a handy travel package for home recordists on the go.
Clearly there's a lot to take in here, but the bottom line is that Spark is a great-sounding, feature-packed desktop amp that does a lot of cool stuff extremely well. It's not without its kinks.
If you have the volume on the amp presets at different levels, be prepared for an occasionally big jump in volume as you switch between them. In addition, the hi-gain setting can hiss like the real thing, but thankfully the Spark app provides a virtual Noise Gate to help you tame the noise.
In the end, though, I found plenty to like about Spark, from its amp models and effects to the accompanying app and its versatility as a learning, jamming and recording tool. Spark looks and sounds great, and its Auto Chord Recognition and jamming features will undoubtedly make better players of us all.
As a bonus, the Spark app responds to voice command, so you don't have to lift a finger to request a song or backing track, or to call for the virtual band. I have little doubt Spark will light a fire under other manufacturers, and for all that, it earns our Editors' Pick Award. Well done!
Specifications
PRICE: $299
CHANNELS: 1
I/O: 1/4-inch input, 1/8-inch headphone, 1/8-inch aux input, USB
CONTROLS: Amp type, gain, bass, mid, treble, master, mod, delay, reverb, output volume, music volume, tap/tuner button, programmable preset buttons (x4)
POWER: 40 watts
EXTRAS: Spark app for iOS and Android, PreSonus Studio One Prime recording software
SPEAKERS: Two custom designed 4"
WEIGHT: 11.46 lbs
BUILT: China
CONTACT: Positive Grid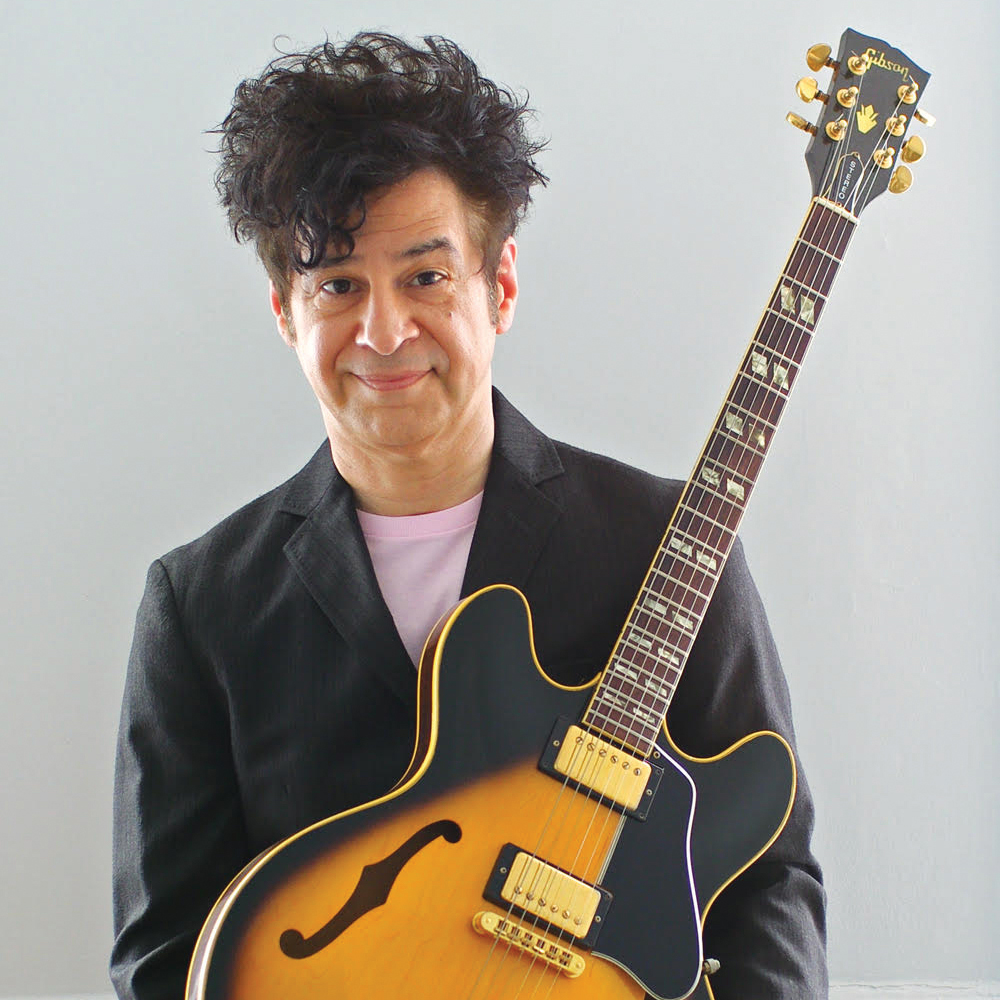 Guitar Player editor-in-chief
Christopher Scapelliti is editor-in-chief of Guitar Player magazine, the world's longest-running guitar magazine, founded in 1967. In his extensive career, he has authored in-depth interviews with such guitarists as Pete Townshend, Slash, Billy Corgan, Jack White, Elvis Costello and Todd Rundgren, and audio professionals including Beatles engineers Geoff Emerick and Ken Scott. He is the co-author of Guitar Aficionado: The Collections: The Most Famous, Rare, and Valuable Guitars in the World, a founding editor of Guitar Aficionado magazine, and a former editor with Guitar World, Guitar for the Practicing Musician and Maximum Guitar. Apart from guitars, he maintains a collection of more than 30 vintage analog synthesizers.