Is NAMM History?
Find out how this year's Anaheim event gave insights to the future of acoustic gear – and of the show itself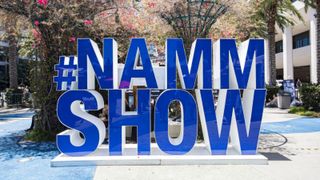 (Image credit: Daniel Knighton/Getty Images)
For the first time since 2020, the music industry descended upon Mickey Mouse Land to get its NAMM dance on, and from jump street it was – well...weird.
We may have been in the right place – the Anaheim Convention Center – but it was the "wrong" time.
NAMM took place on the first weekend in June, whereas Anaheim traditionally hosts the huge Winter NAMM Show in January, and Nashville presents a smaller Summer NAMM Show in July.
While a scaled-back event was held in Nashville in 2021, this year's bash was intended to be the extra-large experience the Anaheim show usually is.
The turnout, however, was extra small.
If the Anaheim show is a primary litmus test for the state of the musical instrument biz, what does it say about the industry's health?
In short, it's complicated.
Some manufacturers – the majors, mostly – are thriving, while the majority are struggling. The sheer number of empty aisles at the show indicated that many not only didn't make it to the show – they didn't make it, period.
Everyone has had to adapt, and the situation remains fluid as the pandemic continues to wreak havoc on supply chains and personnel.
With the show taking place amid Orange County's COVID surge, the story this year was less about new gear drops and celebrity performances, and more about human beings.
There was an overwhelming sentiment of, "Damn, it's good to see you again!" The first exchange was always some version of "How've you been?" followed up with anecdotes about life under COVID.
The survival stories were compelling, and some were epic – like listening to a family history of how their folks made it to the New World.
New-gear talk seemed like an afterthought.
But talk new gear we did. In the absence of Gibson, Fender and PRS, Martin and Taylor had an outsized presence, and their booths drew hordes.
"We were pleasantly surprised," remarked Fred Greene, Martin's VP of product management.
The lack of many big, loud booths also allowed smaller exhibitors to shine, with many of them pushing products developed a year or three ago.
Some chose not to bring any goods at all and simply held meetings inside cubicles that turned parts of the show floor into office space.
And yet somehow there was still enough cool new stuff that it was hard to walk more than 50 feet without running into something that you wanted to try out or someone you wanted to talk to.
The NAMM Show was shorter by a full day, with the media preview on Thursday and the show floor open Friday through Sunday.
Martin's press preview kicked off the affair in a rather surreal setting. The star of the show was Rich Robinson, who was on hand to introduce his Custom Signature Edition D-28 ($6,999 street), which he calls the Appalachian.
"My dad had a folk duo in the '50s called the Appalachians, so I called it that in tribute to him," he explains.
The guitar is modeled and relic-ed precisely after his father's 1954 D-28.
"It was always there around the house when I was growing up," Robinson says, "and my dad gave it to me just as our band was blowing up."
Robinson used that '54 to write tons of Black Crowes tunes, including his signature acoustic guitar number, "She Talks to Angels."
I gave the intro a go on the Appalachian, and it sounded right on the moneymaker.
The Custom Shop SC-2022 ($7,999 street) is the first Nazareth-made instrument with the SC style introduced at the January 2020 NAMM convention.
It combines the revolutionary SC body and Sure Align neck with features from Martin's other contemporary groundbreaker, the Modern Deluxe, such as solid tonewoods, Liquidmetal bridge pins and Fishman Aura VT Blend electronics.
The Custom Shop SC-2022 ups the ante with a dazzling fretboard inlay. Limited to just 300 instruments, it's bound to be a collector's item and quite possibly a harbinger of more American-made SCs to come.
Stay tuned for a deeper story on this development in our upfront New & Cool department.
The Custom Major Kealakai ($7,999 street) is a re-creation of a guitar Martin made for the Hawaiian maestro back in 1916.
Essentially an oversized 12-fret triple 0, it was Martin's first big guitar by modern standards and the precursor to the game-changing Dreadnought.
I relayed the basic story in the Frets Learn column in the Holiday 2019 issue because of a chance encounter on Oahu with esteemed luthier, player and Hawaiian musical historian Kilin Reece of KR Strings, Honolulu, who had just received the prototype.
He was also at this show, and has much more to add to this truly historic story, including a documentary film and a partnership with Martin and others to launch the Pacific String Museum in November.
We'll catch up with Reese closer to then.
Finally, the 2.5 millionth Martin was unveiled, showing off a starry top that replicates the night sky as it would have appeared over Manhattan when C.F. Martin and his family arrived in America in 1833.
Fast-forward to last year, and the big news was that Chris Martin IV was handing the reigns over to Thomas Ripsam.
The avid Martin fan and player is now celebrating his first anniversary as the company's president and CEO.
"It's been like a whirlwind," he told me when we caught up, "stepping into such historic shoes.
"We've had a great year, and we're still dealing with the boom. There's been a lot of demand for our guitars, which is wonderful, but there have also been many challenges, from supply chain issues to all kinds of other stuff in this weird time.
"The key is to make sure that each and every Martin guitar is special, with the kind of top quality that leads to an emotional connection with the player."
Martin wasn't the only company with a new head honcho.
Taylor Guitars dropped a press release on the eve of the show declaring Andy Powers the company's president and CEO, as well as chief guitar designer.
Former president Bob Taylor and CEO Kurt Listug (both Taylor cofounders) will become senior advisors and co-chairs on the board of directors.
The move puts Powers, who is just 41 years old, on the same playing field as Fender's Andy Mooney and Gibson's J.C. Curleigh.
Last year, Taylor announced transfer of ownership to its employees, so the company enjoys a new leader at the helm of a ship owned by its employees and under the direction of two sustainably minded co-founders who are intent on ensuring a strong legacy – not to mention, plenty of quality tonewood for the future.
Taylor has a Hawaiian partnership to sustainably supply and grow koa, and Powers is obsessed with it.
He summed up the Taylor ethos in a phrase that should one day be the title of his memoir: "From soil to song."
Powers thrives at NAMM, where he gives interviews with guitar in hand, playing original compositions to illustrate why a given guitar was created and how he uses that particular tool for specific playing styles.
As an example, he noted how the established Koa Series has a sophisticated look and sound, and how he's taking an entirely different approach with the new all-solid-koa 700 series, consisting of the Grand Auditorium 724ce and the Grand Concert 722ce (both $3,499 street).
Powers says the 700 series is designed for a more workman-like look and feel, and a sweeter mid-focused tone, with oodles of dynamic nuance.
He let me do some comparisons, and the new series does sound less booming and more nuanced.
Ibanez had a big booth showcasing its wares with lots of instruments that blur the line between electric guitar and acoustic guitar.
A notably cool addition is the AEG550 ($399 street) with its sleek, high-gloss black finish and a vine inlay that runs all the way up an ebony fretboard and onto the headstock.
The Talman TCM50 ($299 street) is an eye-catcher, featuring a figured ash top with vintage brown sunburst and a unique orange pickguard that makes it stand out.
It's a wildly shaped thinline acoustic-electric hybrid design that incorporates a magnetic pickup near the neck, just beyond an offset oval soundhole.
One of the great things about talking to acoustic artists each month is that they hip you to manufacturers you might not know about or find in your local store.
Yasmin Williams, who was featured in the January 2022 Frets, plays a Timberline harp guitar, and the company's booth featured several capably showcased by Andrew Kasab.
My favorite guitar at the Timberline booth was the T90Cc Solid Silkwood OM Cutaway. It's snazzy looking, with an arm bevel and a Venetian cutaway. It plays well and is a strong value at $2,249.
One of the most fun instruments to be found at NAMM this year is made by pickup manufacturer Lace Music Products.
The Electric Cigar Box Guitar (three- or four-string, $349 street) isn't made from an actual cigar box, but it's built to look like one and comes in an array of different designs. It has a Lace Matchbook pickup with a push/pull coil tap to select between humbucking and single-coil.
I'd never played one before, but it was in an open tuning, so that was easy enough to figure out and get a song going.
My bandmate Jules Leyhe grabbed a slide, and it sounded great on the box as well. You can see the duo jam on GP's Instagram.
Even in such a significantly scaled-back setting, NAMM was global.
Lowden, an Irish manufacturer of high-end acoustics, displayed the new Equals Edition signature model ($1,330 street) in its Sheeran by Lowden line, an affordable range created with Ed Sheeran, who as a former busker wanted his signature instruments to be attainable by everyday musicians.
The company also introduced three fantastic new nylon-string Lowdens: the S-23J made of walnut with a red cedar top ($6,850 street), the S-34J made of koa with alpine spruce ($7,645 street) and the exceptional S-35J made of Guatemalan rosewood and alpine spruce ($18,020 street).
The Boutique Guitar Showcase was back this year, and in an area that was full of unique items, one of the coolest had to be the Domino Resonator by Chicago's Robert Robinson Guitars ($12,000 street).
It's essentially a metal resonator housed in a wooden body with a removable face that has six circular sound ports that make it look like a domino.
It sounded very much like Duane Allman's tone on "Little Martha," so we tuned it to open E and gave it a go.
You can watch video of Jules Leyhe playing it, also on our Instagram.
And because this NAMM show was all about human connections, we had a memorable moment when we ran into Australian teen sensation Taj Farrant outside.
When Taj told us he was considering approaching Taylor for an endorsement deal, we marched him upstairs and made an introduction to Taylor A&R man Tim Godwin.
Taj's team made the case for his rising star, noting that he's played with Santana and has huge social numbers.
After playing a little to demonstrate his prodigious chops, Taj was made a Taylor artist and left with a new GS Mini.
It was inspiring to watch a young musician's dreams be realized – a magical moment happening in the shadow of Disneyland.
So how will the NAMM Show look next year? That's the million-dollar question.
It's clearly dependent on many factors, such as new COVID variants and how manufacturers feel about this year's show. But one has to imagine the show will bounce back to some degree, if not immediately all the way.
And while some may be quick to make too much of NAMM's declining attendance, this year's show was a reminder that it remains an important juncture between musicians and gear makers – or, to use another word, people.
The NAMM Show was a step forward toward resuming some semblance of normalcy, and a fantastic opportunity to reconnect with old friends as well as make new ones.
All the latest guitar news, interviews, lessons, reviews, deals and more, direct to your inbox!
Jimmy Leslie has been Frets editor since 2016. See many Guitar Player- and Frets-related videos on his YouTube channel, and learn about his acoustic/electric rock group at spirithustler.com.