Rich Robinson Reveals His Acoustic Tone Secrets
Learn the tricks of the trade from The Black Crowes and Magpie Salute guitarist himself.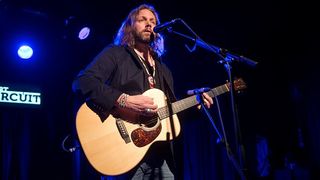 (Image credit: Jordi Vidal/Redferns/Getty)
"I've never shied away from bringing an acoustic guitar into a more electric format," Rich Robinson says. Indeed, he and guitar partner Marc Ford bring a beautiful balance of acoustic and electric guitar tones to High Water I (Eagle Rock Entertainment), the debut studio album from their group, the Magpie Salute.
The ragtime blues "Hand in Hand" is an all-acoustic standout, while the rolling psychedelic title track and epic single "For the Wind" combine acoustic textures with electric grit in Led Zeppelin-like fashion.
"I always thought Led Zeppelin III was cool from a sonic standpoint," Robinson explains. "The juxtaposition of those drums with the acoustic guitars created a whole other level."
High Water I is the second release from the Magpie Salute, who formed in 2016 with ex–Black Crowes members Robinson, Ford and bassist Sven Pipien. The group also features keyboardist Matt Slocum and a pair of familiar Robinson cohorts: drummer Joe Magistro, who played in his solo band, and John Hogg, who performed in Hookah Brown, the group Robinson briefly led when the Black Crowes went on hiatus in 2001.
Whereas the Magpie Salute's eponymous debut consisted mostly of covers recorded live in the studio for Woodstock Sessions, High Water I is an original affair produced by Robinson at Dark Horse Studios in Nashville. While the duo tear it up plenty on electric guitars, the depth of High Water I is its warm acoustic heart.
Who were the primary cats that got you going as an acoustic player?
The three players I always looked to were Bob Dylan, Stephen Stills and Nick Drake. My dad was a huge Crosby, Stills, Nash & Young fan, so some of my earliest musical memories are hearing songs such as "Carry On" and "Déjà Vu." I think the first tune I learned how to play was Dylan's "Oxford Town." The lyrics and his acoustic guitar style resonated with me.
As I got older and more developed on guitar, I got into Nick Drake's playing. A lot of it had to do with the way that he picked and especially how his open tunings rang out on his acoustic guitar. That's when open tunings came into play for me. Those three influences coming together formed my idea of the ultimate acoustic guitar tone.
You've never done a signature acoustic, but is there an instrument that's the "ultimate acoustic guitar" to you?
My dad gave me his 1953 Martin D-28 dreadnought when I was young. It's old enough to be absolutely dried out, which gives it a lot of midrange and presence to go along with the low end expected from a dreadnought. It's one of those guitars that has everything.
Let's chronicle some acoustic Crowes. What inspired you to write "She Talks to Angels" from the group's 1990 debut, Shake Your Moneymaker?
We were listening to a ton of Faces music at the time, and Ron Wood played in open E a lot. So, I was messing around with that tuning, and "She Talks to Angels" just came to me.
How about "Thorn in My Pride" from 1992's The Southern Harmony and Musical Companion?
I was essentially trying to write a Nick Drake song, but in a rock and roll setting. It's in open G tuning, with a capo at the fourth fret. I recorded that using a 1961 Gibson Dove that I had just bought. You can tell the tone is a little thinner than the Martin by comparing it to "She Talks to Angels."
I've always felt that Doves were better for strumming chords because they deliver a nice, even tone, but I was excited to have a new guitar, so I played it on "Thorn in My Pride."
How did you get the big, open-sounding chime on "Bring On, Bring On" from 1996's Three Snakes and One Charm?
It's in open G, double-tracked with a 12-string and a six-string. The 12-string was an early '60s Guild tobacco sunburst that had a special ring. It was a pretty solid guitar, and it really sang. I double-tracked the tune with my main Martin in order to have two different timbres working together.
What's the extra acoustic element on "How Much for Your Wings?" from the same album?
It's a lap dulcimer. I had a hammer dulcimer too, but I prefer the sound of the lap dulcimer, and I've had a bunch of them. I would always go out and buy different instruments. I had a sitar, a sarod and a shamisen I picked up in Japan. I've been able to put all of those acoustic instruments on records, either with the Crowes or on my own.
How did you achieve the deep, tribal sound on "Soul Singing" from 2001's Lions?
That's in open F, which is tuned like open G down a full step, and it was done on an electric guitar with a piezo pickup. I had James Trussart make it for me. He'd always made all-metal guitars, but I suggested a guitar with a cool wooden body and a metal plate slapped on top. He came up with a guitar that delivers an electric tone and an acoustic tone, and he structured it with a blend knob to mix the piezo and magnetic pickup sounds together.
"Locust Street" is a nice ballad from 2008's Warpaint that features mandolin. How did that come together?
Luther [Dickinson] played the mandolin on that. I think I actually played an electric guitar.
Dickinson was the other guitar player on 2010's all-acoustic Croweology. How did you approach recasting rockers such as "Jealous Again" and "Remedy"?
I've always felt that if a song works in that most basic form, then it's good. I usually write on acoustic before taking a song to the electric for finishing, although I have written some songs from an electric rock and roll standpoint. The vast majority of songs on Croweology were written on acoustic, so it made sense to bring them back down to that.
From your solo catalog, the 2011 album, Through a Crooked Sun, stands out for acoustic-oriented material such as "Falling Again" and "I Don't Hear the Sound of You."
"Falling Again" is in open D, which is tuned like open E down a full step [low to high, D A D F# A D]. "I Don't Hear the Sound of You" was interesting to do because the first part is almost like a Tom Petty–style pop song that's very structured, and then it becomes more freeform, where no words are needed.
We kicked the door open and put a mic outside to capture the sound of the rain. Karl Berger played a beautiful vibraphone part, and a friend of his came in and played stand-up bass. It created exactly what I'd hoped for, which was a place to sit in a very deep feeling.
"For the Wind" from High Water I starts with a lovely acoustic intro, becomes a rocker, and then ends acoustically as well. How did you track it?
That's the oldest song on the record. Joe and I made a demo for the Black Crowes at one point, but we never found a home for it until now. I can't remember if we tracked with the acoustic first or added it later. I think the tuning is open G, and I used a Martin quad 0 [0000].
The backstory is that when all of my instruments got flooded in Hurricane Sandy, I went to Gruhn Guitars in Nashville to buy some new ones, which turned out to be two Martins that George had custom made out of parts he had collected from the '40s. One was a quad 0, and one was a parlor. The quad 0 has a special something about it that truly sounds great on "For the Wind." I used the parlor on the record as well, but I can't remember exactly for what.
How did you create the rich, galloping acoustic heart of "High Water"?
That's in open F. There are three acoustic guitars and a couple of electrics on that song. It's definitely a barrage of guitars. There's a 12-string acoustic, my vintage D-28 and another acoustic I can't remember. The electrics were a Strat and my Gretsch Black Falcon. My Guild 12-string acoustic was in the shop, so I used the Eastman 12-string I take on tour. It's very present and projects well.
"Walk on Water" has an acoustic core with electrics layered on top. Who's playing what?
Marc and I both played acoustic guitars in front of a single mic in the control room. I played a six-string in standard, and he used the Eastman 12-string. We did overdubs on a Danelectro 12-string. Marc played the slide bits in the verses, and I played the slide solo.
How about the acoustic track that comes right after it, the cut-time saloon blues "Hand in Hand"?
That song is in open E. Marc plays the 12-string Lead Belly-style acoustic, and I played slide on my Martin D-28. I used my signature D'Addario brass slide. It has a good weight, and I like the way it's tapered. Marc and I recorded that the same way as "Walk on Water," playing together in the control room with a single mic in between us.
What was your miking strategy for capturing great acoustic tones on the rest of the record?
I simply put up a good-sounding mic. If you have a good-sounding guitar and you know what you're doing, one good mic should do it. Over the years, people have justified doing too much, but if you're playing something that sounds good – man, it shouldn't be that difficult. For this record I used a Neumann U87 with a capsule that had been updated, and it sounded great.
What's the Magpie strategy for making acoustic guitars sound great on tour?
We mic them up! We turn off the monitors and use stage mics, because no one has been able to invent a worthwhile pickup system. The inability to make an acoustic guitar sound like an acoustic guitar onstage is one of my pet peeves. I've spent lots of money on tube D.I. boxes and getting various electronic systems installed, and the tone still ends up sounding like plastic scraping plastic. It drives me crazy!
I finally said, "Let's just throw some mics up and turn off the monitors so the acoustics will sound like acoustics and won't feed back." We've been doing that for the past few shows, and it sounds great.
Buy The Magpie Salute's latest album High Water II here
All the latest guitar news, interviews, lessons, reviews, deals and more, direct to your inbox!
Jimmy Leslie has been Frets editor since 2016. See many Guitar Player- and Frets-related videos on his YouTube channel, and learn about his acoustic/electric rock group at spirithustler.com.