Watch 12-String Virtuoso Tim Buckley Perform His Beautifully Eerie Masterpiece "Song to the Siren"
By Guitar Player Staff published
The father of equally legendary guitarist Jeff Buckley performs live on 'The Monkees' TV show in 1968.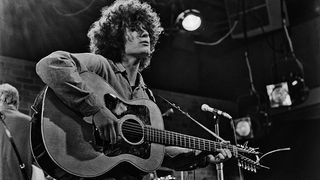 (Image credit: Don Paulsen/Michael Ochs Archives/Getty Images)
Today marks the anniversary of Tim Buckley's untimely death in 1975, some 22 years prior to the tragic passing of his estranged yet similarly gifted son, Jeff Buckley. Previously covered by the likes of Robert Plant (opens in new tab) and John Frusciante (opens in new tab), "Song to the Siren" is considered by many to be the finest (and most eerily prophetic) song penned by Tim Buckley, and this live clip from 1968 to be his greatest rendition of it.
12-string acoustics reached their peak of popularity during the American folk music revival while electric versions of the instrument made by Rickenbacker and Fender were endorsed by The Beatles and Bob Dylan (respectively) during the mid-Sixties. At this time, some of the finest 12-string flat-tops were produced by Guild at their Hoboken factory in New Jersey – including the F-212, F-212XL, and F-312 jumbo models. Here, Buckley shows us exactly why these guitars are sometimes referred to as a 'one man orchestra'.
Get the latest news, reviews and product advice straight to your inbox.
Thank you for signing up to The Pick. You will receive a verification email shortly.
There was a problem. Please refresh the page and try again.