The Miraculous Story of Ed Sheeran's Eric Clapton Guitar
Matt Gleeson, of Monty's Guitars, on how they rescued "the world's only fully roasted guitar"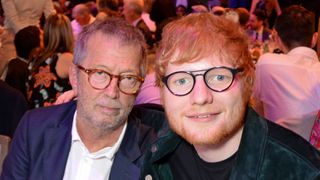 (Image credit: David M. Benett/Dave Benett/Getty Images)
You've probably heard the story. The short version: Eric Clapton and Ed Sheeran become buddies. One day, Ed is round at Eric's when Clapton takes one of his guitars off the wall, signs the back and gives it to Ed. Nice.
Then, January 2019, a fire breaks out at Ed Sheeran's Suffolk studio. Guess what's in there? Yup, that guitar.
"It was the only guitar at home in the studio," says Ed, "I was on tour, my friend phoned me up and said, 'Your music studio is on fire! It's burning to the ground!' I was like, 'Fuck, the guitar is in that studio!'
The guitar is pulled from the ruins, burned to a crisp. Monty's Guitars in Cheltenham, UK, are given the guitar to see if they can salvage it. Unbelievably, they do.
How?
"It was a weird one," begins Matt Gleeson, head honcho of Monty's Guitars in Cheltenham, UK. "I got a call out of the blue from Joe Rubel, who is a guy that works closely with Ed Sheeran. He said, "Would you be up for a real challenge?" At first, I didn't think it would be possible to rebuild the guitar. It had been so badly damaged in the fire at Ed's Sheeran's studio. But I told him we'd try anything!"
In the face of such calamitous loss, what was there left to do but try? Most of the time, such poorly damaged guitars are written off forever. But this is no ordinary guitar. It's irreplaceable. Signed and gifted to Ed Sheeran by Eric Clapton personally, this Martin 000-28EC was one of the acoustic star's most prized possessions. Surely something could be done?
Why was Joe Rubel so keen on getting the guitar restored?
We soon realized that Ed knew nothing about it when Joe brought it in. When he began working with Ed, it was life changing. So, he wanted to do something that was really special and he knew this guitar meant a lot to Ed. It was given to Ed personally by Eric Clapton when he went over to his house. Eric Clapton is a massive influence for Ed. Clapton is the reason Ed started playing."
What happened in the fire?
Joe told me the story about Ed's studio burning down. Apparently, so much stuff had melted it was like a [Salvador] Dali painting. Obviously, Ed was shocked about the whole thing. Hence, we didn't say anything until he mentioned it on social media.
The only thing that survived was this guitar – a 000-28EC Eric Clapton signature Martin. When we opened the case, we just got this waft of bonfire! Everything on the top was burned. You could just about make out the Martin [soundhole] label.
How bad was the damage overall?
Joe's original idea was to buy another Eric Clapton Martin and transplant the back, which Eric had signed. Weirdly, the back was fairly intact, including Eric's signature. The binding had melted and blistered, and the lacquer was a bit damaged. But the back looked salvageable.
When we scratched a bit of the top away, we realised the wood hadn't been burnt all the way through; there was still a big old chunk of it left. And hats off to Martin – the fact that the guitar's construction was able to withstand that kind of heat is amazing. There were a couple of loose struts, but it was structurally sound.
How hopeful were you that it could be fully restored?
When we realized we could salvage it, I said to Joe, "Why don't we try to get the guitar back to a playable condition? Let's see how far we can get it. If we can't, we'll go to plan B and transplant the back. I think we can solve this."
One of the guys who was working with me – Tim Hughes – spent two or three days stripping the whole thing back, taking all the binding off, and getting it so you could see the wood. We had to take the bridge off and all the plastics that had melted. There was also a guy working with me at the time called Kevin Williams (who has a company called Providence Guitars). He took on the bulk of the fiddly reconstruction jobs and absolutely smashed it!
How did you manage to find spare parts?
Once we stripped it down, I got in touch with Martin via email and later got a call from the UK distributor quizzing me over it. I think they got the wrong end of the stick and thought we were trying to make a copy or something! So, I explained the whole story and, annoyingly, they contacted Ed's management who didn't know anything about it (Joe was doing it all secretly because he wanted to surprise Ed with it when it was all done). Management then spoke to Ed to ask what was going on, so it all came to light a little earlier than we'd hoped. But once that was all sorted out, Martin kindly sent us over everything to recreate it, bar the decal.
The herringbone binding is beautiful, but it's tricky to work with. It's one thing putting it on a new guitar, but we were working with a very uneven top, so, it was a hell of a lot of work. Also, the top had shrunk a little bit and split, so we spliced a very thin piece of wood in the middle.
Was it tricky putting the finish on?
When we were getting it sprayed, the coat would disappear into the wood. Maybe it was because of the way the wood had changed after being heated up so much. It took coat after coat, but now it looks amazing. In fact, I personally think it looks better than a new one; the scorch marks look pretty cool!
How does it sound?
Well, it's most probably the world's only fully roasted guitar! I mean, it sounds amazing. It's got a really nice crystal-y top end. So, for fingerpicking it's very articulate and snappy. Those guitars aren't particularly bass-heavy, but it sounds really full and rich.
Is the guitar stable?
From a tech's point of view, the neck is super stable. When you roast a neck, they get very strong structurally. You can put virtually any strings on and it doesn't really move.
Also, we took away probably a third of the thickness of the top, so when you tap it, you get this really nice high tone. It's one of those tops that's really good for doing percussion stuff on. It's really resonant and vibey. When you hit the strings, the whole thing shakes. It's really cool. Hopefully, Ed will make some good tunes with it!
Everybody at Monty's Guitars was involved in it and it's certainly one of the restorations I'm most proud of. And it's nice to be able to share what myself and the other guys are capable of doing.
Visit Monty's Guitars here.
All the latest guitar news, interviews, lessons, reviews, deals and more, direct to your inbox!
Rod Brakes is a music journalist with an expertise in guitars. Having spent many years at the coalface as a guitar dealer and tech, Rod's more recent work as a writer covering artists, industry pros and gear includes contributions for leading publications and websites such as Guitarist, Total Guitar, Guitar World, Guitar Player and MusicRadar in addition to specialist music books, blogs and social media. He is also a lifelong musician.