Six-String Stories: Eric Clapton Shares his Thoughts on Five of his Favorite Guitars
Eric Clapton discusses some of the highlights of his guitar collection over the years.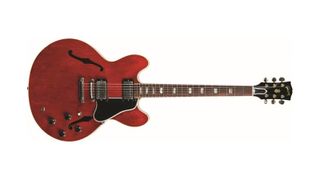 (Image credit: Gibson)
There are lots of "Guitars of the stars" coffee table books out there, including many containing photos of iconic instruments owned at one time by Eric Clapton.
Six-String Stories [Genesis Publications] is unique, however, as the guitarist's reminiscences fill the book's 376 pages, alongside extensive specs and other background information on nearly 300 instruments. Here are a few excerpts.
1964 GIBSON ES -335TDC (pictured above)
Serial Number: 67473
Body: Double cutaway thinline semi-hollow, maple, f-holes, maple center block, cherry red finish
Neck: Mahogany, 22 frets, rosewood fingerboard with block inlays
Headstock: Pearl Gibson logo, crown inlay, black 3-ply (black/white/ black) truss cover engraved 'Custom'
Bridge: Nickel-plated Tune-o-matic with stop tailpiece
Pickguard: Black 5-ply (black/white/black/white /black)
Pickups: Two humbucking with nickel-plated covers
Controls: Two volume, two tone
Switches: 3-position pickup selector
"I think the cherry Gibson ES-335 was really acceptable on every front. It was a rock guitar, a blues guitar – the real thing. Even in those days I may have had reservations about Fenders, in that they were solid, whereas this one was semi-acoustic. What I love about Fenders now I would probably have held in a little bit of contempt in those days, in that they didn't have any purfling down the side of the neck, and so on. This guitar had all the finish you would ever want and all the credibility a guitar needed at that time. The fact that Alexis Korner and I played those Kays was because you couldn't get these Gibsons in England – you didn't see them. You got copies, German guitars like Hagstroms, Hofner. I bought this brand new either from Denmark Street or Charing Cross Road.
"The ES-335 is beautiful, and I loved it. It was played regularly over the years. It got on albums, it never really changed. It never got old, it never wore down. It never lost anything. I'd play it now. Anything that's been that long in my life and is still functional – there aren't too many things that can command that kind of respect. I've had no cars that long for instance. There are no other tools in my life that have been as long-serving."
1956 FENDER STRATOCASTER "BROWNIE"
Serial Number: 12073
Body: Alder, sunburst finish, dated 6-56
Neck: Maple with skunk-stripe truss rod routing, 21 frets, maple fingerboard with dot inlays. Neck date and initials XA-6-56 written in pencil
Bridge: Synchronised tremolo
Pickguard: White single-ply
Controls: One volume, two tone
Pickups: Three single-coil
Switches: 5-position pickup selector with white switch tip (replaced original 3-position pickup selector sometime in the 1970s)
"With Delaney and Bonnie I used my old Stratocaster, Brownie, which was really, really good – a great sound. It was just right for the kind of music I was playing with them.
"I think Brownie dictated the way I played to a certain extent. Because the Strat has less sustain – it's harder to bend on and harder to hold the bends and apply vibrato – I play more notes. I didn't look at the change from Gibson to Fender as 'I'm done with that.' It was more a case of wanting to try something else."
1969 ZEMAITIS CUSTOM 12-STRING "IVAN THE TERRIBLE"
Body: Rosewood back and sides, cedar top, decorative back stripe with heart inlays, inlaid heart motif on top's lower bout, natural finish
Neck: 7-ply laminated maple and walnut, 18 frets, bound ebony fingerboard with silver heart inlays, silver nut
Headstock: Three silver four-leaf clover inlays, silver heart-shaped truss rod cover engraved 'Eric Clapton'
Bridge: Ebony pin bridge with silver four-leaf clover inlays, silver engraved bridge pins and saddle
Soundhole: Heart-shaped with purple heart amaranth heart inlays, ebony edging
"I finally got to meet Tony Zemaitis in the mid '60s. I asked him to make a 12-string for me, bigger than he'd ever done before and inlaid with silver. I wanted it to be incredibly ornate. I wanted to explore everything we could. The heart shape and the four-leaf clover on the headstock were my ideas. So he made this guitar, it probably took about a year, and it was massive. It's reputed to be the biggest 12-string in the world. It's about the same dimensions as a mariachi bass. Tony really did a beautiful job. I used it with Blind Faith and I did some other material with it.
"I was involved in a very, very stormy relationship at the time. During one of our big rows, I took the guitar and I demolished it. I took it by the neck and I banged it against the wall until there was nothing left. Then about five years later – I still had the neck – I took it back to Tony and said, 'I've got to tell you a terrible story, forgive me, I can't bear to be without it,' and I apologized and made all the excuses I could think of. He was shocked, but he understood, so he built another body onto the neck. So this is Mark 2 – the first one was destroyed, but the neck is original."
1980 SANTA CRUZ F
Serial Number: 13
Body: Maple back and sides, spruce top, bound, sunburst finish
Neck: Mahogany, 20 frets, bound ebony fingerboard with slotted diamond inlays
Headstock: 'SCGC' logo inlay
Bridge: Ebony 'belly' pin bridge
Pickguard: Imitation tortoiseshell
"I don't play the electric guitar much at home. In the '80s, I usually played these acoustics that I got from the Santa Cruz Guitar Company because they had a nice sound."
1995 GIBSON LES PAUL CUSTOM FLORENTINE
Serial Number: 5 9476
Body: Mahogany, single cutaway, maple top with f-holes, sunburst finish
Neck: Mahogany, 22 frets, bound ebony fingerboard with block inlays
Headstock: Split diamond inlay, Gibson custom shop transfer on back
Bridge: Gold-plated Tune-o-matic with stop tailpiece
Pickups: Two single-coil Alnico V soapbar pickups
Controls: Two volume, two tone
Switches: 3-position pickup selector
"I used this guitar primarily for writing."
All the latest guitar news, interviews, lessons, reviews, deals and more, direct to your inbox!
Guitar Player is the world's most comprehensive, trusted and insightful guitar publication for passionate guitarists and active musicians of all ages. Guitar Player magazine is published 13 times a year in print and digital formats. The magazine was established in 1967 and is the world's oldest guitar magazine.
When "Guitar Player Staff" is credited as the author, it's usually because more than one author on the team has created the story.