Watch Carlos Santana Bringing Mesa/Boogie Amps and Yamaha Guitars to the Masses
Here's why the Grammy-winning legend was a guitar gear innovator.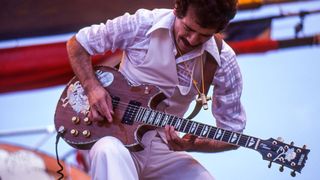 (Image credit: Ed Perlstein/Redferns/Getty Images)
Although it became one of the hottest guitar amps among pro players from the mid-1970s to the '80s, the Mesa/Boogie seemed utterly designed to propel the singing, sustainful tone and playing style of Carlos Santana, who adopted it as his amp in the 1970s.
For that matter, Santana literally named the thing.
Mesa/Boogie founder Randall Smith was working as an amp repairman in 1969 in the small San Francisco shop Prune Music when he decided to play a trick on Barry Melton, lead guitarist with Country Joe and the Fish.
Smith gutted Melton's Fender Princeton, installed a modified 50-watt Fender Bassman-style tube amp, squeezed in a 12-inch speaker and took it to the front of the shop, where Carlos Santana was hanging out.
"He just wailed through that little amp until people were blocking the sidewalk," Smith later recalled.
"When he stopped playing he turned and said, 'Shit man. That little thing really boogies!'"
As demand grew, Smith continued modifying Princetons. When the supply dried up, he began making the amps – eventually known as the Boogie Mark I – from the ground up.
The key to the wailing, saturated tone lay in Smith's chaining together of several tube stages in the preamp, a technique known as "cascading gain," and under Santana's fingers the result was sustain that could last for days.
The '70s also proved fruitful for Santana on the gear front when he began a collaboration with Japanese guitar building titan Yamaha.
After a somewhat uncomfortable bedding in period ("I sat down with them and said, 'Look, I can't play the guitar, man," Santana told Guitar Player in 1978) the team eventually settled on a design that was not only befitting for a guitarist of Santana's caliber but progressive also.
"I asked them to put a big chunk of metal right where the tailpiece is," recalled Santana. "You hit it and it's like hitting a grand piano – it really resonates."
Boasting fine tonewoods and a neck-through construction, along with the tone- and sustain-enhancing T-Cross System and brass Sustain Plate (the aforementioned "big chunk of metal,") the new SG2000 model firmly established Yamaha as a bona fide pro level guitar builder.
Yamaha guitars were later played by the likes of John McGeoch who famously used an SG1000 with Siouxsie and the Banshees.
More recent proponents of the SG series include Ed O'Brien, Johnny Marr and John Frusciante.
In this 1977 clip, Santana is seen playing his custom built Yamaha with a Mesa/Boogie rig. Evidently, the guitarist is a great deal happier with his instrument by this stage.
"[Yamaha] go out of their way to make good instruments," he told Guitar Player in the same 1978 interview. "You can feel it when you pick up that guitar."
All the latest guitar news, interviews, lessons, reviews, deals and more, direct to your inbox!
Dave Hunter is a writer and consulting editor for Guitar Player magazine. His prolific output as author includes Fender 75 Years, The Guitar Amp Handbook, The British Amp Invasion, Ultimate Star Guitars, Guitar Effects Pedals, The Guitar Pickup Handbook, The Fender Telecaster and several other titles. Hunter is a former editor of The Guitar Magazine (UK), and a contributor to Vintage Guitar, Premier Guitar, The Connoisseur and other publications. A contributing essayist to the United States Library of Congress National Recording Preservation Board's Permanent Archive, he lives in Kittery, ME, with his wife and their two children and fronts the bands A Different Engine and The Stereo Field.