"I Was Playing Entirely With My Ears and Not With My Mind": Johnny Marr on Recording with John Frusciante
The Smiths founder recalls his experience of recording with the Red Hot Chili Peppers guitarist.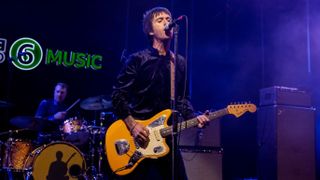 (Image credit: Mike Lewis Photography/Redferns)
In a recent interview with Total Guitar, Johnny Marr shared some fascinating insights into his extensive collaborations with other artists, including his experience of working with John Frusciante during the recording of the Chili Peppers guitarist's 2009 solo album, The Empyrean.
Recorded between 2006 and 2008, The Empyrean is an expansive, soul-searching work that also features Frusciante's current bandmate Flea, along with multi-instrumentalist Josh Klinghoffer.
"John and I were recording in his house, which was nice," said Marr. "There's an almost zen-like stillness about his focus when he's writing. There's this underlying honor in what he's doing. John has an approach to music which is almost sacred."
The following Guitar Player exclusive is a previously unpublished extract from the same interview with Marr that centered on the release of his latest solo album, Fever Dreams Pts 1 – 4.
Along the way, Marr talked about some of his most significant studio moments…
What stood out for you about the recording sessions with John Frusciante?
"What was cool about working with John was that it was just me and him. And maybe an engineer. So it really did feel like I was contributing to a solo record. It was nice.
"To make a comparison: when I worked on Beck's album, Midnite Vultures, that was very much a band scenario – all the band were there all the time and making contributions to any idea that went down. You know, someone might shout out, 'Why don't you put the seventh in there?' or whatever. It felt almost like a clubhouse, which was cool in some ways.
"So with Beck, there was a lot of humor and funny shit going on. But with John, it was quite serious. And I think that affected my approach."
.
How did you approach writing guitar parts for The Empyrean?
"From what I remember, on almost every song, I put the guitar into a tuning that was sympathetic to the track. So I therefore didn't know what I was doing. You have to be quite okay with yourself when you do that because you are going to make mistakes and you are going to fumble about a lot.
"If your ego is up and you're thinking, 'I have to impress,' you're taking your mentality off the music and putting it on yourself and your reputation. Then you're going to have a bit of a problem. But I don't mind rocking up to a session and saying, 'Let me just get my sound.'
"That's my process. I'll say, 'Don't play me the track. Let me just get my sound and then record what I play.' So when chord changes or key changes happen, you invariably are going to go off the road, but I don't care about that because I know I'm good enough.
"I wanted to record my first impressions, and I think it surprised John that I didn't want to know what the chords were. In fact, I didn't even want to be in the same concert tuning. I was playing entirely with my ears and not with my mind."
One of the songs Marr recorded with Frusciante that made it to the final cut is titled "Enough of Me." Listen out for Frusciante's incredible Robert Fripp-inspired solo that starts around 2:35.
All the latest guitar news, interviews, lessons, reviews, deals and more, direct to your inbox!
Rod Brakes is a music journalist with an expertise in guitars. Having spent many years at the coalface as a guitar dealer and tech, Rod's more recent work as a writer covering artists, industry pros and gear includes contributions for leading publications and websites such as Guitarist, Total Guitar, Guitar World, Guitar Player and MusicRadar in addition to specialist music books, blogs and social media. He is also a lifelong musician.