Twelve Monumental Tracks That Shaped John Frusciante
The Red Hot Chili Peppers guitarist shares his essential playlist.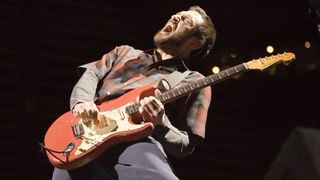 (Image credit: Joey Foley/FilmMagic)
During a recent internet radio broadcast from dublab in Los Angeles, Red Hot Chili Peppers' Flea and John Frusciante talked about some of the music that helped shape them as musicians, spinning some of their favorite tunes in the process.
In the bumper slot known as Timely Inspirations, Frusciante pulls out a number of influential tracks, highlighting their importance in terms of his development as a guitarist.
From the seminal electric blues of Johnny "Guitar" Watson to the superlative jazz-fusion genius of Allan Holdsworth, here are a dozen of the finest from Frusciante's eclectic collection…
1. The Tony Williams Lifetime – "To Whom It May Concern – Them" from 'Turn It Over' (1970)
Frusciante discovered the hard rock chops of jazz fusion pioneer John McLaughlin on the 1970 track "To Whom It May Concern - Them" at age 13. Described by Jeff Beck as "the best guitarist alive" McLaughlin moved to the US from the UK in 1969 to join jazz drummer Tony Williams' Lifetime power trio.
As well as recording two early jazz fusion classics with the group – 1969's Emergency! and Turn It Over the following year – Mclaughlin appears on several Miles Davis long-players from the same period.
2. Ramones – "I Don't Care" from 'Rocket to Russia' (1977)
When it comes to punk rock, Frusciante was an aficionado at the tender age of 9. He was also surprisingly resourceful in his musical pursuits for someone so young, at first retuning his guitar in order to play Sex Pistols songs with one finger and using a "jar of pennies" to finance the purchase of a Ramones record.
But after hearing the New York punk pioneers on the radio, nothing was going to stop him. "I'd heard [the Ramones'] "Beat on the Brat" on the radio," he remembers, "and I was just like: I've got to have a record by that band."
3. Public Image Ltd – "Go Back" from 'The Flowers of Romance' (1981)
Referred to as the 'Jimi Hendrix of post-punk' and described by Frusciante as "spectacular" guitarist Keith Levene's prolific career in music includes being a founding member of both The Clash and Public Image Limited, not to mention working as a roadie for his guitar hero, Steve Howe of Yes, at age 15!
Interestingly, Keith Levene and Red Hot Chili Peppers' founding guitarist Hillel Slovak (one of Frusciante's more obvious influences) recorded a track together in 1985 called "Clothesline". Black Flag's original bassist Chuck Dukowski had a rare vinyl copy for sale here.
4. Marvin Gaye – "I Want You (Vocal)" from 'I Want You' (1976)
Although Frusciante is well-known for his jaw-dropping technique and can certainly turn on the showmanship when he wants to, his musical sensibilities dictate that the balance of the song as a whole is equally important.
Speaking of the stellar lead guitar work on Marvin Gaye's "I Want You (Vocal)" Frusciante highlights that it requires a certain skill to play "in a way that doesn't draw attention to itself but fits in with the surrounding context."
5. Butthole Surfers – "Jimi" from 'Hairway to Steven' (1988)
When Frusciante was finding his voice as a guitar player in the late '80s, he happened to catch one of the Butthole Surfers' infamously intense live shows and was struck with genuine awe. "I saw them live and had a similar experience to when I first saw Jane's Addiction where I was scared," recalls Frusciante.
Though he was immediately taken aback by what he saw in Butthole Surfers' guitarist Paul Leary, Frusciante ultimately found the identification he needed to define himself more clearly. "Before that, I was just lost," he adds.
6. Johnny "Guitar" Watson – "Too Tired" (1955)
Johnny "Guitar" Watson was a true pioneer of the electric guitar and one of the wildest guitarists on record by anyone's standards. Just listen to 1954's "Space Guitar" to hear his radical use of reverb and feedback, or 1955's "Too Tired" for a great example of early guitar distortion.
According to Frusciante, Watson had a "very mean approach to electric guitar that I don't think anybody before him had come anywhere close to."
7. Iggy Pop – "China Girl" from 'The Idiot' (1970)
Iggy Pop was a huge influence on Frusciante from an early age. In addition to the Chili Peppers' 1991 "Search and Destroy" Stooges cover the guitarist has performed solo renditions on acoustic guitar of Iggy Pop's "China Girl" and "Neighborhood Threat". "David Bowie and Iggy pop co-wrote this song on the wonderful album The Idiot," points out Frusciante. "And it's got some of my favorite guitar playing ever on it."
8. Big Brother and the Holding Company – "Down on Me" from 'Big Brother & the Holding Company' (1967)
Frusciante is a self-confessed Nirvana devotee. But when Le Butcherettes' Teri Gender Bender asked him which singer he thought was better, Kurt Cobain or Janis Joplin, he found it difficult to answer. "I'm not one to say one person's 'better' than another," says Frusciante, "but [Joplin] is about as effective a singer emotionally as there could ever be. And the guitar players in her band at this time were really exceptional."
Bringing to mind the days in the lead up to recording Blood Sugar Sex Magik Frusciante recalls, "Around 1990, I was starting to realise: fuck playing fast and clean! It's about the feeling that's in it and sometimes playing sloppy can be a way more exciting feeling than playing clean."
9. Allan Holdsworth – "Three Sheets to the Wind" from 'Road Games' (1983)
Allan Holdsworth was arguably the ultimate guitarist's guitarist with a singular technique developed from his intense studies of freeform jazz and alternative scales. And while nobody has been able to beat Holdsworth at his own game, many guitarists continue to look to him as a source of inspiration, including Frusciante.
"I don't think somebody has to be technically advanced to be soulful at all, but," he concedes, "I really don't think there's anyone better than Allan Holdsworth… I'm sure I'll always learn from him and never in a million years will I be able to do what he did."
10. Captain Beefheart & the Magic Band – "Peon" from 'Lick My Decals Off, Baby' (1970)
The music of Captain Beefheart & the Magic Band has long been a source of inspiration for Frusciante, notably Bill Harkleroad aka Zoot Horn Rollo's guitar contributions for the band's 1969 avant-garde masterpiece Trout Mask Replica. Its follow-up, 1970's Lick My Decals Off, Baby is also cited by many as a Captain Beefheart classic, along with its standout guitar/bass instrumental track "Peon".
Donning metal fingerpicks, Frusciante and Flea literally pulled off this challenging number live in front of thousands of Chili Peppers fans. "There's no way to count it," Frusciante remarks. "You really have to read each other's minds to play it properly."
11. T.S.O.L. – "Thoughts of Yesterday" from 'Weathered Statues' (1982)
Growing up with punk rock, Frusciante was naturally drawn to guitarists such as Black Flag's Greg Ginn and Pat Smear of Germs, while hearing Joy Division's Bernard Sumner and Siouxsie and the Banshees' John McGeoch broadened his musical horizons even further.
Here he cites T.S.O.L.'s Ron Emory as another of his favorite punk guitarists. "This song has sort of a Siouxsie and the Banshees influence to my ear," says Frusciante. "But they did all kinds of sounds throughout those early days of the band. One song would be real different from the next."
12. T. Rex – "Cosmic Dancer" from 'Electric Warrior' (1971)
Marc Bolan was a big influence on Frusciante as a songwriter, as was the backwards guitar on this track from 1971's Electric Warrior. Backwards guitar has long been a Frusciante hallmark, as those familiar with his landmark debut solo release Niandra LaDes and Usually Just a T-Shirt and the "Give It Away" solos will know.
"The lead guitar playing in this song is beautiful; it's got backwards lead guitar that was very influential on me," reminisces Frusciante. "I have really nice memories of listening to this when we were making Blood Sugar Sex Magik and staring out the window late at night, or being 17 years old when I'd just moved to Hollywood."
Listen to the full show at dublab here.
All the latest guitar news, interviews, lessons, reviews, deals and more, direct to your inbox!
Rod Brakes is a music journalist with an expertise in guitars. Having spent many years at the coalface as a guitar dealer and tech, Rod's more recent work as a writer covering artists, industry pros and gear includes contributions for leading publications and websites such as Guitarist, Total Guitar, Guitar World, Guitar Player and MusicRadar in addition to specialist music books, blogs and social media. He is also a lifelong musician.