Watch Gary Moore Shred the Blues
The late bluesman from Belfast demonstrates his world-class technique and explains what makes a great electric guitar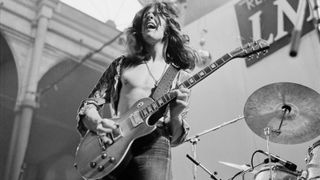 (Image credit: David Warner Ellis-Redferns-Getty Images)
In 1990, the most extraordinary thing happened. In the midst of the death throes of hair metal and the birth of grunge, former Thin Lizzy guitarist Gary Moore released an album that caught everyone by surprise and took the charts by storm.
The album was Still Got the Blues, a glossy set of originals and covers and, as declared by the title, a very blues-based piece of work.
"I did Still Got the Blues when I was 37 years old, and I went back to the music that I always loved," Moore explained to Classic Rock in 2007. "It wasn't commercial, it wasn't cool. And nobody in a million years could have predicted how successful it became."
Moore was a guy from Belfast who had a couple of stints in Thin Lizzy but whose blues influences underpinned his playing rather than directly informed it.
He'd first come to attention in the 1970s with a blues-rock band called Skid Row, but it certainly wasn't what was expected from him at the turn of the '90s.
It's not surprising Moore became fascinated with blues-based music. "There was a great blues scene in Belfast," he said. "All these guitar players used to come up from Cork, like Rory Gallagher. And then we heard about British blues."
Indeed, it wasn't the post-war Mississippi Delta musicians who were influencing Moore's guitar playing. "I mean, I'd heard the name Robert Johnson," he said, "but the acoustic blues didn't mean anything to me at all.
"It wasn't even so much the song and lyrics at first; it was all about the emotion of the electric guitar."
And that's really where it all began for the young guitar hero, in particular with John Mayall's 1966 album, Bluesbreakers With Eric Clapton. "That album was a real turning point for me," Moore recalled. "That was the stuff I really knew about. My friend had the album, and I spent all my time around his house. I was very passionate about this new sound.
"I took the guy's album and I ruined it by playing it over and over. I came home from school and learned all the sounds, and learned all the songs note for note. I could just relate to it somehow."
The fact that Clapton was creating those sounds had a tremendous impact on Moore, not only with respect to his playing but also in his choice of instrument.
"The first time I heard Clapton play guitar, it changed my life," Moore said. "I was already learning to play, but something very profound happened when I heard that record. Within two seconds of the opening track, I was blown away."
Moore adopted a Gibson Les Paul as his weapon of choice – a decision influenced as much by Clapton as by his other blues hero, Fleetwood Mac's Peter Green – and after a self-imposed apprenticeship with Clapton began to discover the old-school blues players for himself.
But by using Clapton and Green as a key influence, Moore took their blues essence and injected it with a high-octane fire that would go on to characterize his playing with Thin Lizzy, where melody is fused with traditional blues lines.
He was even more impressive onstage, where the passion was visible in his performance.
"That's the thing with the blues," he said. "Even if you're playing the rock stuff, it instills a sense of emotion into you, and into your playing."
Sadly, Moore died of a heart attack on February 6, 2011, at the age of just 58.
Order Still Got the Blues by Gary Moore here.
All the latest guitar news, interviews, lessons, reviews, deals and more, direct to your inbox!
Guitar Player is the world's most comprehensive, trusted and insightful guitar publication for passionate guitarists and active musicians of all ages. Guitar Player magazine is published 13 times a year in print and digital formats. The magazine was established in 1967 and is the world's oldest guitar magazine.
When "Guitar Player Staff" is credited as the author, it's usually because more than one author on the team has created the story.