The Extraordinary Les Paul Lineage of Peter Green, Gary Moore and Kirk Hammett
The torch of 'Greeny' has been handed to guitar luminaries since 1959.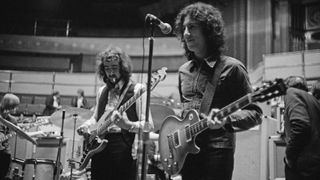 (Image credit: Michael Putland/Getty Images)
Often cited as the best blues guitar player to emerge from England, Peter Green began his brief career with the unenviable task of replacing Eric Clapton in John Mayall's band. Recorded in '66, A Hard Road – the second Bluesbreakers studio album – proved Green and his '59 Les Paul were up to the task.
While sharing Clapton's respect for American bluesmen, the 21-year-old Green had his own take on Les Paul tone.
His quick, stinging vibrato; penchant for clean, cutting timbres (often drenched with reverb); acute sense of dynamics; and unmatched melodic subtlety set him apart from all English blues players before or since.
Green's haunting, 10-second-long sustained notes in the instrumental "The Super-Natural" established him as England's new tone god.
After a short stay in the Bluesbreakers, Green left to form Fleetwood Mac, which played its first gig at the '67 Windsor Jazz and Blues Festival.
Green wrote prolifically for the band, penning "Albatross" (rumored to have inspired the Beatles' "Sun King"), "Black Magic Woman," "Rattlesnake Shake," and "Oh Well."
In early '68, the group's debut album, Peter Green's Fleetwood Mac, reached #4 on the British charts. Soon Green added the 18-year-old Danny Kirwan – whose beautiful playing bore an uncanny resemblance to Green's own – to create a twin Les Paul lineup.
In '70, Green abruptly left Mac and the music biz. He sold his magic Paul – with its unique, snarky honk and mysteriously wired pickups – to Gary Moore, who used it to record Blues for Greeny, a 1995 collection of 11 Green originals rendered with tone and heart.
During his brief career, Green played through a variety of tube amps – including a Marshall head and 4x12 cab (A Hard Road) and Orange half-stacks (early Mac).
Most often, however, he wailed through silverface Fender Twin Reverb and Deluxe combos.
Peter Green's famous '59 Les Paul – now dubbed 'Greeny' – currently belongs to Kirk Hammett who acquired the iconic electric guitar from U.K. guitar dealer Richard Henry.
"I rolled into London and I called him up and said, 'Hey, Rich. What have you got for me? Anything interesting?'" recalled Hammett.
"I plugged it in and I checked the bridge pickup. It sounded nice, bright, full. Great tone. The tonal spectrum was very, very smooth from low to high. I checked the neck pickup. I thought, 'Oh my God. This is so nice.' It has that full-on Still Got The Blues sound; I recognised it instantly.
"Then, you know, I put it in the middle position and started playing and all of a sudden, I was like, 'Holy… Lord!' I looked up at Richard and I said, 'I'm not giving this guitar back to you guys.'"
Hammett, who regularly plays Greeny live and in the studio, wowed the audience at an all-star Peter Green tribute performance hosted by Mick Fleetwood at the London Palladium in 2020.
"It was amazing," said Hammett. "It was a full circle thing for me having Peter Green's guitar and playing "The Green Manalishi." That song has been with me for a very, very long time. And to be able to play it with Mick Fleetwood and a bunch of other players who just understand that era of Fleetwood Mac was an amazing thing.
"Greeny was so at home with that song, and all the tones were just sitting there waiting to be used inside of her. It was a transcendental experience. When it came time to do the solo, I dug deep. I didn't know what I was going to play, but having Greeny in my hands and with that Marshall Bluesbreaker and with that band, I knew I was going to be okay."
All the latest guitar news, interviews, lessons, reviews, deals and more, direct to your inbox!
Rod Brakes is a music journalist with an expertise in guitars. Having spent many years at the coalface as a guitar dealer and tech, Rod's more recent work as a writer covering artists, industry pros and gear includes contributions for leading publications and websites such as Guitarist, Total Guitar, Guitar World, Guitar Player and MusicRadar in addition to specialist music books, blogs and social media. He is also a lifelong musician.