"It Startled Me, and I Thought, Did I Just Write 13 Songs With Lou Reed?" Nils Lofgren Reflects on His "Magical" Collaboration With the Velvet Underground Legend
"He'd been up three nights straight and had finished 13 sets of lyrics," says the Crazy Horse maestro and Bruce Springsteen's E Street Band Rock and Roll Hall of Famer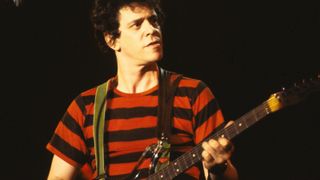 (Image credit: Chris Walter/WireImage)
The following appeared in the September 2019 issue of Guitar Player.
In 1979, Nils Lofgren united with Lou Reed to write songs destined for what would be Lofgren's next album, Nils. Of the 13 they created without ever actually bouncing ideas off one another, five would remain unheard until the release of Lofgren's inspiring 2019 release, Blue With Lou (Cattle Track Records).
Along with the picturesque "City Lights," which Reed presented on his 1979 album, The Bells, Lofgren finally shares the rest of the long-lost gems – "Attitude City," "Cut Him Up," "Don't Let Your Guard Down," "Give" and "Talk Through the Tears" – all of which blend Reed's insightful prose with the uniquely soulful vibe that Lofgren injects in his music.
All the songs, including six new creations from Lofgren, were cut live in his home studio with bassist Kevin McCormick, drummer Andy Newmark and numerous guests, including Branford Marsalis and singer Cindy Mizelle.
How did you meet Lou Reed and wind up co-writing all those tunes?
It was kind of a magical musical accident where [producer] Bob Ezrin and I were doing pre-production for the Nils album. We had a lot of songs we liked, but I also had a lot of music with titles and partial lyrics, none of which we felt strongly about. Bob suggested that rather than have me keep attacking them with rewrites, what about co-writing with Lou Reed? It seemed an unlikely thing to pull off, but I was certainly open to it.
So Bob called Lou, and he was into the idea, which I was pleasantly surprised about. I told him that I wrote songs all the time but lyrics always took more work, and he said it was the exact opposite for him: Words poured out in pretty good shape, but the music was more of a struggle.
How did you actually start the writing process?
He asked me to send him a tape of what I had and leave all the lyrics and titles in, and just let him live with that. So I sent him a 13-song cassette – remember this was 1979 – and just carried on my pre-production work with Bob.
About a month went by, and I kind of forgot about it, because I was wrapped up in a lot of music that we did have. And then Lou woke me up at four one morning and said he'd been up three nights straight and had finished 13 sets of lyrics that he felt great about. It startled me, and I thought, Did I just write 13 songs with Lou Reed? He was jacked up about it and wanted to dictate them to me right then. So I made some coffee and stayed on the phone with him for two hours, meticulously writing down every single lyric he'd written for all the songs.
How did you divvy up the tunes?
There were three he wanted to use right away. He loved my chorus to "City Lights" and didn't want to mess with it, but he wrote a story about Charlie Chaplin, and he wanted to use it on The Bells. Lou did a spoken version, though, and I always wanted to do a version with the actual melody in it. So he used three songs and I used three, and I put out a couple after that in '85 on the Damaged Goods album. In '95, I released "Life," with Branford Marsalis playing this beautiful sax on it. And then I released another one called "Driftin' Man" on my Breakaway Angel album.
So now there's five sitting in my basement, and in the back of my mind I always thought Lou would call one day and say, "Let's dust off those songs we never got to." But then, tragically, we lost Lou [who died in 2013], and I just felt that we had to get those lost songs in shape to share.
Did you record Blue With Lou mostly live?
Yes. I wanted a band in a room where we're all looking at each other, and so it was Andy Newmark on drums and Kevin McCormick on bass – two of my favorite musicians ever. I didn't even want them to come in until I could sing and play each song well and go for live performances, because all the little touches are a lot more exciting when you get the meat of the song done.
I just don't like overdubbing at all. We wanted to keep this album very old-school and earthy and as live as possible, and we pulled it all off. I don't think we even went after a take for at least seven or eight days. We just learned 20 songs, tore 'em up and experimented with different arrangements, and when we had all of them in shape to play live as a band, we started recording.
What guitar did you use for the slide part in the title track, and is it in open tuning?
It's just standard tuning, because there's a lot of chording, and I used this beautiful custom Zemaitis guitar that belonged to James Honeyman-Scott, who was one of my dear friends. I loved the Pretenders, and Jimmy and I jammed a lot together and palled around quite a bit. Of course, we lost Jimmy a long time ago, but his wife, Peggy, felt that Jimmy would want me to have one of his guitars, so I got this Zemaitis of his. I always try to get Jimmy's guitar on every record I make.
What amp did you run it through?
I just cranked it through a Fuchs 1x12 combo amp and ran a cabinet in a closet to help a little bit with leakage. I don't think I used an overdrive pedal. I just pushed the amp hard enough to get it to saturate.
What type of slide do you use?
I've tried a lot of different slides, and I finally had a guy make me some custom ones that are extra-thick metal. I'm not sure if they're brass, but I use them on my little finger, and they're just big enough to cover an octave from the first to fourth strings, so it's easy to move around fairly quickly.
Is that you playing pedal steel on "Pretty Soon"?
Yes, the lead guitar is a Carter pedal steel in E9 tuning. I'm running it through a Barber Burn Unit overdrive pedal and an Electro-Harmonix POG with the settings down a little, so it just added some low-end depth to create a more aggressive, bluesy lead sound.
The main tracking was done on my Takamine acoustic tuned to open D – D A D F# A D, from low to high. I also ran that through my foot pedals with some subtle low-end POG in there just to give it a little more rock edge. It was running through a D.I. and an amp too, with some overdrive effects to fatten it up.
"Rock or Not" also has what sounds like a low-octave fuzz on the guitar. What's the setup there?
I used a newer Fender Jazzmaster for the main riff, and I put some heavier strings on it. Again, that was an open-D tuning. I ran it through the POG and pushed the amp pretty hard, and I also brought in a little more high end on the POG. If you take it up too high, everything sounds like a pipe organ, but if you use just a little, it gives it more of an edge, so it wasn't just bottom end. I did the lead part with the Gretsch.
What other guitars did you play?
I used my old Stratocaster on "Give," and the main guitar on "Attitude City" was again the Black Falcon. I also added a Fender 12-string that went through an amp with a little overdrive and a bit of POG added to fatten it up.
"Remember You" is a beautiful tune. What acoustic guitar are you using?
It's my Takamine, which has a midsized cutaway body and a little tube inside the electronics. Because of the thumb pick I use, there's an extra harshness in the right hand, especially on acoustic guitars. I'll use some compression to soften the harshness, but the little tube preamp in these Takamine guitars makes for a warmer, richer sound, and those are the ones I used throughout the record.
I wrote that song about my dog Rain, and it's about loss in general. Last September, we had to say goodbye to my 91-year-old mom, and we lost our dog Groucho a couple of years ago, too, so it's an authentic song about loss and how as you get older the losses mount up.
In that light, the song "Dear Heartbreaker" is particularly poignant.
I wasn't planning to write a song about Tom Petty, but my wife, Amy, and I went to see the Heartbreakers on their last tour at Red Rocks, and they were brilliant as always. We never thought it would be the last time we saw Petty. You lose Prince and then Tom, and I was determined not to get so bummed out that I'd stop listening. I went through that once when John Lennon died. It was like, What's wrong with me? The Beatles are the reason I put down the accordion and picked up the guitar!
But I solved it this time thinking of his line "I won't back down." It's like, okay, he's not here, but the music is, and you've got to keep letting it inspire you. I was determined to keep listening, and it led to a little verse I was singing just to honor him. All of a sudden there were more verses and it was a very long song, and I knew I had to get it on the record.
Order Blue With Lou here.
All the latest guitar news, interviews, lessons, reviews, deals and more, direct to your inbox!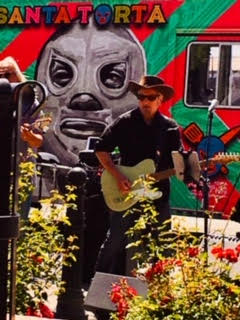 Art Thompson is Senior Editor of Guitar Player magazine. He has authored stories with numerous guitar greats including B.B. King, Prince and Scotty Moore and interviewed gear innovators such as Paul Reed Smith, Randall Smith and Gary Kramer. He also wrote the first book on vintage effects pedals, Stompbox. Art's busy performance schedule with three stylistically diverse groups provides ample opportunity to test-drive new guitars, amps and effects, many of which are featured in the pages of GP.