Here's How The Velvet Underground Created a Template for Alternative Rock
Guitarists Lou Reed and Sterling Morrison were the prototype for alt-rock guitar tandems.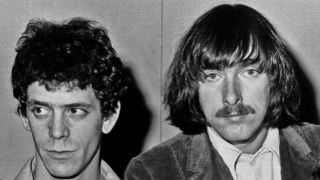 (Image credit: Michael Ochs Archives/Getty Images)
Many guitarists will decry the Velvet Underground's lack of guitar expertise, but there is no avoiding the group's impact on alternative rock or its guitarists.
Perhaps no album of theirs is as important in this regard as their first and most influential, 1967's The Velvet Underground & Nico.
Beyond its music and anti-establishment production, the disc gave us the band's guitar tandem of Lou Reed and Sterling Morrison.
As players go, they couldn't be further apart. Reed was the bombastic one, drawing shrieks, squawks and drones from his guitar and creating at times a dense ambience of noise that could be an agitated precursor to the haunting drone of shoegaze.
Check out his jagged lead work on "Run, Run, Run," the exotic drones on "All Tomorrow's Parties" or the cacophonous sonic cloud that engulfs "European Son," all three from that remarkable debut.
Morrison, less celebrated, played the more traditional single-note lines and ringing arpeggiations on songs like "Femme Fatale" and "Pale Blue Eyes" from 1969's The Velvet Underground.
That's him picking the bluesy sliding lead guitar line that loops hypnotically, and patiently, through "I'm Waiting for the Man."
Those sliding notes are a hallmark of Morrison's style, heard on later recordings, like "Pale Blue Eyes" and the Velvet Underground outtakes "Foggy Notion" and "Lisa Says."
Bassist Doug Yule, who joined the group following the departure of founding member John Cale in 1968, offered up this first-hand analysis of Reed and Morrison's interplay in a 1997 interview.
"Sterling always wound up with the more organized breaks while Lou favored the longer, louder, raunchier ones," he said. "He had a brilliant sense of melody but an imperfect instrument. Sterling seemed to be just the opposite, more a process of technique that lacked a soaring vision."
It was together that they helped each other excel.
Their interplay on "Heroin" is remarkable, Morrison's strumming pushing Reed into ever-more frenzied soloing.
On "Sister Ray" their guitars, initially distinguishable by each player's style, merge over its 17-plus minutes, until it's impossible to tell who is doing what.
On their own, either would be easy to dismiss – Reed too provocative, Morrison too traditional, and both lacking technique – but as a tandem, they did their most revolutionary work.
Significantly, their interplay established the template for many future alt-rock groups that featured an electric guitar duo, one player holding down the floor while the other lifts the music higher.
Browse the Velvet Underground catalog here.
All the latest guitar news, interviews, lessons, reviews, deals and more, direct to your inbox!
Guitar Player is the world's most comprehensive, trusted and insightful guitar publication for passionate guitarists and active musicians of all ages. Guitar Player magazine is published 13 times a year in print and digital formats. The magazine was established in 1967 and is the world's oldest guitar magazine.
When "Guitar Player Staff" is credited as the author, it's usually because more than one author on the team has created the story.