Zemaitis: King of Custom-Made Guitars
Axes of choice for Hendrix, Clapton, and Gilmour these vintage rarities are the ultimate rock star guitars.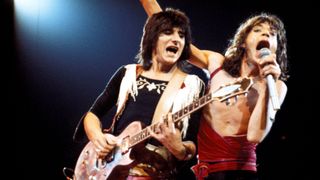 (Image credit: Andrew Putler/Redferns)
If ever a guitar maker qualified for the prize of having the most guitars in the hands of world-dominating rock stars while remaining unrecognized as a brand name, it would be Tony Zemaitis. His custom-made guitars have been played by artists such as Jimi Hendrix, Eric Clapton, George Harrison, Keith Richards, Paul McCartney, Marc Bolan, Donovan, Bob Dylan, David Gilmour, Peter Frampton, Ronnie Wood, Ronnie Lane, James Honeyman-Scott…
And yet, outside of enthusiast and collector's circles, if you had mentioned the name Zemaitis in the U.S.A. in the pre-Internet days, most music fans and guitarists alike would have drawn a blank. On the other hand, describe "one of those fancy, engraved metal-front electric guitars shaped like a Les Paul," and suddenly many of those same people would know exactly what you were talking about.
The guitar maker was born Antanus Casimere Zemaitis in London, in 1935, to Lithuanian-born parents. He became serious about luthiery in the 1960s after making a few guitars for his own use while playing in blues clubs around the city. Zemaitis first became known for crafting finely wrought acoustic guitars, which found their way to Hendrix, Clapton and Donovan, among others. But he began to concentrate on making electric guitars in the '70s and into the '80s, and those instruments garnered more attention.
Zemaitis's concept of a metal-fronted guitar came from discussions with Clapton in 1969, who had wondered what a silver guitar would sound like. The notion stuck with the luthier, and sometime later he added a plain aluminum metal front to an early electric test guitar and found it helped eliminate feedback, and even seemed to improve tuning and intonation.
He built his first such instrument for Groundhogs guitarist Tony McPhee in 1971 and made another one later that year for Faces guitarist Ronnie Wood. The latter instrument's metal plate was tooled by shotgun engraver Danny O'Brien, whose handiwork became an essential part of the Zemaitis look.
Wood's use of his Zemaitis with the Faces on the popular TV show Top of the Pops helped launch a craze for the distinctive-looking guitars, and a year later he commissioned a second, slightly different Zemaitis with a black body and a round, more centralized metal plate, a style now known as a "disc front."
Devoid of their ornate metal plates, the instruments themselves are relatively straightforward, albeit high-quality custom-made guitars. Zemaitis used his own in-house bridge and tailpiece designs, which usually displayed further engraving, and sometimes even carried the model name, as in the rare left-handed example from 1983 pictured here.
He favored the 24-fret necks that were often seen as an upgrade in the late '70s and early '80s, and toward the latter part of that era he sometimes added elaborate switching options to the electronics, as seen below.
Seeking a new original look to rival that of his metal-front guitars, Zemaitis also built several examples with elaborately "tiled" mother-of-pearl tops, which both Wood (below) and Honeyman-Scott would also own.
In the latter part of his career, the luthier made only some eight or 10 guitars per year, and his production was never much higher than that during the peak years of the '70s and '80s. He retired in 2000 and passed away in 2002. He had been in discussions to license his designs to another manufacturer at the time of his death, and the Zemaitis brand was reborn with the blessing of his wife, Ann, and son, Tony Junior, in the Japanese-made guitars of Zemaitis International.
The most desirable of the guitars are still engraved by Danny O'Brien. Meanwhile, original Zemaitis guitars made by Tony himself are more desirable than ever on the collector's market.
Essential Ingredients
Solid mahogany body with ornately etched metal top
Glued-in mahogany neck
Ebony fingerboard with 24 frets
Dual humbucking pickups with elaborate switching
Zemaitis in-house bridge and tailpiece
Visit the Zemaitis website to check out their current line-up of guitars.
GP would like to thank Rumble Seat Music for showing us this incredible 1983 Zemaitis Custom De Luxe.
All the latest guitar news, interviews, lessons, reviews, deals and more, direct to your inbox!
Dave Hunter is a writer and consulting editor for Guitar Player magazine. His prolific output as author includes Fender 75 Years, The Guitar Amp Handbook, The British Amp Invasion, Ultimate Star Guitars, Guitar Effects Pedals, The Guitar Pickup Handbook, The Fender Telecaster and several other titles. Hunter is a former editor of The Guitar Magazine (UK), and a contributor to Vintage Guitar, Premier Guitar, The Connoisseur and other publications. A contributing essayist to the United States Library of Congress National Recording Preservation Board's Permanent Archive, he lives in Kittery, ME, with his wife and their two children and fronts the bands A Different Engine and The Stereo Field.