"I Would Never Dance to Someone Else's Tune": How Jeff Beck Found True Happiness in Expressing Himself as a Musician Without Any Boundaries
After going quiet in the 1980s, Jeff Beck returned to form with 'Guitar Shop,' beginning a journey of rediscovery that culminated with 'Jeff'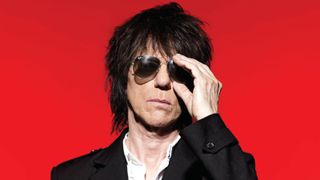 (Image credit: Ross Halfin)
"I'm an awkward son of a bitch when it comes to doing the expected," Jeff Beck said in an interview published in the April 1992 issue of Guitar Player.
Beck made the comment while explaining his decision to not record Gene Vincent's biggest hit, "Be-Bop-a-Lula," for the Crazy Legs album, but the guitarist's quote could apply to any moment from his career, or even its entirety.
During the late '80s, when instrumental rock guitar albums became increasingly popular and artists like Joe Satriani and Yngwie Malmsteen reached respectable chart positions, the music industry's "guitar hero" environment seemed perfect for Beck to stage a comeback. He did, indeed, finally emerge from several years of relative silence by releasing Jeff Beck's Guitar Shop in 1989.
But instead of returning to his jazz-rock fusion roots or jumping into the fray with a collection of blazing metal-inspired shred workouts, the guitarist delivered an album that defied the era's genre categories with its high-tech synths, state-of-the-art electronic production and truly innovative guitar performances.
The Guitar Shop album presented Beck in a different kind of power trio, accompanied by keyboardist Tony Hymas (who previously played on Beck's 1980 release, There and Back) and ex-Zappa, U.K. and Missing Persons drummer Terry Bozzio. The material was dazzling and eclectic, with Beck performing everything from the punky new wave strut of "Sling Shot" and simulated industrial noise of pneumatic wrenches on the title track to meditative, soaring melodic lines on "Two Rivers."
Elements of metal and blues were present but not prominent on songs like "Big Block" and "Stand On It," while country twang, rockabilly swing and slinky funk made appearances elsewhere. The overall result could only be described as "Jeff Beck music." The most stunning showstopper, particularly when Beck played his Guitar Shop material live, was "Where Were You."
With his skillful and tasteful manipulation of harmonics and his Strat's volume control and vibrato bar, Beck delivered an emotional and beautiful performance that transcended previous perceptions of an electric guitar's capabilities. Inspired by the Bulgarian State Television Female Vocal Choir and its album Le Mystère des Voix Bulgares, Beck transformed his guitar into a vocal-like instrument, establishing a template for his deep exploration and deft interpretations of numerous ethnic vocal styles throughout the rest of his career.
In support of the Guitar Shop album, Beck went on the co-headlining The Fire Meets the Fury tour with Stevie Ray Vaughan in 1989. Beck, Bozzio and Hymas played almost the entire Guitar Shop album, with the sole exception of "Two Rivers," every night, along with a handful of songs from Beck's Blow by Blow and Wired albums and an instrumental version of "People Get Ready," the song with which he scored a hit when he reunited with Rod Stewart in 1985.
Regardless of who was headlining that night, Beck and Vaughan usually joined each other onstage for a final encore of "Going Down," where the two traded extended solos. "It's been a lifelong thing to me, listening to you," Vaughan said about Beck when Guitar Player interviewed the two together on tour for the February 1990 issue. "For me it's an honor to be out here with you now. And I'm not just being a parrot talking shit. This is the real deal."
Although the tour was an incredible success, Guitar Shop enjoyed only moderate sales and failed to achieve Gold certification in the U.S. Arranging another tour seemed like the next logical step to maintain his career's momentum, but unfortunately Beck aggravated the effects of tinnitus he suffered by playing at excess volume levels every night, and playing onstage had become unbearable.
Instead, he retreated to the quiet and solitude of his country home in East Sussex, emerging occasionally to participate in a few studio sessions for other artists' projects, including the Days of Thunder soundtrack, Jon Bon Jovi's Blaze of Glory debut solo album, and guest appearances on albums by Buddy Guy, Tony Hymas and Roger Waters.
In 1992, the upcoming release of two albums prominently featuring Jeff Beck were announced: a soundtrack record for an Australian television mini-series about the Vietnam War called Frankie's House and a tribute to Beck's biggest influence, guitarist Cliff Gallup of Gene Vincent's Blue Caps, called Crazy Legs. Although neither album was the solo effort follow-up to Guitar Shop that so many of his fans wanted to hear, both treated listeners to a bounty of amazing guitar playing.
Crazy Legs featured uncannily accurate reproductions of Gene Vincent's recordings and almost note-for-note duplicates of Gallup and Johnny Meeks' solos, while Frankie's House went in almost the opposite direction, showcasing Beck's incredible emotional and tonal range as well as his uncanny ability to evoke the distinctive phasing of Vietnamese wind instruments.
On each project, Beck teamed up with appropriate collaborators. For Crazy Legs, he was accompanied by the British jump-blues tribute band the Big Town Playboys. Beck and the group recorded all the material live in the studio over the course of a few days. "To hear the sound coming together, as it must have done 35, 38 years ago, was quite amazing," he said in the April 1993 issue of Guitar Player. "We had two main rehearsals and went straight in [the studio] and cut four songs right off. The second day we did another four. The album existed after about four or five days."
Ironically, Beck first hooked up with his Frankie's House collaborator, keyboardist Jed Leiber, in hopes of recording a rockabilly project, albeit one with modern energy and flair similar to the Guitar Shop cut "Savoy." The guitarist had initially reached out to songwriter Jerry Leiber (of Leiber and Stoller fame, who penned hits for Elvis Presley, among many others) about collaborating, but the elder Leiber declined the offer, stating he was no longer the "angry young man" of his youth.
Instead, he suggested that Beck should work with his son. Beck and the younger Leiber did manage to record a few rock and roll tunes, including a cover of "High Heel Sneakers" for Frankie's House and a hot-rodded version of "Hound Dog" for the Honeymoon in Vegas soundtrack (allegedly recorded during a one-hour lunch break while working on the former).
Although Beck's initial "future rockabilly" plans never worked out, Leiber turned out to be a perfect partner when the soundtrack project was offered, and Beck quickly realized that he preferred the "wide-open piece of paper and pen" composition aspects of soundtrack work over conventional songwriting. "I can't write pop songs," he admitted. "This is much more my thing. Artistically, I feel I contribute much more to that open-endedness and searching than I can to a pop song that people will enjoy for three minutes and then throw away."
After those albums were released, Beck retreated to his home again and participated in a handful of sessions over the next few years. His most notable appearances included three blues covers he did with Paul Rodgers for the singer's Muddy Water Blues tribute album, a collaboration with Seal on "Manic Depression" for the Stone Free Jimi Hendrix tribute album, and guest appearances on albums by Kate Bush, Duff McKagan and Jan Hammer.
In 1995, the guitarist made his long-awaited return to the concert stage on a co-headlining tour with Santana, reuniting with his Guitar Shop bandmates Terry Bozzio and Tony Hymas, plus bassist Pino Palladino. The energetic spirit and incredible displays of musicianship onstage were welcomed by Beck's fans, but it also reminded them just how much time had passed since the guitarist's last record.
Frustratingly, Beck still failed to release any new material over the next four years. Sessions produced by Steve Lukather in Los Angeles and at David Gilmour's studio in England failed to materialize into an intended solo effort. His session work also slowed down, although the exceptional quality of his performances on John McLaughlin's "Django" and Brian May's "The Guv'nor" and his stunning cover of the Beatles' "A Day in the Life" recorded for Sir George Martin's In My Life album showed that his talents continued to mature and expand.
By this point it seemed that Beck was content to make only cameo appearances, trading solos with other guitar greats, or record cover songs. Almost an entire decade had passed before he finally delivered his next recording, Who Else!, in 1999.
In an interview conducted that year for Japan's Player magazine, Beck explained his reason for the long delay. "The last nine years were rough for music," he said. "It has been jumping around all over the place, like a fox. I could never tell where anything was going to go. I was also really depressed about not being able to keep the original three-piece band together: me, Tony Hymas and Terry Bozzio. I got really disillusioned with my playing as well. I knew that there were these other guitarists coming up around the block, and they could really play. It was just telling me that it was time to move on. I wasn't going to let that happen, but they did shove me aside or a while. I just thought that I should be an observer rather than a participant."
In typical Jeff Beck fashion, the guitarist found inspiration from an unexpected source: electronica. "I'm a great fan of the Prodigy," he admitted. "They kick butt and they make that great, wallowing-in-the-mud sort of festival music. I love it. It's like the Who and the Yardbirds. I love their drum sounds. They're punky, but they're articulated and beautiful. It's not trashy. I wanted to capture that power with my guitar on top of it."
For the first time in his career, Beck was also joined on an album by a second guitarist, Jennifer Batten. In addition to providing rhythm guitar support, Batten performed keyboard-style backing on guitar synth. Tony Hymas played a major role on the album as well, recording keyboard parts and writing or co-writing nine of the album's 11 tracks. Even Beck and Jan Hammer reunited on the Hammer-penned cut "Even Odds."
Beck's fascination with the modern, Pro Tools-based production techniques of electronica and his new musical partnerships with players like Batten helped him overcome the creative paralysis that plagued him during the '90s. Less than two years after releasing Who Else!, he delivered You Had It Coming in November 2000.
Beck credits producer Andy Wright, who previously worked with the KLF and Massive Attack as well as various pop artists, with keeping the momentum flowing. "I was throwing things at Andy Wright, and he was throwing them back at me," Beck said. "That's the way it worked. I'd play and play and play, then go out and have a beer.
"Then I'd come back after an hour at the pub and listen to what Andy had done. He'd go, 'I pulled this section out of your solo. What do you think?' Then I'd start composing. I was composing and soloing simultaneously. Choruses would appear out of nowhere. It was super high-tech but old-school at the same time. It came together very quickly, but I wanted that."
While the production of these albums gave Beck's guitar work a modernistic flair, the guitarist's continued fascination with ethnic vocal music showcased his incredible emotional mastery of his chosen instrument. The Irish folk tune "Declan" on Who Else! and his instrumental interpretation of Asian Underground musician/producer Nitin Sawhney's "Nadia" on You Had It Coming were highlights of each album that suggested Beck could duplicate the feel, phasing and characteristic nuances of any style he set his mind to.
Beck completed his electronica trilogy with the release of the Jeff album in 2003. Fully immersed in modern production techniques, he collaborated with as many engineers and remixers like David Torn, Dean Garcia and Howard Gray as he did musicians.
Once again, amid all of the high-tech flash, Beck astonished listeners with his stripped-down emotional fireworks on "Bulgaria," finally making good on his promise to pay proper tribute to the Bulgarian Female Vocal Choir and completing the circle he began with Guitar Shop's "Where Were You."
Beck's prolific output during the early 2000s was a stark contrast to his relative silence throughout most of the '90s. After releasing Jeff, he looked forward to exploring new styles and collaborations that expanded his horizons as well as his reputation as a master guitarist even further. At this point in his career, he found true happiness in expressing himself as a musician without any boundaries, instead of trying to pursue commercial success.
"By now I'm so set in my own ways that I don't care whether I put out any hits or not," he said in 2002. "I would never dance to someone else's tune. That constant state of being is fine with me, provided that I do make at least a little bit of money. I'm happy as long as I get a reasonable turnout at my shows and reasonable sales for my records."
All the latest guitar news, interviews, lessons, reviews, deals and more, direct to your inbox!