Watch Jeff Beck and Jennifer Batten's Dazzling Display of Guitar Wizardry on 'Letterman'
"He's like the Miles Davis of rock guitar" Batten told us back in 1999.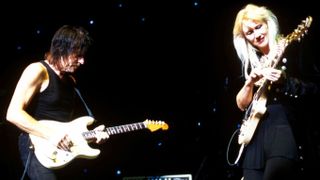 (Image credit: Mick Hutson/Redferns)
"I still pinch myself from time to time," Jennifer Batten told Guitar Player back in 1999 when this amazing footage of her performing the track "What Mama Said" with Jeff Beck aired on the Late Show with David Letterman.
Two-handed tapper and former Guitar Player columnist Batten had co-written and recorded the number with Beck for the guitarist's seventh studio album Who Else!
"He hasn't played with another guitar player since the Yardbirds. It's way beyond my wildest dreams," remarked Batten on her new gig as a member of Beck's band.
Batten, who first met Beck in '92 when she was on Michael Jackson's Dangerous tour, went on to say, "At first, I was intimidated because he's the guy I've been looking up to for the last 25 years.
"Everybody looks up to him – whether it's Steve Morse, Steve Vai, or Eric Johnson – because he has this magic thing that nobody else has.
"Luckily, his personality is down-to-earth and friendly enough that I feel comfortable working with him. Actually, I feel a lot more comfortable when I'm onstage with him, rather than if he was out in the audience watching me."
Of all the gear on Beck's stage, nothing rivaled Batten's gargantuan "rack of doom," which housed two completely different systems for electric guitar and keyboard sounds, including two separate foot controllers, three volume pedals, and a DigiTech Whammy.
During a typical show, she was switching between 60 patches: 30 guitar sounds and 30 keyboard sounds. "It's pretty intense," remarked the guitarist. "Sometimes I have a different sound assigned to every string."
At the time, Batten played Washburn Maverick guitars loaded with Seymour Duncan pickups (two with JB Jrs. in the bridge and Hot Stacks in the neck and middle positions, and two with JB Jrs. in the bridge and Duckbuckers in the neck and middle), Roland GK-2A guitar-synth pickups, and Floyd Rose tremolos.
All guitars were set up with the Buzz Feiten Tuning System and strung with Dean Markley .010-.046 gauge strings for increased tension, as Beck tuned down a half-step.
Her choice of pick was the Fender Jazz heavy.
Batten's guitar system included a Peavey 5150 head and two Peavey 5150 4x12 cabinets. She ran through a DigiTech GSP2101 for clean sounds, and a Boss Acoustic Simulator to cop acoustic guitar tones.
For synth sounds, she used a Roland GR-10 MIDI converter, Akai samplers, and a Roland JV-1080 sound module – all played through Peavey power amps and keyboard cabinets.
"Jeff is always reinventing himself – he's like the Miles Davis of rock guitar," said Batten, a graduate of Hollywood's G.I.T.
"You never know what to expect from him and he always sets the pace for others to follow."
Browse the Jeff Beck catalog here.
All the latest guitar news, interviews, lessons, reviews, deals and more, direct to your inbox!