"It's the Most Profound Spiritual Power On Earth": John McLaughlin Talks Music
The jazz fusion pioneer goes deep in this classic archive interview.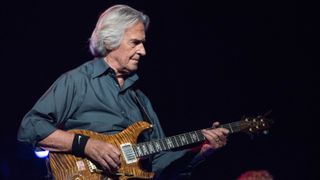 (Image credit: Jim Bennett/Getty Images)
Innovator, technical avatar, eternal seeker – all of these terms apply to the extraordinary John McLaughlin, who helped pioneer jazz-rock in the early '70s with the high-energy Mahavishnu Orchestra.
While many guitarists were trapped in a harmonically bleak, pentatonic prison, McLaughlin's depth enabled him to freely explore the musical landscape.
McLaughlin defies categorization. Rooted in jazz, he was influenced by Django Reinhardt, Tal Farlow, and Jim Hall, trumpeter Miles Davis, and saxophonist John Coltrane.
At the same time, he was fascinated with classical composers from Beethoven to Bartok.
Later, he became interested in Eastern philosophies and music, studying rhythmic theory and instrumental technique with several Indian masters.
These factors, intermingled with elements of rock and blues guitar, helped shape his resilient approach to improvisation and composition, leading him to record with musicians as diverse as Jimi Hendrix, Miles Davis, bassist Jack Bruce, and Indian violin virtuoso L. Shankar.
In this fascinating interview extract from the September 1985 issue of Guitar Player, McLaughlin talks creativity, artistic evolution and the unifying power of music.
Do contemporary pop and jazz reflect the degree of creativity that they have in the past?
On the whole, no. There seems to be a kind of hiatus going on. Today, rock and jazz are rhythmically, harmonically, and experimentally inferior to what was happening even as far back as the '60s.
But this kind of backlash against intellectuality of any kind is more of a sociological problem than it is a musical one.It's cyclical, and a more receptive mood will return.
However, you can't deny that a lot of pop music – including the type of easy-listening funk by so-called jazz musicians – is terribly banal. It's superficial, and it is not even covertly commercial; it's unashamedly blatant.
Jazz is vital, living music that should be about life. Don't misunderstand me, because at the same time I don't knock any kind of music. I like Billy Idol, you know what I mean?
There's room for everybody, and I like to think that if it's music, then it's good. It's the most profound spiritual power on earth. It sure beats the hell out of killing people.
You have a reputation as a great technician. Can the intellectual and technical aspects of music get in the way of speaking from the heart?
Not when the artist is wholly integrated in himself, which is something we're all working for.
I'm alive. I have an intellect, a heart, and a physical side, and I want to integrate all three to be whole.
In the process of evolution, you may emphasize one more than the other, but that is perfectly normal because you have to live life in order to integrate yourself.
It's a lifelong work because it presupposes evolution as a human being.
You are also known for exploring different musical areas. Does that result from curiosity and the urge to experiment, or is it due to frustration and restlessness?
It's not due to frustration and restlessness. It's from my love of music. If I hear something great, I want to know more about it.
When I hear a great musician, I can feel his life and his elegance and his eloquence inside the music, and that makes me want to know more about him. Whether it comes from east, west, north, or south, music is my language.
When I first heard some of the great Indian musicians, I had an enormous desire to know them better.
To be able to play with them is satisfaction you cannot imagine, although I don't really play their way. I'm able to communicate with them because I know the rules governing their approach.
Order John McLaughlin's Liberation Time here.
All the latest guitar news, interviews, lessons, reviews, deals and more, direct to your inbox!