Stevie Ray Vaughan and Jeff Beck Talk Shop in This Classic GP Interview
Read this fascinating extract and watch unmissable clips as the Strat legends usher in a new decade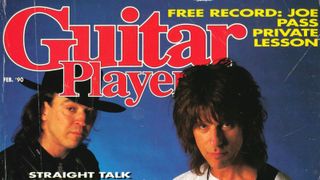 (Image credit: Future)
Stevie Ray Vaughan (1954-1990) and Jeff Beck: two of the greatest electric guitar players the music world has ever known. Rock icons synonymous with the Fender Stratocaster, they were united on the road from October to December 1989 during their co-headlining Fire Meets the Fury Tour.
Along the way, both Vaughan and Beck sat down with Guitar Player to share some insights and stories in a rare dual interview.
At the time, Beck had just released his sixth studio album, Jeff Beck's Guitar Shop, while Vaughan had put out his fourth, In Step, earlier that summer.
It was to be the final Double Trouble album released during Vaughan's lifetime as the guitarist tragically died during a helicopter crash in August 1990.
The following interview extract originally appeared in the February 1990 issue of Guitar Player…
Both of your styles are grounded firmly in blues tradition, but you each take that tradition in very different directions.
Stevie Ray Vaughan: I play it less original than most people I've heard. This is one of the things that blows my mind about what Jeff does, that he takes the roots of it and is able to make it go way out there.
That's what Buddy Guy did, Hubert Sumlin, Muddy Waters. They all changed it up and did their own thing with it.
Jeff Beck: But I wasn't even close to it. I was three and a half thousand miles away in suburban England, and all I had was this fuzzy radio to listen to, and I'd read things and try to steal records when no one's looking.
I used to go and listen for hours and wear all the records out and then just buy one. Befriend your local record-store guy – that was the way to do it. That was a big awakening for me. And going to art school was great because we'd just lend each other records and drink. That's all we could do.
Jeff, what was it like to jam with Hendrix?
SRV: Yeah, good question.
JB: What was it like? Well [pause], it was awful! The first time, I felt like a peanut, like a fucking hole would have opened up and swallowed me.
The thing that puts it right is the fact that there's a genuine love that Jimi had for my style as well, which I couldn't believe.
Then I realized that Jimi was not a messiah; he was a very genuine, dyed-in-the-wool, music-loving person. He didn't give a damn about the reputation, the show biz razzmatazz. All he was interested in were the licks and what you were feeling like – kind of like Buddy Guy.
Remember that night we were playing with Buddy? It was a conversation. The guitar was just talking and he was listening and looking: "Hmm, that's interesting!"
It was much the same with Jimi. He wasn't out to blow you off the stage at all. If he did, he did, but… What am I talking about, 'If'?' Phew! It was great.
When I got friendly with him, it was just sadness that we couldn't nurture the friendship a bit more. In those days, life was just totally crazy. He would be off in a 24-hours-a-day lifestyle, and I couldn't keep up with it. I had to have my sleep.
He was a boogier – a club here, club there, and he'd be jamming until 5:00 in the morning. My lifestyle was never destined to be like that, so I just had to say, "Adios, Jim, I gotta go to bed!"
I felt very amateurish alongside him, because he lived and breathed it. You're very similar to Jimi in that way. I'm just a part time employee.
SRV: I don't know about that one [laughs].
JB: I'm not in love with the guitar as much as you are or Jimi is – was. I just pick it up and play sometimes. I feel really guilty. Whatever I choose to do, it always robs me of something. The guitar robs me of my time building [hot] rods, and the rods take their toll on the playing.
But the payoff is the refreshment on both sides. By building, I'm able to completely steep myself in physical things, and all the time I'm doing that, I'm thinking of licks and music, which I'm not able to do sitting with a guitar.
That's probably the reason I'm able to maintain a modicum of interest in music after 30-odd years.
The Strat requires a lot of hand strength. And you both use fairly macho action on top of that.
JB: That's part of the reason I started playing it onstage, because I found that the energy level was 50 times more than sitting around at home.
And it's better to have something that's tuned up for that, rather than sloppy action that makes you say "Oh God! I wish it was harder to play. This is too easy!" Then you start sliding downhill.
You have to have this thing just above you, pulling you, making you work.
SRV: If I put smaller strings on there so they don't hurt, I can't get the same sound. Then my tendency is to play harder, and I just tear things off.
Sometimes at home I either tune down to C and leave the same strings on, or I put lighter strings on and use a light pick so I start remembering about a lighter touch. But when I get on stage, I really need the big strings.
All the latest guitar news, interviews, lessons, reviews, deals and more, direct to your inbox!