The Story of Carlos Santana's Psychedelic "Strat"
This hallucinogenic, "magical realist" guitar perfectly matches Santana's musical aesthetic and spiritual vision.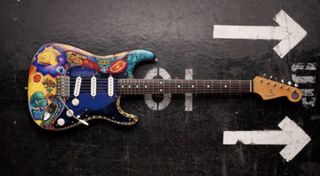 (Image credit: Future)
In the Fall 2010 issue of our late sister magazine, Guitar Aficionado, we ran a feature on Carlos Santana's guitar collection. Here's one of the groovy instruments that we couldn't squeeze into the article!
In the mid Eighties, Santana began to work with the visual artist Michael Rios, whose hallucinogenic, "magical realist" style is almost telepathically in sync with the guitarist's musical aesthetic and spiritual vision.
Rios has created numerous posters, graphics, silk-screened t-shirts and album covers for Santana, notably the cover art for the multiplatinum Supernatural in 1999.
Rios also designed this guitar for Santana, painting the body of a Fernandes Strat-style guitar that was later retrofitted with a Fender neck.
When Rios presented the instrument to Santana, the guitarist was struck by one image in particular - the disembodied hand on the upper body bout, with a glowing triangular shape resting in the palm.
"Every time I took LSD, I would lose all sense of everything," Santana told GA at the time, "I always found a guitar pick in the middle of my hand. And I'd say, 'This thing has something to do with who I am and what I do in this lifetime.'
"Whether I had lost all identity of being Carlos Santana or being Mexican or whatever, there was always a pick in my hand, and that somehow connected me with my purpose in life.
"I never told Michael Rios about any of that. But look on that guitar, there's a pick in the hand. See that? I don't know how Michael knew that. But that was the only thing that brought me back out of LSD. Some people never came back."
All the latest guitar news, interviews, lessons, reviews, deals and more, direct to your inbox!
Rich is the co-author of the best-selling Nöthin' But a Good Time: The Uncensored History of the '80s Hard Rock Explosion. He is also a recording and performing musician, and a former editor of Guitar World magazine and executive editor of Guitar Aficionado magazine. He has authored several additional books, among them Kurt Cobain: Montage of Heck, the companion to the documentary of the same name.