Get The Boss Pocket GT At An Amazing $100 Off the Marked Price
By Scott Rowley published
Pocket-size amp/effects processor that pairs with your smartphone or tablet is a post-Black Friday bargain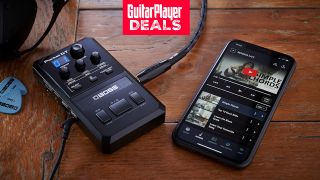 (Image credit: Boss)
The Pocket GT is Boss's smallest GT unit yet. It's an incredible machine that pairs with your smartphone or tablet, giving you access to over 100 amps and effects, the ability to integrate with YouTube – to create song lists, set loop markers, and more – and it can quite literally fit into your pocket.
The good news? Black Friday guitar deals aren't over yet. It sold out on the official Boss store on Amazon (opens in new tab) but now Guitar Center are offering it at a massive $100 saving. (opens in new tab)
The Pocket GT features the same sound engine as Boss' GT-1 floor processor, and packs 99 user memories. These come filled with ready-to-play sounds, but users can also customize them or create their own from scratch. Stored amp and effects setups can also be exchanged with the GT-1 via their respective Boss Tone Studio editors.
Boss Pocket GT: was $249.99, now $149.99 (opens in new tab)
The Boss Pocket GT is a pocket-size guitar processor with integrated features for YouTube learning and everyday playing. It hass the same sound engine as Boss' GT-1 floor processor, and packs 99 user memories. It's a great new way to practice or jam, no matter where you are.
The Pocket GT features the same sound engine as Boss' GT-1 floor processor, with 99 user memories, with ready-to-play electric guitar sounds that you can customize or create your own from scratch.
The Boss Tone Studio app offers a YouTube browser that streams sound to the Pocket GT, while user memory switching allows for switching up sounds as a video plays. You can also assign user memories to markers, change sounds automatically during video playback, set markers to repeat sections and create video song lists.
It's an amazing new tool at the best price we've seen it.
Scott is the Content Director of Music at Future plc, which means he's responsible for the editorial strategy on online and print brands like Guitar Player, Guitar World, Total Guitar, Louder, Classic Rock, Metal Hammer, Prog, Guitarist and more. He was Editor in Chief of Classic Rock for 10 years and Editor of Total Guitar for 4 years. Scott regularly appears on Classic Rock's podcast, The 20 Million Club (opens in new tab), and was the writer/researcher on 2017's Mick Ronson documentary Beside Bowie (opens in new tab).
Over the years Scott has interviewed players like Jimmy Page, Slash, Brian May, Poison ivy (the Cramps), Lemmy, Johnny Depp (Hollywood Vampires), Mark Knopfler, Robin Guthrie (Cocteau Twins), Will Sergeant (Echo & The Bunnymen), Robert Smith (The Cure), Robbie Robertson (The Band), Jonny Greenwood (Radiohead), Joe Bonamassa, Scotty Moore (Elvis Presley), J Mascis (Dinosaur Jr), Mick Jones and Paul Simonon (The Clash), Pete Shelley (Buzzcocks) and more.
Get the latest news, reviews and product advice straight to your inbox.
Thank you for signing up to The Pick. You will receive a verification email shortly.
There was a problem. Please refresh the page and try again.