Samantha Fish and Jesse Dayton's Top Ten Tips for Guitarists
With their debut collaborative album, 'Death Wish Blues,' ready to drop, the powerhouse duo shares some priceless pointers for fellow guitarists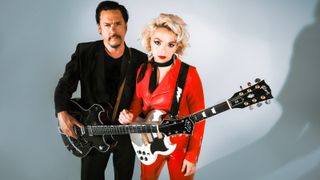 (Image credit: Daniel Sanda)
Late last year, Guitar Player announced the release of Samantha Fish and Jesse Dayton's EP, The Stardust Sessions.
Comprising a trio of covers – including the late '50s rockabilly classic "Brand New Cadillac" written by Vince Taylor (of Vince Taylor and His Playboys fame), Townes Van Zandt's late '60s acoustic number "I'll Be Here in The Morning," and "Feelin' Good" by Chicago blues luminary Magic Sam – The Stardust Sessions were just a hint of what's to come.
Slated for release on May 19 via Rounder Records, Fish and Dayton's debut collaborative album, Death Wish Blues, is ready to "push the limits of blues music."
Produced by the legendary Jon Spencer of Jon Spencer Blues Explosion, Death Wish Blues sees Fish and Dayton (Johnny Cash, Waylon Jennings, X) fulfil their shared long-time mission of opening up the blues genre to new audiences.
"It was always a big deal when Jesse came through town to a play a show," says blues guitar phenom Fish. "I'd been wanting to do a collaborative project for a while and went to see Jesse perform in New Orleans, and right away I knew he was the guy.
"We got together and had this vision of making something of an alt-blues record, but it turned out to be so much more exciting and layered than I ever imagined."
Ahead of the release of Death Wish Blues, GP caught up with the pair to talk guitar playing. Here, Fish and Dayton share ten of their best tips for fellow guitarists…
1. Solo With Melody
Samantha Fish: If you're constructing a solo, forget all the flashy stuff. Go for melody. Find a melodic hook somewhere in the solo.
I like to start with something simple, build up and away from that, and then somehow, at the apex, come back to a melodic hook.
I don't know why, but that approach just seems to be really effective with an audience. Maybe it's because people are expecting some kind of return. It's about telling a story, right? And saying something meaningful.
2. Get out of Your Wheelhouse
Jesse Dayton: One thing that's helped me tremendously is learning pieces of music that are not in my wheelhouse. It can be anything – a commercial on television, a theme song, jazz music, whatever.
If I work it out on my guitar and deconstruct how they did it, eventually that's gonna find its way into my writing process. It's like a way to trigger your brain to do something different.
I like to figure out what horn players or pedal-steel guitar players are doing, for example – things other than guitar. Then, when I go and play, people are like, "What is that?!" It always sticks out.
It's a great way to move away from the same pentatonic thing you might have been doing for years.
3. Try Different Tunings
Fish: If I'm falling into the same old patterns, open tunings are really, really good for refreshing your approach to the guitar. I use open tuning when I'm playing slide, but it also makes you think differently about chord voicings and writing riffs.
If it's a tuning I'm not familiar with, I'll almost immediately find something cool and interesting. I mean it could even be like a whole song that you would have never have stumbled upon otherwise.
4. Explore Major and Minor Keys
Dayton: Playing in major and minor has really helped me. A lot of people tend to live in one or the other and they can't go in and out of either comfortably.
You see a lot of rock guitar players who live in this kind of pentatonic scale thing, especially if they're playing blues. But if you listen to B.B. King, T-Bone Walker and jump blues, you know, a lot of those guys are playing in a major key.
A lot of guitar players think playing in major isn't dark and moody and mysterious enough. But it really can be if you play it the right way!
5. Speak With Your Hands
Fish: Spend some time working on your expression and phrasing, because that's gonna say so much more than any kind of speedy thing will. Go listen to 'the three Kings,' you know, B.B., Albert and Freddie. It's about playing in a conversational way. My favorite guitar players are conversational. Yes, there's melody. But it's the way that you say it.
Find a way to speak with your hands. I'm always trying to make the guitar sound like a voice, or my voice. There are pauses, breaths and phrasing. It's not just 90 miles per hour notes, notes, notes.
It could be just one string bend with a little vibrato and people react so much more dramatically.
6. If Alone, Try a Drone
Dayton: I'm from Texas, and in East Texas, there's this style of playing called droning. Usually, it's a low E string tuned down to a D, or even a C. You can hit the low string with your thumb and play along in those keys on the higher strings with your fingers.
Droning is really hypnotic and it sounds amazing. Lightnin' Hopkins and Mance Lipscomb did that. As did Jimmy Page and Jeff Beck. I've turned a lot of people on to this and it's like they've discovered a whole new thing with guitar.
It's great when you're playing by yourself, and it's a little bit outside the box of 12-bar blues.
7. Pick and Choose
Fish: When you play slide with a pick, it sounds bright and aggressive, and you can really soften the sound if you pick with your thumb and/or fingers. But there's so much to play with using hybrid picking when slide playing.
I bounce back and forth between using my regular pick and my fingers. You can get a vast difference in tone when you do it like that. I always recommend people play around with that if they want to have fun finding new sounds.
I've played with many different picks over the years – different thicknesses and composition. Now, I'm accustomed to using a 1mm Ernie Ball pick.
8. Play the Guitar Like a Drum
Dayton: Rhythm guitar playing seems to get overlooked a lot, especially if people always want to play flashy lead stuff. But one thing that helped me tremendously was when I was 18, I got to play on this zydeco record. I was playing rhythm guitar and I realized I was basically playing drums on the guitar!
After a while of playing these really hypnotic rhythms parts, my picking hand became super loose. It's nice when you can think about your guitar almost like a percussion instrument. It will open your mind to so much more and you'll start playing all these very inventive rhythm parts.
9. Use the CAGED System
Fish: I found the CAGED system really helped me get acquainted with where everything sits on the neck. It helped it all make sense. For me, it just sort of mapped out the guitar neck.
And once you kind of know where everything is, you're free to solo, you're free to find chords. It just gives you a roadmap – you know where to go and from there you can start exploring.
I always tell people who are just starting to play guitar to check out the CAGED method. It takes the intimidation factor out of it a little bit. Also, I've known people to get stuck in power chords and it kind of breaks you out of that.
10. Learn 'the Three Heys'
Dayton: When I was learning how to play guitar, a guy by the name of Granville Cleveland said to me, "Man, I'm gonna show you how to play 'the three Heys!'" They were "Hey Hey, My My (Into the Black)" by Neil Young, "Hey, Good Lookin'" by Hank Williams, and "Hey Joe" by Jimi Hendrix.
Those were the first three things that I learned on the guitar. And they're all different styles. But I've been doing variations of those three songs my entire career in some way!
So my advice is go learn something completely different. If you can learn a new song every week, just think how many songs you'll know at the end of the year. The arrangements of those songs will inform everything you do. I mean, when you get up on stage, it'll be really hard for somebody to throw a screwball at you!
Pre/order Death Wish Blues here.
All the latest guitar news, interviews, lessons, reviews, deals and more, direct to your inbox!
Rod Brakes is a music journalist with an expertise in guitars. Having spent many years at the coalface as a guitar dealer and tech, Rod's more recent work as a writer covering artists, industry pros and gear includes contributions for leading publications and websites such as Guitarist, Total Guitar, Guitar World, Guitar Player and MusicRadar in addition to specialist music books, blogs and social media. He is also a lifelong musician.