"If I Want to Push the Boundaries of Guitar, It's Not Going to Be by Using a Pedal": Brian May Guitars Signature Artist Arielle Talks Ditching Pedals and Turning up the Volume
Schooled by Eric Johnson, the tone purist says playing loud is like, "living on the edge of utter disaster and awesome inspiration"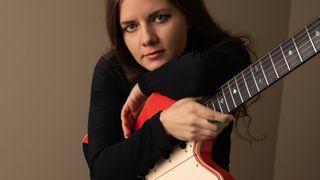 (Image credit: Andrew McMeekin)
Whether appearing in Queen's We Will Rock You musical or playing with guitar heroes Eric Johnson and Vince Gill, Brian May Guitars signature artist Arielle has always danced to her own tune.
Having collaborated with Brian May, the American guitarist now boasts her own six-string model, the BMG Arielle.
Appearing in three tasteful finishes – Two Tone, Windermere Blue and Antique Cherry – this unique signature guitar is the first original build of May's since his iconic Red Special appeared in the early '60s.
A self-confessed tone purist, Arielle's distinctive sound appears loud and proud on her latest album, '73.
An ode to the maestro's 1973 Volkswagen Bus (lovingly referred to as Magick) '73 is due out on April 20th and is available to pre-order here.
Ahead of the album's release, Guitar Player caught up with Arielle to talk about the past, present and future of good, old-fashioned electric guitar tone…
What do you look for in guitar tone?
Back in the day, I used to have a massive pedalboard and I wasn't thinking about where most of my guitar tone was coming from. In my opinion, the two main things are the guitar and the amp, and each one colors the tone individually. The more variables you add in, the more diluted the character of the guitar and amp becomes.
Guitar tone is in your fingers, sure, but you've got to have a guitar that makes sense for you – an instrument that brings out the nuances of your playing. My main guitar is my self-built guitar, Two Tone. With the volume and tone knobs, pickup on/off switches and in/out-of-phase options I can pretty much get all the sounds I want.
Right now, I'm working with Yonderbosk on some signature Tri-Sonic pickups that are warmer and have a little more output. I don't like brittle pickups. The set I'm using at the moment is on the darker side. That's because I think it's easier to brighten up a guitar tone on an amp than it is to take away any harsh high-end from the pickups. It's a matter of figuring out the variables and making it as simple as possible.
My goal is to be able to just plug the guitar into an amp and for it to sound great with nothing else involved. Maybe I can enhance it by adding some reverb or another effect occasionally, but I've really become a purist in that way.
What do you look for in an amplifier?
Right now, I pay the Alessandro 1/2 Azz. I came across it kind of by accident when I played Derek Trucks' amp while it was getting fixed at George Alessandro's house. When I plugged in, it just made my guitar sound better. It's such a hi-fi, detailed amp. I think that's why Derek Trucks likes it so much.
It's dynamic in terms of responding to your picking intensity, but the overtones are incredible. It has two channels that you can stack (one clean, one dirty) plus reverb and tremolo, so I can use the amp as a full workstation instead of relying on pedals. There's a lot of headroom but when it breaks up, it retains that clean, articulate quality of my Tri-Sonic pickups.
A lot of people feel exposed with a very detailed sound. It takes a certain type of player to want to really make the most of that.
Yes. My pickups are very clean, and so is my amp. Even in breakup, the guitar is not playing itself. And if you mess up, everyone will know because you're so exposed. It can be daunting for people. When I stopped using lots of pedals, it felt like I had to relearn how to play guitar. Ultimately, it's made me feel better because I'm not having to rely on gear.
Do you get more out of less gear?
I do. The downside is it can get quite loud. I don't have a problem with that, but some other people do. I love hearing the natural breakup of an amp. Sometimes I'll use an overdrive pedal for boost if I can't have my amp as loud, but I can really hear the difference. It almost sounds digital, or like there's a compressor on my guitar.
The sound is much more dynamic and responsive without pedals. I like the guitar to be more like a voice. I prefer that sort of control over my instrument. For me, pedals are less emotive.
What pedals do you currently use?
I have a wah pedal and a TC [Electronic] Stereo Chorus Flanger from the '80s which I might use for one or two songs. I use the tremolo on the amp. If I have an effect, it'll typically be used for one song. Like if I want to use a fuzz, I might throw it in for one set then take it out. I won't even run a tuner through my pedalboard. It's literally just two pedals and an ABY switch.
Guitar players often return to a simplified rig, especially when it comes to playing live.
Because I don't always have a guitar tech on the road, it is extremely convenient to be dealing just with three variables: guitar, amp and cable. When something goes wrong with a pedalboard, it's a different scenario. It could be anything – a patch cable, power supply, battery, knob or switch.
Like most guitar players, I've had horrible experiences. There's nothing worse than just getting shut off. Especially when your guitar goes and you're a trio. Your show is kind of ruined and you're looking down going, "I don't know?!"
Your new album, '73, has a strong retro theme; how does your back-to-basics approach to gear relate to this?
When I think of my favorite guitar players from back in the day, they didn't have access to the kind of gear we do now. Brian May is one of my favorite guitarists and he just used a treble booster through his amp. If you crank up an AC30 and turn on a treble booster, you have that Brian May tone.
Jeff Beck wasn't one to use many effects either. There he was, adding all sorts of incredible technique. It allowed his creativity to expand. Which is something I aspire to. If I want to push the boundaries of guitar, it's not going to be by using a pedal. I can't hide behind a pedal. I want it to be a melody or playing technique. I like the challenges of limitations.
How did your technique change when you simplified your rig?
The more I play without pedals, the more I prefer playing with fingers. But, obviously, there are certain things a pick is really useful for. I use Dava picks (I have since I was ten) and they're great for a lot of different stuff, but I also move it out of the way and play with my fingers a lot now. I'll switch between using a pick and fingers, but I'll be holding a pick the whole time.
What do you enjoy about playing loud?
When I was growing up I was led to believe women are supposed to be quiet and they don't take up much room. Like that's what you do to be "a lady." But there's this magical thing that happens when you turn up. It's what I love about guitars.
I was at a Red Special meet up where they compared a digital rig to Vox AC30s. They turned on three AC30s and just blasted it. It was so heavenly. Loud guitar captures otherworldly sounds. The guitar can be extraordinary when you feel it in your stomach and there are all these frequencies going on. It soars when you bend the strings. I don't even understand it fully…
Then you hear the virtual rig and it doesn't sound as good – doesn't have that full effect. If you don't AB the two, most people don't know what they're missing. But it's the reason I play.
I've got to feel excited about it. I mean people pay a lot of money to skydive or go on a racetrack with a Lamborghini, and it's a very similar feeling because you're on the edge. Like, I could mess up and everyone in my whole neighbourhood will hear it, or your playing sounds so good you didn't even know a guitar could sound like that. It's a magical feeling.
Considering the link between creativity and sound and the impact of volume on tone and feeling, do you think something is being lost in the guitar world if people are increasingly turning down?
Oh yeah, absolutely. I was lucky enough to work with Eric Johnson as long as I did (about four years.) Prior to that, I had never played through a full stack. Back then, I had a huge pedalboard called Big Momma that weighed about half as much as me, and he said, "Try this," and plugged me in.
It was so scary for me. I was like, "Can you leave the room? Don't judge me!" [laughs] But yeah, he taught me so much about guitar tone and speakers and valves – the importance of an amp in finding your sound.
After all, the electric guitar was made for tube amps!
Brian May and Joe Bonamassa – they play so freaking loud, as did Jeff Beck. You've got to trust yourself to do that. It can be horrifying. Like, this could go wrong so fast! And when there's a mistake, everyone knows it.
Eric [Johnson] said this too: it's the experience of living on the edge of utter disaster and awesome inspiration.
Arielle's new album, '73, is released April 20th.
Arielle is on tour in the U.K. with When Rivers Meet in April and May.
Visit the Arielle website for album and ticket info.
The Arielle BMG signature guitar is available from Brian May Guitars.
All the latest guitar news, interviews, lessons, reviews, deals and more, direct to your inbox!
Rod Brakes is a music journalist with an expertise in guitars. Having spent many years at the coalface as a guitar dealer and tech, Rod's more recent work as a writer covering artists, industry pros and gear includes contributions for leading publications and websites such as Guitarist, Total Guitar, Guitar World, Guitar Player and MusicRadar in addition to specialist music books, blogs and social media. He is also a lifelong musician.