Arielle on Her Friendship With Brian May, Making an All-New Signature Guitar, and Following Her Own Star
Arielle arrives with a retro-leaning debut album and a signature axe made in collaboration with Brian May Guitars.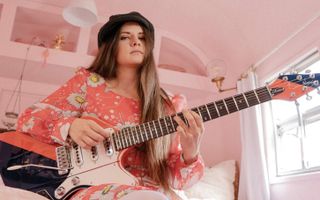 (Image credit: Caitlin Brady)
Apparently, no-one told Arielle it's difficult to come up with something unique in the world of rock guitar. For years now, the singer-songwriter and six-stringer has followed her own singular path in the music universe, from appearing in the London stage production of Queen's We Will Rock You musical to working with artists like Nuno Bettencourt, Eric Clapton and Vince Gill.
And it's all culminated in the release of her brand-new solo record, Analog Girl in a Digital World, as well as her signature guitar, the Arielle, a uniquely designed offset that represents Brian May Guitars' first foray into a model that's not the Red Special. The guitar represents a full-circle moment for Arielle, given that it was Queen, and Brian May, that led her to the instrument.
"When I was six years old, I was living in Northern California, and a babysitter showed me a video of Live at Wembley," she recalls. "I saw the band, and I saw this guy with cool hair and a neat guitar, making cool poses, and it moved me to where I needed to be a guitarist, and that needed to be my life. I had to be like him."
By the age of 10, Arielle was playing guitar and graduated high school early in order to attend Musicians Institute in L.A. It was during this time, in 2007, that she befriended May while he was out promoting his astrophysics book, Bang! The Complete History of the Universe, in Hollywood. Arielle went to a book signing and brought along her guitar, a homemade creation (much like May's Red Special) named Two-Tone.
"We started talking and connected pretty quickly, and we became pen pals," Arielle says. She would occasionally send May videos of her performing. "He told me, 'That's really good – you should audition for my musical.' So at 18, I got a visa, packed a suitcase and a couple of guitars, moved to England and landed a spot in We Will Rock You."
Afterward, Arielle came back to the U.S. and launched her own career in earnest. Bettencourt, she said, "took me under his wing for a while," producing songs and helping her land her first record deal. From there she moved to Nashville, was mentored by Vince Gill, and toured and worked with Clapton, Gregg Allman, Graham Nash, Heart, Joan Jett and others.
Despite her talent for six-string shapeshifting, at heart Arielle is her own artist, as exemplified on Analog Girl in a Digital World. The new effort is rooted in her love for '60s and '70s rock, but with a fresh and decidedly modern approach.
She cut half of the album's songs in analog and half in digital, with the basic tracks recorded live, in single takes. The result is a record that runs the gamut from straight-up classic rock ("You're Still a Man"), sparkling power-pop ("Digital World") and Byrds-like jangle (the first single, "Peace of Mind") to intimate, acoustic folk ("Living in a Fortress"), slow-burning balladry ("Inside & Outside") and wild, Queen-like guitar freak-outs ("I'd Rather Be in England"), all of it informed by Arielle's distinctive songwriting and guitar perspective.
Much of that perspective comes courtesy of her original Two-Tone, as well as a prototype of the new BMG Arielle. She was inspired to build her own guitar after learning how May had constructed his Red Special as a teenager. When fans asked where they could buy one, she and a friend decided to build a few per month, by hand.
"That's when Brian suggested, 'Why doesn't Brian May Guitars do it?'" she recalls. The result is a true collaboration. While the new Arielle features the Two-Tone's body shape, color scheme and other elements, it also boasts a very Red Special–like headstock, pickup set and switching system.
"We changed a few specs, but I think overall the really relevant features have stayed the same," Arielle says. "It's not called Two-Tone because it's not a replica of my original guitar. It's its own thing."
Analog Girl in a Digital World is out now.
All the latest guitar news, interviews, lessons, reviews, deals and more, direct to your inbox!
Rich is the co-author of the best-selling Nöthin' But a Good Time: The Uncensored History of the '80s Hard Rock Explosion. He is also a recording and performing musician, and a former editor of Guitar World magazine and executive editor of Guitar Aficionado magazine. He has authored several additional books, among them Kurt Cobain: Montage of Heck, the companion to the documentary of the same name.