Get 50% Off Line 6 Plug-Ins Right Now in Sweetwater's Black Friday Sale
Save $200 on Line 6 Helix Native plus more half-price bargains on Metallurgy, Echo Farm 3 and Amp Farm plug-ins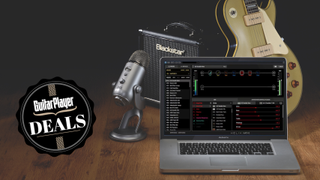 (Image credit: Future)
Yep. It's the end of November and that means the internet is thick with Black Friday guitar deals.
Here at GP HQ we're beavering away all weekend to try and find the best deals – the real deals – to help you get the most out of this year's retail meltdown.
One of the most impressive Black Friday events our eagle-eyed bargain hunters have spotted are these incredible half-price offers on Line 6 plug-ins.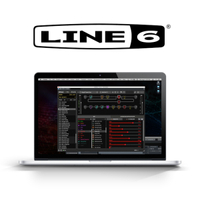 Line 6 Helix Native: $399 $199
With a whopping 100+ effects, over 60 guitar and bass amps, plus more than 30 cab sims, Line 6 Helix Native works a treat on your DAW of choice. Providing Line 6's renowned amp, cab, and effects modeling in plug-in format, this expansive piece of software is also available with 50% off priced $49.99 for HX Stomp/HX Effects, Helix/Helix Rack and Helix LT owners.
If you own a DAW, we highly recommend checking out Line 6's Helix Native.
Sweetwater has slashed this epic modeler right down from $399 to an incredible $199.99!
That's an instant saving of $200.
Boasting a massive choice of over 60 electric guitar and bass amps along with more than 30 cab models and a ton of effects, this virtual Aladdin's cave of tone is bound to inspire.
What's more, if you're a Helix/Helix Rack user, any saved sounds can be transferred in an instant.
(Note: Line 6 Helix Native is also available with 50% off priced $49.99 for HX Stomp/HX Effects owners here; Helix/Helix Rack owners here; and Helix LT owners here).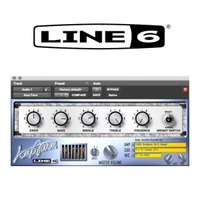 Line 6 Amp Farm 4.0: $199.99 $99.99
Introduced in 1998, Amp Farm has become a trusted industry standard plug-in for miked guitar amp and cab simulations. Version 4.0 sports over a dozen realistic re-creations of world-renowned heads and combos, adding tube-like warmth, dynamic distortion and air to any audio track. 48 cab sims along with a choice of 4 mic setups offer extensive choice and tonal flexibility.
Sweetwater are also offering 50% off their acclaimed Metallurgy amp/effects plug-ins.
You can snag a bargain on the entire Line 6 Metallurgy Collection with $100 off at just $99.99.
Or you can bag Metallurgy: Doom, Metallurgy: Modern and Metallurgy: Thrash separately for only $49.99 each!
Additionally, that old Line 6 favorite Amp Farm (version 4.0) is a steal at just $99.99 while the Echo Farm 3 delay plug-in also has $100 off the regular price of $199.99.
More great Black Friday deals
All the latest guitar news, interviews, lessons, reviews, deals and more, direct to your inbox!
Tom Poak has written for the Hull Daily Mail, Esquire, The Big Issue, Total Guitar, Classic Rock, Metal Hammer and more. In a writing career that has spanned decades, he has interviewed Brian May, Brian Cant, and cadged a light off Brian Molko. He has stood on a glacier with Thunder, in a forest by a fjord with Ozzy and Slash, and on the roof of the Houses of Parliament with Thin Lizzy's Scott Gorham (until some nice men with guns came and told them to get down). He has drank with Shane MacGowan, mortally offended Lightning Seed Ian Broudie and been asked if he was homeless by Echo & The Bunnymen's Ian McCulloch.