Here's How to Replicate the Magic of the Blues Greats
Get in the tone zone of Eric Clapton, Albert Collins, Albert King, B.B. King, T-Bone Walker and Stevie Ray Vaughan.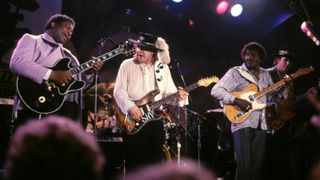 (Image credit: David Redfern/Redferns)
Great blues tone isn't rocket science – you just need to get a happening sound in your head, and then use the right tools to replicate the magic.
All great players have specific guitars, amps, and effects that are essential to their sound.
Some, like B.B. King, used the same setup for decades – in his case, a Gibson ES-355 through a Lab Series combo or a Fender Twin Reverb – while others tweak their systems incessantly in the pursuit of groovier tone.
Stevie Ray Vaughan favored one guitar – a Stratocaster – and a few key effects throughout his career, but he experimented a great deal with amps and speakers.
No matter which player you choose to emulate, it's important to understand that merely replicating every detail of their gear is no guarantee that you're going to sound exactly like them.
Tone is, after all, 90% touch and 10% hardware.
Buddy Guy would sound like himself no matter what equipment he used, and the same holds true for most great players.
Still, some guitars and amps can inspire you to play a certain way, and using rigs similar to the ones used by players you respect may help you zone in on a killer sound that can later be morphed into something uniquely yours.
ERIC CLAPTON
"Clapton Is God" graced many a structure in the late '60s, and for good reason – he practically wrote the book on how to play blues-rock electric guitar.
Attaining a credible Clapton sound requires that you first determine which period in his long career you like best.
During his time with John Mayall's Bluesbreakers, Clapton famously used a late-'50s Gibson Les Paul Standard through a model 1962 Marshall 2x12 combo.
Part of the secret here is that Clapton's amp was equipped with KT66 output tubes, which have a more refined midrange and clearer top end than either EL34s or 6L6s.
With Cream, Clapton went to high-volume heaven with 100-watt Marshall heads and 4x12 cabs.
He also used a Vox wah-wah and, occasionally, a fuzz.
After his Les Paul was stolen, Clapton played a '61 SG-style Les Paul, and then a Gibson ES-335 for Cream's farewell concert.
With Blind Faith, Clapton used a Gibson Firebird through a Fender Showman.
He then switched to maple-fretboard Strats through Fender tweed Champs during his Derek & The Dominos/"Layla" period.
Both setups yielded tones that rate among Clapton's best.
ALBERT COLLINS
The "Iceman" had one of the most original tones around – just listen to his fabulous sting on such classic cuts as "Frosty," "Too Many Dirty Dishes," "Iceman," and "Put the Shoe on the Other Foot."
Collins certainly did things his own way.
He played a beat-up Fender Telecaster, with a Gibson humbucker in the neck position, that he tuned to open Fm.
He used a capo – often at the fifth or seventh position – and he snapped and popped his strings with his thumb and forefinger.
Collins also favored '70s-era Fender Quad Reverb amps (100 watts into four 12s), and he used a 100' cord.
This latter detail allowed him to get friendly with the audience, while the added cable capacitance helped defrost his icy highs.
ALBERT KING
Almost every blues guitar player "borrows" something from Albert King – even Stevie Ray Vaughan based his blistering style on King's mammoth bends and lightning-bolt stabs.
Almost no one tries to duplicate the left-handed bluesman's gear, however, which isn't too surprising, considering that King played a flipped-over Gibson Flying V with the low-E string closest to the floor.
According to repair ace Dan Erlewine (who built King's replica V, "Lucy"), Albert strung his guitar .009, .012, .024W, .028, .038, .050, and tuned it C, F, C, F, A, D (low to high.)
Steve Cropper, who produced a number of King's albums, offers a different tuning – C, B, E, F#, B, E (low to high) – which he says allowed King to create a one-finger Em chord by raising F# to G. (Another important aspect of King's tone was that he played exclusively with his fingers.)
Onstage, King often plugged into an Acoustic 370 solid-state guitar amp driving a 2x15 enclosure with a built-in high-frequency horn – a real pawnshop prize!
While a Flying V is the way to go here, just about any quality, dual-humbucker guitar can be coaxed into the Albert zone.
Consider, however, that Otis Rush gets a chillingly similar sound with a Fender Strat!
Amps? That's a good question, as almost nothing available sounds anything like an old Acoustic 370.
Our advice is choose an amp (or amp channel) with enough clean headroom to preserve your note attack. Crank the volume, but go easy on the distortion – King's tone was big and bold, not squashed and compressed.
B.B. KING
The King of the Blues' sweet, singing tone stands out as one of the great guitar sounds of all time.
King's original tone recipe was a Gibson ES-355 through a long-discontinued Gibson Lab Series 2x12 combo amp.
From the '80s, he played a Gibson Lucille model stereo guitar, which features a TP-6 fine-tune tailpiece and no f-holes.
King used both pickups simultaneously and strung his guitar with light-gauge Gibsons (.009-.042).
Though he favored vintage Lab Series amps, he often ran through a Fender Twin Reverb onstage.
Replicating B.B. King's sound requires running your amp's output stage fairly hard, while avoiding the fuzzier distortion produced by high-gain channels or stompboxes.
T-BONE WALKER
Often called the father of electric blues, T-Bone Walker helped establish the guitar as a featured lead instrument in the 1940s.
Guitarists inspired by Walker's playing (or his flashy stage moves) include Chuck Berry, Eric Clapton, Jimi Hendrix, Wes Montgomery, B.B. King, Buddy Guy, Albert Collins, Billy Gibbons, Albert King, Otis Rush, Michael Bloomfield, and Duane Allman.
Walker cut his teeth on primitive acoustic-electrics, but his signature ax was a blonde, maple-bodied Gibson ES-5 that he bought at the peak of his career in the early 1950s.
Walker held the guitar perpendicular to his body (when he wasn't playing it behind his head or between his legs), and it's likely that he plugged into a Gibson tube amp.
T-Bone Walker forged the basic vocabulary of rock and roll using double-stops, half- and quarter-step bends, and his patented, third-to-second-string unison bends.
His unorthodox playing style probably created a little extra string lift and snap, and he preferred his tone dry, clean, and relatively bright compared to jazz guitar players of the time.
A deep-bodied guitar – preferably with P-90-style, single-coil pickups – running through a reasonably clean-sounding tube amplifier are essential ingredients for T-Bone tone.
STEVIE RAY VAUGHAN
Stevie Ray Vaughan forged a sound that defines big blues tone.
Five basic ingredients are required here:
Vaughan often combined amps – Fender Super Reverbs with 1x15 Fender Vibroverbs, Marshall and Dumble rigs with Fender combos, and so on.
Heavy electric guitar strings are an important part of the Vaughan recipe, but remember that Stevie tuned down a half-step – you'll want to do the same if you plan on performing his gargantuan bends on girthy gauges.
Choose your Strat carefully for lightness and resonance, and set your amp's controls to produce a clear, beefy clang from the neck pickup. (Fender Super Reverbs do this naturally.)
All the latest guitar news, interviews, lessons, reviews, deals and more, direct to your inbox!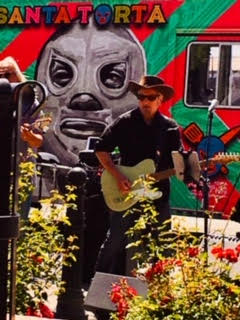 Art Thompson is Senior Editor of Guitar Player magazine. He has authored stories with numerous guitar greats including B.B. King, Prince and Scotty Moore and interviewed gear innovators such as Paul Reed Smith, Randall Smith and Gary Kramer. He also wrote the first book on vintage effects pedals, Stompbox. Art's busy performance schedule with three stylistically diverse groups provides ample opportunity to test-drive new guitars, amps and effects, many of which are featured in the pages of GP.