"Rockabilly Is so Near and Dear to My Heart": Brian Setzer Reveals the Legendary Artists and Guitar Gear That Helped Define His Signature Sound
"I've always done what I've wanted, and it's worked out," says the Stray Cats frontman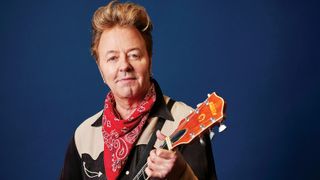 (Image credit: Future)
***The following appeared in the May 2019 issue of Guitar Player***
"There's something about rockabilly riffs that makes them different from other kinds of riffs, Brian Setzer says.
"When I hear a rock riff, I hear something that's very tied to the drums. There's a funky aspect to the way it works. But a great rockabilly riff operates on so many levels. I hear blues, country and jazz. I hear big bands and horn melodies. There's a lot of colors going on. I guess that's why I've found rockabilly so appealing. It's a limitless art form."
Some artists are tourists of multiple genres, but Setzer is more like an explorer, going deep into subcategories such as roots-rock, bluegrass, doo-wop, jump blues and hillbilly jazz.
With uncanny prescience, he kickstarted the '90s neo-swing revival when he formed his eponymous Orchestra in 1994, much as he did a decade earlier when he rebooted the Sun Studio sound of the 1950s with his group the Stray Cats.
Shaking off a first impression is darn near impossible, and to the millions of music fans who first heard him hot-dogging solos with the Stray Cats on early '80s hits like "Rock This Town," "Stray Cat Strut" and "Runaway Boys," Setzer will always be associated with rockabilly.
And he's cool with that.
"Rockabilly is so near and dear to my heart," the guitarist says. "There's just something exciting about it, and it never goes out of style. You can always add your own wrinkle to it and take it somewhere else."
Setzer formed the Stray Cats with fellow Long Islanders and rockabilly enthusiasts Lee Rocker (upright bassist) and Slim Jim Phantom (snare and kick specialist) in 1979. Sporting greaser duds, colorful tattoos and mile-high pompadours, the band invaded stages at New York City punk clubs like CBGB and Max's Kansas City – and they went down a smash.
"The funny thing was, we weren't really different from the punk bands," Setzer says. "The rockabilly music from the '50s was basically the punk music of its day. It was essentially I-IV-V blues progressions, with some killer musicians playing it. So I wrote songs in the rockabilly style, but it sounded just as fresh as what everybody else was doing."
Even so, the band couldn't get a record deal in the States, and it wasn't until they relocated to England in 1980 – where they found fans like the Rolling Stones and a sympathetic producer in ex-Rockpile guitarist Dave Edmunds – that they signed with Arista and scored a series of chart hits.
Two years later, EMI in the States took note and compiled the Stray Cats' first two U.K. albums (Stray Cats and Gonna Ball) as Built for Speed.
With MTV a fixture in living rooms across the nation, the band's videos were seen 24/7, and Built for Speed became the surprise hit of 1982, selling more than a million copies.
But the Stray Cats quickly flamed out. Their Built for Speed follow-up, 1983's Rant N' Rave with the Stray Cats, produced a Top 10 hit with "(She's) Sexy + 17" but only went Gold, and a year later the group, mired by internal squabbles, packed it in.
Setzer puts the band's breakup down to the predictable "too much, too soon" syndrome, but he also admits that his outsized ego was the root of the group's demise. "It was pride and stubbornness," he says. "When you're young and full of yourself, you start to think, I don't need those other guys. Plus, there was a musical aspect to it – I wanted to try something a little different. So I did that.
"But after a while, you kind of grow up. You realize just how silly you were, and you think, Well, maybe we could get back together."
As it happens, Setzer wasn't thinking about getting back into the studio with the band when he started writing the batch of songs that eventually became 2019's comeback album, 40.
As he explains, "I was just messing around with an old Fender Reverb unit, and I just loved the twangy sound of it. I began writing these songs that were like spaghetti westerns – which is really surf-guitar music when you get down to it.
"But then I got on the phone with Jim, and he mentioned that our 40-year anniversary was coming up. I was like, 'Holy cow, you're right!' So that planted the seed. 40 is a big number. You gotta honor it."
What was the first rockabilly record that made you go, "What is that?"
That's easy: "Be-Bop-A-Lula," by Gene Vincent. I was 16 or 17, and I went to Max's Kansas City. The jukebox was playing new wave and all the current stuff, but suddenly that song came on, and I was like, Wow… What is that? I went over to read what it was. That sound and that guitar solo just jumped out at me. I'll never forget it.
There wasn't anything like that around at the time. There was Robert Gordon, whom I found out about. But at the time, it was all new wave and punk – the Dead Boys, the Cramps… That kind of thing.
Cliff Gallup's guitar on "Be-Bop-A-Lula" just knocked me out. It was so different. The sound of that guitar just went right through me.
At the time, you were also a jazz fan, and what I've always liked about your playing is the way you mix jazz chords and soloing with rockabilly. Did that just happen naturally?
Well, see, I didn't have musical blinders on. On Thursday night, I'd go to the Village Vanguard and see the Thad Jones/Mel Lewis Orchestra. On Friday night, I'd go see a punk band. I liked it all, and that's what came out of me with chords and riffs.
I had a certain style and played with a thumbpick and flatwound strings. It wasn't conscious. There was nothing premeditated to it.
When did you get your first Gretsch?
I was 17 years old and found it in this local paper, The Byline Press. It said, "Gretsch guitar, 100 bucks." I called the guy up and asked, "Is it like Eddie Cochran's?" He was like, "Who?"
So I went to his house, and there was the guitar, the 1959 orange 6120. It was exactly what I was looking for. He was going to refinish it and make it natural. He had all of the electronics for it in a shoe box. I gave him 100 bucks, took the guitar and the shoe box, and off I went. It was destiny.
What kinds of guitars were you playing before the Gretsch?
Prior to the Grestch, it was a Japanese guitar that my dad got for me at a pawnshop on Canal Street. I had to bug him for it because my parents didn't have extra money to spend. They were just blue-collar folk.
And then I think I moved up to a solidbody Harmony. Having the right guitar made all the difference. Some people could get a good sound on the Harmony, but I couldn't figure it out. Although I did have better luck when somebody told me about Slinky strings. Before that, I was using these heavy-gauge strings. You could use those things for bridge cables. Slinky strings were a revelation to me, and, of course, so was the Gretsch.
Did it take a while for you to figure out the right amp to pair it with, the Fender Bassman?
The Bassman was another destiny thing. I thought it was just a really cool-looking amp. I was into my image and wanted to look cool. I saw these blonde amps and just thought, I need one of those. I didn't even know how great they sounded.
I answered another ad, this one from a jazz bass player in Weehawken. So I bought the amp, and there it was: "Wow, that's the combination!"
Did having the right combination of guitar and amp change how you played or wrote?
It puts you in the right frame of mind, and you feel better about what you're doing because you love the sound you're getting. I'm not saying you can't write a good rockabilly song with a Les Paul through a Marshall or some other non-rockabilly setup, but because the whole writing thing is so elusive, it just helps to have the right tools.
Like on [40]: I couldn't have written it without a Fender Reverb unit. That thing really inspired me to get going.
The Stray Cats formed in 1979, the same year that Queen had a surprise hit with their own take on rockabilly, "Crazy Little Thing Called Love." What did you think of that song? Did it bother you at all?
Oh, no, I wasn't bothered by that in the least. I thought it was fantastic! I thought it was great. Brian May really stepped outside his signature sound on that one. What a great solo he played, you know? I thought the whole thing was terrific.
After leaving the Stray Cats, your first solo album, The Knife Feels Like Justice, explored more of a roots-rock/Americana sound similar to what Springsteen and John Mellencamp were doing.
Yeah, that's right. I really wanted to explore that area. I changed my guitar tones and wrote some different songs, played different guitars through different amps. That album was transitionary for me. There were some really good songs on it.
If that album had been a big hit, would you have stayed with that sound?
That's hard to say. I don't know. It was a Top 10 album, but it didn't cross over enough, I guess. I'm not embarrassed by it. I just had to see if I could do it, you know? If you wear Levi's your whole life, you want to try on something new. So I did that. I tried it, and then when I was done I wanted to try something else.
Over the years, you've reunited periodically with the Stray Cats, but you've also toured with another outfit, the Rockabilly Riot Band, and you've turned your Orchestra into a big live attraction. Is there any kind of plan to it all?
A plan? No way! [laughs] I really just do what I want. That's the level I live on. Let's say I do something that's not as popular as the other things. If I can't get through that month, I sell a guitar, or I get rid of a motorcycle. And then, for some reason, it always comes back. I'll do something that does really well.
I've always done what I've wanted, and it's worked out. I never had to slog through some tour I hated or anything like that.
Have you incorporated the Fender Reverb unit into your live set-up?
As far as the live rig goes, every time I try to vary what I'm using, it never seems to go over. That Bassman has to be there – it's just the right sound – and I use the Roland Space Echo.
The Fender Reverb Unit doesn't work so well live. You put that thing on certain stages, and if there's a slightest bounce, it's gonna go off. And man, let me tell you, that's like an explosion! [laughs] So live, I use the reverb in the Space Echo. It's not as good as the Fender, but it's more convenient.
You've released several lines of signature Gretsch guitars. What did you use on 40?
Well, I can't stray too much from that '59 Gretsch. I love that sound. I've got a green sparkle Hot Rod that I used on quite a few tracks.
It's thin sounding, which I like. People always say it's too thin, but to me, thin sounding is good because it cuts through everything.
I also used a '56 White Penguin. That could be the first time a White Penguin has ever been recorded.
So I used those guitars and a few different amps. A lot of the reverb you hear is from an old Fender Deluxe [Reverb.] I don't use that on "Desperado" – on that I used a Supro. But I still go back to my '63 Bassman. That's the ticket for me. There was just something about those things. The one I have is pretty much like the amp I bought at 17. You get a stock Bassman that hasn't had its transformers replaced, and you're good to go.
If a young player wanted to study rockabilly, who would you direct him to?
Besides yourself, that is. Oh, there are a few cool guys. As far as modern players go, there's Jim Heath from Reverend Horton Heat. He puts a real punk spin on rockabilly.
And there's a Canadian gent, Paul Pigat, from Cousin Harley. He's really great. And Darrel Higham, he's a U.K. guy – another good one!
Those are probably the best modern rockabilly players out there. They each bring their own style to it. But I have to go back to the original guys: Scotty Moore and Cliff Gallup. They're my favorites.
Is there anything about your playing style you wish you could improve?
Hmm… That's a good question. If anything, I think I could leave some more holes. It's not like we're patching a roof, you know? I could leave a little more space sometimes. When I hear some of my older playing, I like it, but sometimes I think I overplayed.
So I could probably slow down a bit, play a little less. But you know how it is. You get onstage and you're all excited, and you just wanna keep playing. But I'm getting there. I'm getting more seasoned. [laughs]
Order Brian Setzer's latest solo album, Gotta Have the Rumble, here.
All the latest guitar news, interviews, lessons, reviews, deals and more, direct to your inbox!
Joe is a freelance journalist who has, over the past few decades, interviewed hundreds of guitarists for Guitar World, Guitar Player, MusicRadar and Classic Rock. He is also a former editor of Guitar World, contributing writer for Guitar Aficionado and VP of A&R for Island Records. He's an enthusiastic guitarist, but he's nowhere near the likes of the people he interviews. Surprisingly, his skills are more suited to the drums. If you need a drummer for your Beatles tribute band, look him up.