My Favorite Guitar Solos by Brian Setzer
Rock'n'roller Brian Setzer chooses three classic solos: two rock'n'roll firestarters – and one prog rock staple?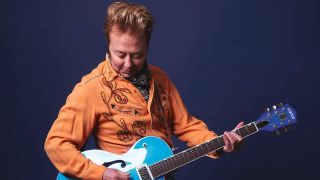 (Image credit: Future/Tony Nelson)
In our last issue we asked some of the world's top guitar players to choose their favorite solos. With one catch: They had to refrain from the obvious. No Hendrix. No Clapton. No Gilmour, et cetera.
Here's what electric guitar hero Brian Setzer had to say…
BE-BOP-A-LULA
Gene Vincent, single
Guitar player: Cliff Gallup
"When I first heard 'Be-Bop-a-Lula,' it was at Max's Kansas City, which was a world-famous punk-rock club on Park Avenue South in New York. It was the late '70s and they had a jukebox, and Be-Bop-a-Lula came on, and that song cut through all the early punk rock that was coming off the stage, even though it was probably half the volume and mostly fingerpicking.
"When I heard that solo, it was like a big hand came over the bar and pulled me to it. It's probably the sexiest guitar solo I've ever heard. It's still probably my all-time favorite. It's subtle, not something that bangs you over the head with a hammer. It's got all the characteristics of what makes a great solo — fingerpicking, the way he builds it (because he plays it three different times), that Gretsch guitar with the early echo... Just the best."
ANOTHER BRICK IN THE WALL, PT.2
Pink Floyd, The Wall
Guitar player: David Gilmour
"This one is off the beaten path – for me! It's a clean Stratocaster tone, but it sustains forever. I don't know how he got that sound! The expression when he bends those three notes. When anybody hears that, they always go 'Woah!' It turns everybody's heads. And besides that, when I played at the Brooklyn Academy of Music for Les Paul, David Gilmour lent me his shaving kit so I could look good before the show. What a gent."
ROCK AROUND THE CLOCK
Bill Haley & His Comets, Single
Guitar player: Danny Cedrone
"It's the best solo of all time in rock and roll that's copied by everyone from metal dudes to rockabillies to blues guys. Here's why: Guitar solos were not really even being played that often in rock and roll at that time. It was all new.
"I think Danny Cedrone had played with Lionel Hampton; I believe he was a jazz guitarist. Here's what I think happened, because I know how these things work: They told him, 'None of this jazz stuff. This is a new music called rock and roll. You really have to play it wild.' And that's what he came up with. It's this crazy new sound that has jazz influences, but it's not jazz. It's still one of the hardest solos to learn. Unfortunately, right after he played that solo, he had an accident and died. Terrible. I don't think he ever got to perform it."
All the latest guitar news, interviews, lessons, reviews, deals and more, direct to your inbox!
Guitar Player is the world's most comprehensive, trusted and insightful guitar publication for passionate guitarists and active musicians of all ages. Guitar Player magazine is published 13 times a year in print and digital formats. The magazine was established in 1967 and is the world's oldest guitar magazine.
When "Guitar Player Staff" is credited as the author, it's usually because more than one author on the team has created the story.