Brian Setzer: How I Wrote the Stray Cats' "Runaway Boys"
The Stray Cats' leader tells all about the band's hit debut single.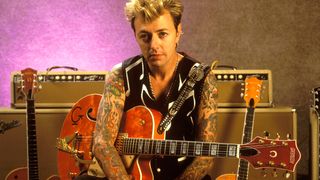 (Image credit: Robert Knight Archive/Redferns)
"It's the first song I ever wrote," Brian Setzer says of "Runaway Boys," the Stray Cats' debut single. "It really summed up everything I was trying to capture, which was my drive to write a new song in the rockabilly style, rather than just the same old I - IV - V thing."
"Runaway Boys" not only put a spin on the well-worn rockabilly formula, it also scored the group a Top-10 hit when it was released in the U.K. in November 1980 as the first single from their forthcoming, eponymous debut album.
At the time, the Stray Cats were London transplants, having realized that the U.K., with its thriving rock and roll scene, would be more receptive to their punk-fueled rockabilly. The group's debut album quickly scored two more U.K. hits, but it took a couple of years before MTV exposure brought the Cats fame in the United States.
Rockabilly Rebels
Setzer co-wrote the song with Stray Cats drummer Slim Jim Phantom, who supplied the lyrics. "We were both about 18 years old when we wrote it, so we were really feeling the whole 'rebellious teenager' thing," the guitarist says.
"I think the song captured that sense of being young and trying to break out from home life. I definitely knew it was unique and unlike anything you would have heard on radio in the '50s. It helped us carve out our own sound."
Somethin' Else
"Runaway Boys" was produced by Dave Edmunds, whose long rock and roll pedigree included late-'60s hits with his band Love Sculpture, an act whose repertoire contained classic '50s rockers. Edmunds' knowledge of rockabilly made him the ideal choice of producer since – despite the song's nonstandard chord changes – Setzer wanted to keep "Runaway Boys" true to the rockabilly sound.
"That clean, strong guitar, the echo, the slap bass and the big snare drum – the aim was to keep those elements intact and add something new," he says. "Dave really captured it, and I don't know whether anybody else could have done that. He understood exactly what we wanted."
Setzer played his 1959 Gretsch 6120 on the track, as he did on the rest of the group's debut album, using a variety of amplifiers supplied by Edmunds.
"Dave knew how to perfectly capture the sounds we wanted," Setzer says. "There was no questioning how he worked. Once the recording was played back, I thought, That's it! There's nothing I would change."
Runaway Hit
"Runaway Boys" was a pivotal moment in the Stray Cats' career. "It lit the fuse," Setzer says. "I think it was what everybody was looking for – not the same old rockabilly but something new. The sounds are familiar, and people love that sound, so it is relatable.
"But at the time, you didn't hear that music on the radio anymore, so it was as if it were forgotten. I remember, we were in Liverpool when we found out it was in the Top 10 in the U.K. pop charts, and that was an incredible thing to hear."
After 40 years of playing "Runaway Boys," Setzer says the song still feels fresh to him. It's even among the tracks featured on Rocked This Town, the Stray Cats' new live album from their 40th anniversary tour. "It's one song I never tire of," he says. "How could anyone not love their first hit record?"
Stray Cats' new album, Rocked This Town: From L.A. to London, is out now via Surfdog.
All the latest guitar news, interviews, lessons, reviews, deals and more, direct to your inbox!
Mark is a freelance writer with particular expertise in the fields of '70s glam, punk, rockabilly and classic '50s rock and roll. He sings and plays guitar in his own musical project, Star Studded Sham, which has been described as sounding like the hits of T. Rex and Slade as played by Johnny Thunders. He had several indie hits with his band, Private Sector and has worked with a host of UK punk luminaries. Mark also presents themed radio shows for Generating Steam Heat. He has just completed his first novel, The Bulletproof Truth, and is currently working on the sequel.