What's the Most Collectible Gretsch Guitar? These White Penguins Are As Rare As Penguin's Teeth
Vintage Guitar Veteran David Davidson of Well Strung Guitars shows us the "Holy Grail" of Gretsch.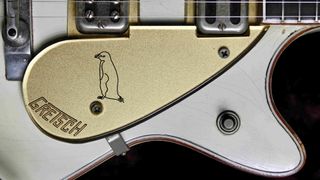 (Image credit: Paige Davidson/Well Strung Guitars)
These Gretsch 6134 White Penguins are incredibly rare. It's estimated Gretsch made 12 to 15 single-cutaway and eight to 10 double-cutaway 6134s. Back in the day, Gretsch really didn't advertise them, but I think if they had marketed the White Penguin, it would have been a successful guitar. I imagine these guitars were custom ordered. I mean, this model just wasn't hanging around in music stores.
The White Penguin came out in 1955 – the same year as the White Falcon – but they weren't even put on the price list until 1959. They were cheaper than the White Falcon, but not now! This '58 single-cut has got an appraisal from 1986 by George Gruhn for $88,000. Nowadays, they go for anything between $125,000 to $150,000. Gibson Explorers sell for five times as much, but they're rarer than those and they're much, much rarer than 'Bursts. So I think they should probably be worth more than that.
You know the slogan, 'That great Gretsch sound'? Well, it's certainly their sound. You can't pick up any Fender or Gibson and make it sound like a Gretsch. Even the earlier DeArmond [Model 2000/Dynasonic pickup] Gretsch guitars sound completely different. This single-cut has incredible tone. It's wired with two separate volume controls – one for each pickup – along with a master volume, and it has a tone switch, so there's no tone knob.
It's also a very pretty guitar. I love the little jeweled knobs with the ruby marker. That's pretty cool. It has an ebony 'board with 'thumbprint' inlays – those replaced the humpback inlays in '58 – and Grover Imperial tuners. Up until late '58, White Penguins have the vertical headstock logo and many have the 'Cadillac' tailpiece, but mine has a factory-fitted Bigsby. Both White Falcons and White Penguins have gold hardware, but if they're equipped with a Bigsby, the aluminum Bigsby will not be gold-plated.
This 1962 double-cut White Falcon has a Burns vibrato with a plastic handle, as was standard at the time. Some people call them the 'Burns bar'. This guitar is just a stunner. Like the '58, it has individual [Filter'Tron] pickup volume knobs, a master volume knob and tone switching. It's got a beautiful 'T-top' Gretsch headstock logo and gold backplates.
The binding on this one is in great condition. It really wasn't played much at all. It still has the original white strap and the original paperwork, which is cool. I don't know of another one that has the original guarantee card. I mean, you often see Gretsch guarantee cards, but it's pretty funny to see 'White Penguin' on there!
I've never had, or personally seen, a Penguin with DeArmond pickups, although, obviously, they made them. [From 1958] Gretsch built them with regular Filter'Trons, and some have the Project-O-Sonic stereo electronics. Project-O-Sonic pickups were an option, but it's been well documented that Gretsch wired some in mono, like the '58 single-cut guitar I have.
Gibson had the Stereo Vari-tone thing happening in the late 50s, and Gretsch were trying to keep up with them. Gretsch were more of a follower in many ways. The Duo-Jet came out in '53 and was modelled to be a competitor to the Les Paul while priced about $100 less.
White Penguins are essentially Jet model guitars; the body shape is identical. Jet bodies are chambered and smaller-bodied, so they're light and easy to haul around. The main difference is the White Penguin has a wide headstock, because the neck is the same as the White Falcon; it's basically a Falcon neck transplanted onto a Jet body. Consequently, the headstocks on both of these guitars are wide. In fact, the earlier guitars came with a special case to accommodate that. These cases alone are now worth thousands and thousands of dollars!
Many years ago, I had Gretsch employees tell me they would regularly have Martini lunches before building the guitars, but I think these two White Penguins were made with a little extra effort. They seem put together nicely. They play well and they have good neck angles; they've not been reset.
I've had two straight single-cuts and one double-cut in my life, but I've seen several that had numerous problems, including broken headstocks, and/or strange appointments that I would hesitate to authenticate.
I've seen two '58 White Penguins. But I wasn't convinced the other one was 100 per cent real. Not a lot of people know this, but if you magnify the original gold sparkle binding, each little sparkle should appear octagonal-shaped. When you look at reissues or others where the binding has been replaced, that isn't the case because nobody makes that binding any more. You can't get it anywhere. And because the celluloid binding on so many of these guitars shrinks and rots and breaks away, it's very common to see Falcons and Penguins with pieces of binding missing. Most Gretsch guitars from this period are starting to develop problems, although these two are very much intact.
So, I'm very happy to have them in the store. They really are the Holy Grail of Gretsch collectors.
David Davidson is the owner of Well Strung Guitars in Farmingdale, New York.
All the latest guitar news, interviews, lessons, reviews, deals and more, direct to your inbox!
Rod Brakes is a music journalist with an expertise in guitars. Having spent many years at the coalface as a guitar dealer and tech, Rod's more recent work as a writer covering artists, industry pros and gear includes contributions for leading publications and websites such as Guitarist, Total Guitar, Guitar World, Guitar Player and MusicRadar in addition to specialist music books, blogs and social media. He is also a lifelong musician.