"He's Both a Great Guitar Player and a Great Guy": Tyler Sweet Reflects on His Long Career as Brian Setzer's Trusted Guitar Tech
Find out how pros deal with a blown amp (and why the Stray Cats frontman rarely changes his strings!)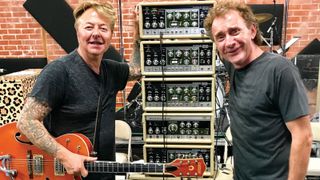 (Image credit: Future)
***The following article appeared in the May 2019 issue of Guitar Player***
Like most great guitar techs, Tyler Sweet's main goal during a show is to be onstage as little as possible. But when your boss is rockabilly rebel Brian Setzer, you can't always predict what's going to happen when the house lights go down, as Sweet discovered during one of his first European tours with the Stray Cats.
"It was 2007 or so, and we were doing rehearsals in Balboa, Spain," Sweet says. "I had finally succeeded in getting Brian on a wireless, which meant I wouldn't have to run out onstage to chase cable anymore while he was performing. And I had that wireless working perfectly.
"But the day before the first show, Brian says, 'Hey, Ty, I'll be on a cable tomorrow, right?' I guess he likes things the way they were when he first started the Stray Cats. So the next night, there I am before the show, once again gaffing down the cable in strategic places to prevent it from getting caught when he moves around.
"In the middle of the concert, Brian suddenly hops through his two vocal wedges and then starts heading left along the front of the stage, knowing full well that the cable dragging behind him is about to get snagged.
"I run out and fix the situation just in time and then, over the music, I kind of say to him, 'What the hell? You did that on purpose.' And he says back, 'Ty, you're part of the show!' I tell him, 'I don't want to be part of the show!'"
Sweet was also pulled into the show during a stint in Japan several years ago, when the Fender Bassman Setzer was plugged into suddenly failed. "As soon as that amp blew up," Sweet says, "Brian announced to the audience, 'Watch how fast Ty can fix this,' and the whole audience started chanting, 'Ty! Ty! Ty!'
"It took me about a minute and a half to get a backup rig out from side stage and powered up in center stage. These days, I keep an identical rig – amp, cab and Roland RE-301 tape echo – set up right behind the first rig as a backup. If you're looking straight on, you probably can't even see that there's a backup there. Now, if the first amp blows, I can get Brian up and running again in as little as 30 seconds."
Since the Japan meltdown, he has yet to have another amp go down. "That's because the Fender Bassman is such a stable circuit," says Sweet, who typically brings four of Setzer's treasured early- '60s Bassman heads (including matching 2x12 cabinets) out on the road.
"They're the ones from about '62 to '63 that have the 6G6-B circuit with the nice midrange. Brian loves the way those sound. And as long as you do a little maintenance on them, such as testing the tubes and cleaning the sockets, they're going to work. And if anything blows up on that simple point-to-point board, it's easy to fix. The Bassman is like a diesel car engine – it'll run forever."
Image 1 of 2
Setzer's sound naturally starts in his hands, where he uses signature medium-gauge cellulose PickWorld picks to strike .010–.046 sets of D'Addario strings. Shockingly, Sweet changes Setzer's strings only about once a year. "I used to change strings every night," he says.
"But there was a Montreal Jazz Festival gig we did where Brian's main guitar" – the orange '59 Gretsch 6120 Setzer has been playing since he was a teenager – "for some reason did not arrive until right before the show. The strings were kind of dead, but the gig was going to be filmed, so I made a game-time decision to not change them, because there just wasn't time for me to fully stretch them and get them settled enough that they'd stay in tune for a full show. I knew I'd have to come out there after four or five songs and give him a different guitar. Brian was not thrilled."
The ensuing concert, however, proved to be "incredible," Sweet says. "Brian called me into his dressing room after the show and asked me what I had done to the guitar, and I told him, 'Nothing.' He said, 'Well, don't ever change the strings again unless absolutely necessary, because that's the sound.'
"Now, I hardly ever change them. The current set has about 70 shows on them. One reason they last so long is that Brian has a surprisingly light touch. Even with those bends he does, it takes forever for pits to develop in his frets."
Sweet's preferred "leash" – his term for the instrument cable he puts Setzer on – comprises 30 feet of Belden cable and a SwitchCraft Silent Plug (enabling noiseless guitar swaps), and it goes from the guitar straight into one of Setzer's early '80s Roland RE-301 Chorus Echo units, which he runs straight into the input of the active Bassman head.
"We have about 10 RE-301s working right now, and we keep four more around for parts," explains Sweet, who has a love/hate relationship with the devices. "You learn different tricks to keep them working, but they're tape echoes, so they are a bit delicate, which can be frustrating. I once had a bad dream where 10 of them fell on me."
Growing up in Boston, Sweet began in the music business at age 13, when he got a job helping to refinish pianos. He soon learned to play guitar and went on to tech for a range of headliners, including Carlos Santana, Chrissie Hynde, Robert Randolph, Susan Tedeschi, Jefferson Starship and Yngwie Malmsteen.
Sweet's longest gig by far, though, has been with Brian Setzer. "When the job came up to work for Brian, I jumped at it, because I've always been a fan of his," Sweet says. "He's both a great guitar player and a great guy.
"No matter what happens, he is never negative to me or angry with me. Even if his number-one guitar gets scratched, he says, 'Big deal. Battle wound.' Or if a tape echo goes down in the middle of a song, he doesn't get upset – he understands that things get smacked around on the road and break.
"When that happens, he always tells the audience the same thing: 'What can I say? I like old shit!'"
Order Brian Setzer's most recent solo album, Gotta Have the Rumble, here.
All the latest guitar news, interviews, lessons, reviews, deals and more, direct to your inbox!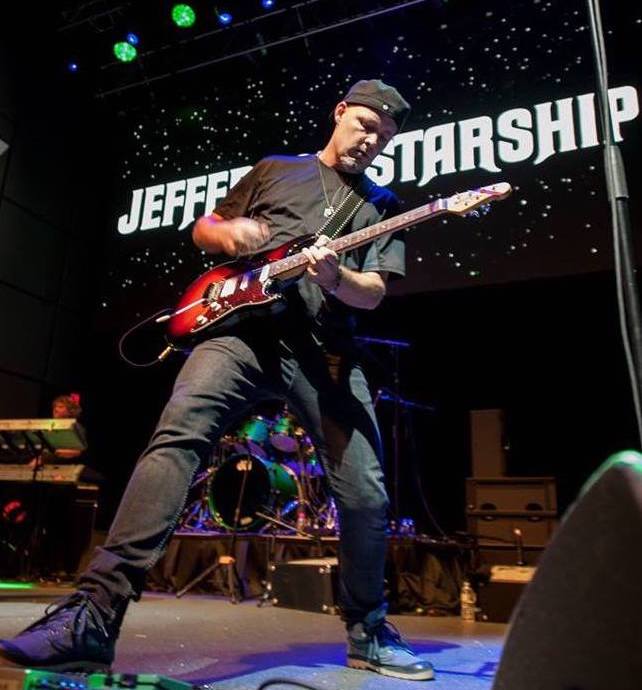 Los Angeles Editor, Guitar Player
Whether he's interviewing great guitarists for Guitar Player magazine or on his respected podcast, No Guitar Is Safe – "The guitar show where guitar heroes plug in" – Jude Gold has been a passionate guitar journalist since 2001, when he became a full-time Guitar Player staff editor. In 2012, Jude became lead guitarist for iconic rock band Jefferson Starship, yet still has, in his role as Los Angeles Editor, continued to contribute regularly to all things Guitar Player.
Watch Jude play guitar here.