"None of the Groups I Liked Best Had Conventional Guitar Heroes": Psychedelic Folkster Robyn Hitchcock Talks New 'Shufflemania!' LP
With a little help from his friends Sean Lennon and Johnny Marr, the British maestro's album offers "something to believe in"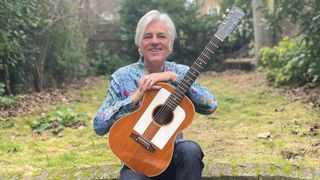 (Image credit: Emma Swift)
Although his career now spans six decades, and luminaries from former R.E.M. guitarist Peter Buck to Silence of the Lambs director Jonathan Demme count among his admirers and collaborators, 69-year-old singer-songwriter Robyn Hitchcock has never had the sort of mainstream success that would allow him to stop being a very much working musician.
Before the COVID lockdown, the London-born Hitchcock, who now splits his time between the British capital and Nashville, was still averaging almost 100 solo acoustic shows a year, crisscrossing the globe – often with his wife, the singer Emma Swift – to perform for the devoted fans of his often surreal and spidery brand of pop.
"When lockdown came, all the income dried up, so we had to make money somehow," Hitchcock says. "So we started Patreons and doing our bi-weekly Live From Sweet Home Quarantine internet broadcasts, which was great when there was nowhere else to go and nothing to do."
The performances – which often featured Swift on backing vocals, as well as appearances by the couple's two Scottish Fold cats, Tubby and Ringo, a plush Gorilla named the Edge, and Perry the stuffed lobster – kept the couple solvent.
And when he wasn't preparing for the show, Hitchcock found his isolation to be uniquely productive. "Artistically, it was wonderful," he says. "It gave me time to do some painting that I never would have gotten to otherwise.
"And of course, it gave me time to start recording Shufflemania!"
Using a Zoom H6 recorder to capture most of his guitars and vocals, Hitchcock then enlisted an impressive group of friends to flesh out the album's tracks.
Former Smiths guitarist Johnny Marr contributes guitars, bass and drums to the ethereal "The Inner Life of Scorpio," Sean Lennon adds Mellotron, celeste, Hohner Clavinet and more to the cautiously optimistic "One Day (It's Being Scheduled)," and the Raconteurs' Brendan Benson and Wilco's Patrick Sansone also provide valuable assists.
Two members of Hitchcock's legendary late-'70s group, the Soft Boys, are also on hand: Drummer Morris Windsor flies in vocal harmonies on the aforementioned "One Day…" and guitarist Kimberley Rew (guitarist for Katrina & the Waves and the composer of their hit "Walking on Sunshine") performs on the darkly humorous "Socrates in Thin Air" and the driving "The Sir Tommy Shovel."
It's a typically Hitchcockian combination of tuneful absurdism, existential dread and pure power-pop bliss, one that the singer hopes will bring his fans some measure of solace at a time where the world seems to be perpetually teetering on the brink.
"I'm an anxious person, and maybe my view is skewed 13 percent to the dark side," Hitchcock states. "But we have pestilence and famine, and you could have nuclear war by Christmas, right?
"And one of the functions of music is to keep people company, to let you know that someone else is there. The records that I listened to as a teenager and could still go back to, like Love's Forever Changes, or Revolver, or Blonde on Blonde, their main function has always been to be like a voice in my ear going, 'You are not alone. Whatever you feel about life or how sad it is is reflected here.'
"And I suppose that's the job that I have now, to give people, if not hope, then at least something to believe in."
Watching your Live from Sweet Home Quarantine broadcasts, it seems like you relied primarily on three acoustic guitars: a British-made Fylde, a Larrivée and a '60s Gibson Folksinger. Which guitar does what for you?
My first Fylde Olivia, Olivia I, is my absolute go-to guitar. I've had it for about 40 years, and I started playing it on the album I Often Dream of Trains. It's also on the songs "Balloon Man" and "Queen of Eyes." It's got a rather wide neck, which I prefer. The other guitars you mentioned I generally use for different tunings.
What are some of your favorite tunings? Did you use any in particular on Shufflemania!?
There are three or four that I use pretty frequently. I'll often just drop the low E to D, but I also like open G, which is D G D G B D, and DADGAD. On the new record I actually used a variant of DADGAD, D A D G A E, on several songs like "The Man Who Loves the Rain."
Another one that I made up and like is F G C G C E. You can hear that on the song "Heliotrope' from my album Moss Elixir. I never play it live, because I can't put my guitar in that tuning and then go back, and I can't afford a guitar tech to travel around and do that stuff for me.
And then there's a lost tuning: I used it on the song "The Green Boy," from A Star for Bram, and I can't remember what it was. People have written in suggesting what it might be, but that one's gone.
Did you use any of those when you were in the Soft Boys?
You know, if I started playing the guitar in 1967, I think I learned to tune it in 1968. Then I got a guitar that was actually in tune in 1969, and I started playing electric seriously with the Soft Boys in 1977.
So I don't think I put the guitar into open tuning on electric at all. I kept it really straight.
The sinewy interplay that you had in the Soft Boys with the other guitarist, Kimberley Rew, is in full evidence on "Socrates in Thin Air" and "The Sir Tommy Shovel," the two tracks where he appears on Shufflemania! Did the two of you have to work at developing that kind of musical dialogue?
I think we immediately had a guitar battle, actually! I mean, he was three times better than me, and twice as loud. As I say, Kimberley could drown you out on a tennis racket. [laughs]
Kim was the prodigy genius guitar player in Cambridge in the mid '70s. When I got to town, everybody said, "Oh, Rew, he's the best guitar player in Cambridge." And it took us about two years to get him into the Soft Boys.
Once he was in the band, I just kind of defiantly played in my channel and he played in his. It's probably a much happier process now.
You once referred to the years 1969 and 1970 as being "the great bullshit years of the guitar," because players of that era developed an over-reliance on blues tropes. Was that something you were very conscious of avoiding as a young guitar player?
Even by the end of 1967, you had Jimi Hendrix and Eric Clapton and a few others who were obviously brilliant.
And then you had another 200 people who played like that. And people also realized that they could get a record deal without really having songs. All they had to have was long hair, long jams and, you know, the attitude. So my instinct was just not to bother to try to learn to play like Eric Clapton.
Also, none of the groups I liked best had conventional guitar heroes, but they all had that very incisive playing. People like Barry Melton from Country Joe and the Fish. That band had a rhythm section that weren't seasoned rock players. It was sort of quite tentative, but they made nice landscapes, and Barry Melton could play some really exciting lead guitar that was a little bit raga-ish.
I also particularly like Captain Beefheart and His Magic Band. I got Trout Mask Replica as an import when I was 15, and it was so expensive that I had to learn to love it. [laughs]
And then there was the Velvet Underground. Lou Reed, when he played lead, would play what we called "torture guitar."
Davey Lane, who formed the Australian band You Am I, plays on "The Raging Muse." Those lead parts are very incisive and aggressive, almost reminiscent of the guitars on the Bowie "Berlin Trilogy" albums of the late '70s.
Oh yeah, yeah. I know what you mean. You mean something off Low. I think the keyboard that my mixer, Charlie Francis, put on it also adds to that. That's one of my tendencies: If I think something is similar to something else, I make it more so.
I would probably be more of an innovator if I did the opposite. Like, "This song sounds like John Lennon so, let's put banjo on it!" But I try to the make music I like. And I suppose that some of what I like is so old [laughs] that that's why you get echoes of the past like that.
Order Shufflemania! by Robyn Hitchcock here.
All the latest guitar news, interviews, lessons, reviews, deals and more, direct to your inbox!