Listen to Jimi Hendrix's Awe-Inspiring "Purple Haze" Performance From New Live Album
This amazing rendition of the psychedelic rock masterpiece appears ahead of forthcoming 'Los Angeles Forum: April 26, 1969' LP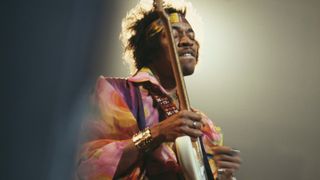 (Image credit: David Redfern/Redferns)
As the high priest of the psychedelic era, Jimi Hendrix created a sound that was entirely different from anything anyone had ever heard. Regardless of how progressive Sgt. Pepper's may have seemed, when Hendrix's psychedelic masterpiece "Purple Haze" detonated on the airwaves in 1967, it was clear Jimi held the psychedelic high ground.
Besides being a great song, it was the first time anyone had heard the ringing, double-octave sound of the Octavia, Hendrix's secret weapon that was invented by British electronics designer Roger Mayer.
Hendrix and Mayer bonded right off, and since both were pioneers in their own right, they continued to work together to create evocative sounds, mainly via evolutions of the Octavia, on the albums that followed: Are You Experienced, Axis: Bold as Love and Electric Ladyland, Hendrix's final studio album.
Jimi, of course, carved out his own rock sound using a Stratocaster that he flipped upside down and restrung for left-handed playing, which he ran through Marshall Super Lead amps, along with a Vox wah – used famously on "Voodoo Child (Slight Return)" and a host of other tunes – the Octavia, a Dallas-Arbiter Fuzz Face and a Uni-Vibe phase shifter, all hooked up in that order.
Hendrix told GP that Muddy Waters, Elmore James, B.B. King and Eddie Cochran were early influences, and you can certainly hear the soul of Curtis Mayfield in his playing too.
He apparently also dug Howlin' Wolf, because he opened his performance at Monterey Pop with Wolf's "Killing Floor."
Hendrix did Bob Dylan's "Like a Rolling Stone" at Monterey and he presented "All Along the Watchtower" on Electric Ladyland. So how does any of this explain how Hendrix literally changed the world on Are You Experienced, an album where bluesy numbers like "Red House" and "Highway Chile" sit alongside such progressive tunes as "Third Stone from the Sun," "Fire," "I Don't Live Today" and the title track?
And he continued on Axis: Bold as Love with tunes like "Little Wing," "Spanish Castle Magic" and "One Rainy Wish."
"All of my songs happen on the spur of the moment," he told Guitar Player in 1968. "I write songs to release frustration, and I like to play lead sometimes so I can express myself. But the way I play lead is a raw type of way. It comes to you naturally.
"On some records, you hear all this clash and bang and fanciness, but all we're doing is laying down the guitar tracks, and then we echo here and there. We're not adding false electronic things. We use the same things anyone else would, but we use it with imagination and common sense.
"Like in 'House Burning Down' [from Electric Ladyland], we made the guitar sound like it was on fire. It's constantly changing dimensions, and up on top that lead guitar is cutting through everything."
Hendrix was evolving his sound when Guitar Player spoke with him, and he mentioned using Sunn tube amps and spoke of playing a Gibson on some of the Electric Ladyland tracks: "You can't just get stuck up on guitar," he said. "You have to use a little bit of imagination and break away.
"There are millions of other kinds of instruments – there's horns, drums, everything. Music is getting better and better, but the idea now is not to get as complicated as you can, but to get as much of yourself into it as you can. Music has to go places."
Ahead of the late music icon's 80th birthday on November 27, a new Jimi Hendrix Experience live album titled Los Angeles Forum: April 26, 1969 will be released on November 18 on 2LP vinyl, CD and all digital platforms.
Taken from the album, a blistering live performance of the iconic psychedelic rock track "Purple Haze" is available to listen to here…
Pre-order the new Jimi Hendrix album, Los Angeles Forum - April 26, 1969, here.
All the latest guitar news, interviews, lessons, reviews, deals and more, direct to your inbox!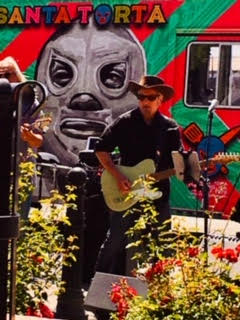 Art Thompson is Senior Editor of Guitar Player magazine. He has authored stories with numerous guitar greats including B.B. King, Prince and Scotty Moore and interviewed gear innovators such as Paul Reed Smith, Randall Smith and Gary Kramer. He also wrote the first book on vintage effects pedals, Stompbox. Art's busy performance schedule with three stylistically diverse groups provides ample opportunity to test-drive new guitars, amps and effects, many of which are featured in the pages of GP.