What Jimi Hendrix Meant To Me – By Some of the World's Greatest Guitar Players
Jimi Hendrix was born 80 years ago on November 27, 1942. Here, Eric Gales, Paul Gilbert, Jennifer Batten, Joe Bonamassa, Kirk Fletcher, Steve Lukather, Joe Satriani and more talk about his enduring legacy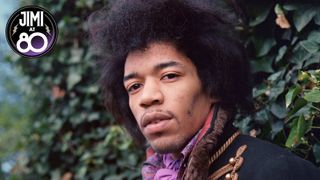 (Image credit: Tony Gale / © Authentic Hendrix, LLC)
Jimi Hendrix would have been 80 on November 27, 2022.
This week, Guitar Player will be running stories in remembrance of the man who had such a great impact on our world.
Hendrix has gone down in history as one of the most significant musicians of the 20th century. Even today, over 50 years on from his death, his influence on the electric guitar is still profoundly felt.
For many he was the ultimate electric guitarist. Hendrix was a musical visionary, a virtuoso, and an incendiary live performer (literally), accomplished songwriter and a skilled wordsmith. He was perceived as a social and cultural icon, lauded by both music fans and by his not insubstantial peers and followers.
We asked an array of phenomenal guitarists about the influence that Hendrix had on their own guitar development and music in general. So enjoy this special tribute to a master as some of the greatest guitarists in the world explain what Jimi means to them.
Starring, in alphabetical order: Jan Akkerman, Jennifer Batten, Joe Bonamassa, Kirk Fletcher, Marty Friedman, Eric Gales, Brett Garsed, Paul Gilbert, David Grissom, Steve Hackett, Allen Hinds, Greg Koch, Michael Landau, Ronni Le Tekro, Steve Lukather, Hank Marvin, John McLaughlin, Steve Morse, Oz Noy, Orianthi, Uli Jon Roth, Joe Satriani, Kim Simmonds, Andy Timmons, Walter Trout and Carl Verheyen.
But which one of them isn't even a Hendrix fan?
---
JAN AKKERMAN
JAN AKKERMAN
What did Jimi Hendrix mean to you as a player?
I think he was a great musician and showman, but I had very different influences like Django Reinhardt, Wes Montgomery or the first rock pioneers, and all different styles because I used to play the accordion when I was six years old. So in short, NO second-hand blues licks.
So in the beginning I didn't pay too much attention. I did like "Hey Joe" and "The Wind Cries Mary" as compositions, but didn't think much of it until I hooked up with Joachim Kuhn, a monster keyboard player and friend and totally into free jazz and a big fan of Hendrix. He emphasised the freedom of Jimi's playing, which I loved, also especially the albums Electric Ladyland and Axis: Bold As Love.
What do you think Hendrix brought to the guitar?
His style was very expressive to say the least. It is difficult to describe his technique because he didn't care for that. I liked his tone on the Stratocaster. I like the sound of single-coils like Fender or my Gretsch White Falcon. One of the reasons I couldn't play a Fender is because the controls are always in the way. Jimi didn't have that problem because he played upside-down so the volume pot was on the other side of the guitar.
What's your favorite Hendrix moment, and why?
I still like "Hey Joe," "Spanish Castle Magic," etc, but I heard some experimental stuff which was pretty out as well. All in all he was one of the greatest artists in any scene.
JENNIFER BATTEN
JENNIFER BATTEN
What did Jimi Hendrix mean to you as a player?
He represented a movement in electric guitar of breaking the boundaries of what had gone before, and challenging expectations in the role of the guitarist in a band. With his presence the guitar's potential became adventurous, dangerous, exciting, and wild.
What do you think Hendrix brought to the guitar?
He brought a renewed creativity as to what was possible with guitar effects, harmonic composition, tremolo bar use, and manhandling the instrument for a totally new level of entertaining engagement.
What's your favorite Hendrix moment, and why?
My favourite Hendrix moment was going to a double or triple bill movie of all Hendrix films. It was total immersion when I was a young teen. My parents wouldn't let me go see him live at my age, when my sisters went and saw a double bill with Jimi and Joplin. So it was as close as I could get. I'm sure that was a chunk of inspiration that pushed my desire along to continue down the guitar rabbit hole.
JOE BONAMASSA
JOE BONAMASSA
What did Jimi Hendrix mean to you as a player?
Jimi Hendrix meant the world to generations. He was the total package. Player, showman and writer. As innovative and revolutionary as his playing was it's the songs that stand the test of time. Great guitar playing needs a vehicle for it to do that. Jimi has great songs... period.
What do you think Hendrix brought to the guitar?
Jimi brought fire... He used his guitar as a weapon. Up until that point only Buddy Guy had weaponised the electric guitar. It was visceral and almost terrifying to listen to and watch as a young kid in his formative years. Beautiful tone, phrasing and use of chords. Game changer.
What's your favorite Hendrix moment, and why?
Jimi at Monterey... Black 1965 Fender Strat, a Marshall stack and a blackface Fender Showman amp covering Bob Dylan's "Like A Rolling Stone." A life-changing moment for those lucky enough to witness it in person, and life changing for me.
KIRK FLETCHER
KIRK FLETCHER
What did Jimi Hendrix mean to you as a player?
Jimi Hendrix has meant many things. When I was a kid I saw Hendrix as an amazing guitarist both in and out of the studio. A sonic genius way ahead of his time. His command of sound with this deep understanding of soul.
As I grew older I started thinking about how he came up with his guitar parts and his lyrics, and also studio techniques. And then for myself becoming a songwriter, it made me view his work in another light. When I listen to Are You Experienced the man could write a song three minutes long, like "Purple Haze" or "The Wind Cries Mary," and it's still played somewhere on radio to this day.
Imaginative storytelling lyrics with the most beautiful melodic guitar in a three-minute pop song? I mean, wow!
What do you think Hendrix brought to the guitar?
I feel he brought a whole new language to the guitar. His command of playing and blending so many styles and influences. There are so many branches to the Hendrix tree. For rock guitarists you have his use of the whammy bar and overdrive.
I feel that the great funk movement of the 70s, groups like Funkadelic, were definitely inspired by Hendrix. I feel he wrote the book on funk-rock guitar soloing. His use of double- stops and rhythm guitar is a whole language. His melodic phrasing on ballads. It would be difficult for me to think of a music world without Jimi Hendrix's contributions.
What's your favorite Hendrix moment, and why?
Picking one Hendrix song is like saying which one of your kids you love the most! I would say "Are You Experienced." I mean that song is from the first LP. It has poetic, lyrical content. Completely amazingly orchestrated guitar parts. And it still sounds so fresh to my ears.
I think I love that album so much because I have often dreamed about hearing it when it first came out in 67. It's like that great line in that Joan Baez song Diamonds And Rust: "You burst on the scene already a legend!"
MARTY FRIEDMAN
MARTY FRIEDMAN
What did Jimi Hendrix mean to you as a player?
When I was a kid, I was a massive fan of Uli Roth, Frank Marino and Robin Trower. I loved their playing and learned so much of it, inside and out. I was told that those guys were heavily influenced by Hendrix, so I checked him out.
I understood the connection, but Hendrix just sounded very weak and undeveloped compared to those guys. Kind of like being used to an iPhone 11 and then someone tells you that if it weren't for the iPhone 1, there would be no iPhone 11. This is true, and very important. But I'd still rather use an iPhone 11, figuratively speaking, especially as a teenager discovering music.
I wasn't there in the 60s when he did the things that inspired literally all of my guitar heroes. So I just never 'got' it. I was never into hippie, psychedelic, druggy mind-altering motifs in music so there was just never anything about him that attracted me to his music. How I filtered these same elements out of Trower's and Marino's music is anyone's guess. Had I been around when Hendrix came out I might have felt differently.
So even though I certainly know, respect and admire his monumental influence on music and great musicians, his music never connected to me personally.
Recently I was on a long flight and listened to a huge collection of Hendrix to try to find something that I could get excited about. Believe it or not, I still couldn't hear what everyone else is hearing. Maybe I'm missing something.
People have this magical unconditional love for the guy, which is fantastic, but they never seem to point me towards some great piece of music that I need to hear from him. I'm always open to suggestions. I feel like it's in the 'you had to be there' category.
What do you think Hendrix brought to the guitar?
He brought so many great things to the guitar. Fashion, charisma, beautiful noise, aggressive blues playing like never before, wonderful angelic clean chord voicings, wild showmanship, and was an early innovator in experimentation with guitar sounds.
You have to respect these things. He was a pioneer and was the first to do a lot of guitar things that are taken for granted 50 years later.
What's your favorite Hendrix moment, and why?
In my first band, Deuce, we covered "Purple Haze" and I sang and played it. You can believe this or not, but I had never heard Hendrix at this point. The Mahogany Rush Live album was on loop in my world at the time, and could not have cared less that most of that album was cover songs.
I adored Marino (still do) and when I discovered him, I probably got the same feeling that many guys in the 60s got when they discovered Hendrix. It's all good.
ERIC GALES
ERIC GALES
What did Jimi Hendrix mean to you as a player?
It's hard to sum up. But what I can say is that he brought to the world things that had never been explored in music, period, and also the guitar. He was a major influence on every guitarist in the world that came after him and even during him. That was a domino effect that added to a lot of others' styles, that led to them carrying on the inspiration and influence.
What do you think Hendrix brought to the guitar?
He brought things to the guitar that even still today leaves great minds puzzled.
What's your favorite Hendrix moment, and why?
It's hard to give a single answer as to what's my favourite Hendrix song. But I'd have to say my earliest memory of "May This Be Love" was and still is one of the songs that emotionally moved me, even as a young lad. And as I said it still does.
BRETT GARSED
BRETT GARSED
What did Jimi Hendrix mean to you as a player?
My older brother had the Isle Of Wight album and also the Woodstock soundtrack which I was listening to before I even attempted to play the guitar. So Jimi was feeding the urge to give it a go.
I went on to learn the version of "All Along The Watchtower" from the live album note for note, and was astonished when I heard the studio version with all the overdubs. The live version sounded massive to me and it was incredible to think it was just three musicians creating that wall of sound.
What do you think Hendrix brought to the guitar?
The obvious things are the authentic R&B influences and his experimentation with effects which he pretty much set the standard for. The level of musicality that he achieved using the simplest of tools is still a high bar that most players strive for.
But, the thing that astounded me was the way he intertwined his voice with his guitar playing, almost creating a third instrument. He had total independence between what he was playing and what he was singing, and the two would weave in and out of each other, sometimes in harmony, unison or total counterpoint. It's an incredibly difficult skill to develop and, once again, Jimi had it mastered.
What's your favorite Hendrix moment, and why?
It's Jimi's performance of "The Star Spangled Banner" from Woodstock. Not because I listen to it constantly for enjoyment but because of what it taught me about the power of music and sound to make an emotional statement.
At first I was intrigued with the feedback, whammy bar divebombs and just the overall pyrotechnics of it, but when I discovered that the whammy bar was imitating actual bombs and inside the other sounds were machine gun fire and people screaming, I learned that he was superimposing a song of national pride over the horror of the Vietnam war and all conflict in general.
I never listened to that song the same way again and it became so much more powerful to me, as did the man who created it.
PAUL GILBERT
PAUL GILBERT
What did Jimi Hendrix mean to you as a player?
Jimi's rock songs grabbed me first. I liked "Foxy Lady," "Purple Haze," "Spanish Castle Magic," and "Crosstown Traffic." My uncle Jimi (who changed the spelling of his name to match Hendrix), recommended an album called War Heroes. I bought that, and listened to an instrumental called "Midnight" a lot.
My parents also had a live record from the Monterey Pop Festival. One side was Otis Redding. The other side was Jimi. So I heard Jimi's live versions of "Like A Rolling Stone," "Rock Me Baby," and "Wild Thing."
When I was around 12, my mom took me to a midnight movie showing the Jimi Hendrix documentary. The clip of Jimi playing "Rock Me Baby" at Monterey was one of those breakthrough moments, when I suddenly 'got it'.
As time went on, I started to love Jimi's rhythm playing with a cleaner sound as well. "Wait Until Tomorrow," "Castles Made Of Sand," and the intro of "Bold As Love" are all so beautiful.
Now that I'm older, I love to listen to Jimi as an improviser. He was fearless, soulful, melodic, angry, gentle, and seemed to be singing through the guitar. Sure, there were some noises and 'wrong' notes. But when you blast a hole in the side of a mountain, some boulders are gonna fall. And he was 'chopping it down with the edge of his hand'.
What do you think Hendrix brought to the guitar?
He brought a voice to guitar. He used enough volume and distortion to make the guitar sustain in the way that a human voice can. And he brought the elements of expression that a voice has; sliding, bending, contrasts of volume, texture, and length, and the best vibrato anyone had heard in 1966.
Traditional guitar was NOT built to do this. The guitar is designed more like a lute, where chords are fretted, and the strings are plucked. It's sort of a portable harpsichord, and the great fingerpickers from Segovia to Chet Atkins, played it masterfully like that.
B.B. King, Otis Rush, Freddie King, and other early electric blues players certainly opened the door for what Jimi did. But Jimi's songs, live performances, and use of sustain, took the guitar 'as a voice' into sounds that made everything before him seem outdated.
Jimi said, "And you'll never hear surf music again." And when you hear the guitar intro of The Beach Boys' "Surfin' USA," it sounds pretty stiff, compared to the world that Jimi created.
I still love The Beach Boys, and I don't mind when guitar players play guitar like a guitar. But I must admit that a good portion of my time is spent trying to get my guitar to sing, like Jimi did.
What's your favorite Hendrix moment, and why?
The first that comes to mind is "Killing Floor" live from Monterey Pop. It was Jimi's chance to win an audience in the USA, and he was in competition with The Who.
With that much pressure and adrenaline, most players would get thrown off balance. But Jimi launches into his opening number like a rocket. His aim is perfect. He is painting with a big brush, but still achieving detail.
I can just imagine Pete Townshend watching in the wings, and thinking 'Holy #$%!' And Jimi hasn't even turned on his distortion pedal yet. Look out!
DAVID GRISSOM
DAVID GRISSOM
What did Jimi Hendrix mean to you as a player?
I was in junior high deep into The Stones and Beatles when I got Hendrix In The West. It was like finding the Holy Grail. I immediately got a wah-wah and obsessed on the live version of "Voodoo Chile" until I got close to copping some of it.
I dreamed of having a Stratocaster and dug into the studio albums. Just as important to me was being inspired to discover Jimi's influences. I was lucky to take lessons from a guy who turned me onto the three Kings and helped me connect the dots to Jimi.
What do you think Hendrix brought to the guitar?
I think he changed electric guitar playing the same way Thelonious Monk and Charlie Parker changed jazz. He drew from a very deep well. Not only was his playing mind blowing, he wrote really great innovative songs that covered a huge range of styles, tones, and dynamics.
What's your favorite Hendrix moment, and why?
How do you pick just one? On the more intense side of things, the studio version of "Spanish Castle Magic" slays me. The moment that nearly brings me to tears every time I hear it is the solo on "May This Be Love." I love that softer, melodic side of Jimi.
STEVE HACKETT
STEVE HACKETT
What did Jimi Hendrix mean to you as a player?
Initially I thought he came across with a rare animal power, but when you look more closely, his lyrics are full of poetry. Sometimes the words are very dark with lots of references to imminent death and allusions to the next world. He played like a reanimated zombie, with a haunting otherworldly aspect.
His showmanship seemed to come naturally to him. No-one ever moved as gracefully with the guitar in hand, as if he possessed this extra electric limb. I feel it was his fluidity as well as his innovation and risk-taking that impressed and influenced me. His playing was heady stuff for me as an aspiring teenage rocker.
What do you think Hendrix brought to the guitar?
Hendrix was a bluesman with a very big difference. I knew his guitar tech, Eric Barrett, who said that Jimi played through feedback constantly, like a weapon permanently set on stun. The spacecraft aspect of his playing was hugely inspiring. He was always going to take you on a trip to some uncharted part of the universe. His playing skirts the limits of earthly experience. It's virtually a shamanic inner journey.
He also brought many production ideas to the guitar. Somehow you feel at Woodstock that he was trying to register his protest at the falling bombs on Vietnam, managing to say as much with his guitar as other protest songs had done with words.
What's your favorite Hendrix moment, and why?
I think "Purple Haze" is my favourite Hendrix song. It's a very cleverly written tune, and is full of unexpected twists. It defines the term psychedelic. Both the angular guitar riff and the opening dissonant chords give you that feeling of Iron Man Cometh.
But there's vulnerability too in the lyric, with the idea 
of confusion running through it. Although "Purple Haze" is a short song, he often played it live with extended moments which sometimes literally did "kiss the sky," to quote the lyric.
His impact on music was huge. A man who didn't need a light show. For me it was just enough to watch the alchemy of his fingers, his dexterity and the way he danced with his instrument.
ALLEN HINDS
ALLEN HINDS
What did Jimi Hendrix mean to you as a player?
I remember my older brothers and sisters buying Are You Experienced. First thing was, "holy crap, this is the coolest guy I've ever seen", so the nostalgia factor is high. He could play really well and I fell in love with the songs. Even though I loved the Beatles, he was the first guitarist I wanted to emulate.
What do you think Hendrix brought to the guitar?
He brought a Marshall amp and psychedelic sensibility to the blues and R&B. I suspect even to him the acceleration of volume and feedback with amplification was overwhelming. I think he was just holding on for dear life, in a great way. No one had heard anything like that before!
What's your favorite Hendrix moment, and why?
For the playing alone I love Band Of Gypsys the most. Listen to his solo in "Machine Gun." He was so creative. You could extract some of his improvised phrases and make complete song melodies.
He was like a jazz player in that sense and could create something from nothing. You just waited on the edge of your seat for the next burst of emotion. Still the very best!
Some confuse his curiosity and adventurism as sloppy at times, but I don't hear that at all; he was searching and going where no man had gone before.
Just imagine if he were here now!
GREG KOCH
GREG KOCH
What did Jimi Hendrix mean to you as a player?
Jimi was and is my main inspiration. He was a true innovator as a guitarist, songwriter, performer and purveyor of sonic mayhem. My chordal approach as well as blues playing is heavily influenced by Jimi's.
What do you think Hendrix brought to the guitar?
Of course the way he manipulated the whammy bar, or Mr Wiggles as I like to say, along with feedback and his creative use of effects from the Octavia to the Uni-Vibe greatly expanded the emotive range of the electric guitar.
His greasy blues phrasing and extraordinary rhythm playing really has left an indelible mark on everyone since.
What's your favorite Hendrix moment, and why?
It's hard to narrow it down to one. Let's just say if I had to bring one record to a desert island it would be Axis: Bold As Love.
MICHAEL LANDAU
MICHAEL LANDAU
What did Jimi Hendrix mean to you as a player?
I first heard the song "Purple Haze" when I was eight years old. We were driving around in my mother's car and when it came on the radio it scared me to death. But after I heard the song a few times, it started to have a calming affect on me and I couldn't get enough of it.
His music and his guitar playing demonstrated all of the different sides of human emotion in such a beautiful way. His influence has always been enormous.
What do you think Hendrix brought to the guitar?
He reinvented it, plain and simple. He showed everyone a completely new and fresh approach to playing techniques and sonic possibilities that had never been done before.
What's your favorite Hendrix moment, and why?
"Castles Made Of Sand" would be one of my many favourites. Here Jimi was mixing R&B style guitar playing with abbreviated jazz voicings as only he had done, and the tone was just so raw and beautiful. The sentiment of the lyrics on that song are beautiful as well... it's almost like a nursery rhyme, but for grown-ups.
I also love the out-take of "Blue Suede Shoes" from the Loose Ends record. You can really hear the joy, the energy, and the fun he was having with Buddy Miles in the studio. Such a great moment.
RONNI LE TEKRO
RONNI LE TEKRO
What did Jimi Hendrix mean to you as a player?
I started playing the electric guitar in 1976, just a few years after Jimi passed away. At the time 1970 seemed like 100 years ago, being 13 myself. My uncle gave me "The Wind Cries Mary." It was a revelation.
I loved his voice, playing and image from day one. Later, when I was able to hear more material I instantly understood that Jimi was one of a kind. His ability to push the guitar into new landscapes stunned me and has been a big inspiration. Especially his extensive and abusive use of the vib-bar as well as implementing large doses of feedback.
What do you think Hendrix brought to the guitar?
Jimi revolutionised the electric guitar. Still I haven't heard another guitar player with such rhythmical feeling. His solos and playing are so incorporated into his compositions. It's reaching a higher dimension when you play, sing and compose like that. He was driving the band to magical heights.
My favourite line-up must be with Mitchell and Redding. Those guys certainly knew how to play freely on the highest level. It sounds like it's out of control.
I love that Jimi also gave all guitar players a warning about what could happen to you if you indulge in chemical drugs. Some didn't take the warning, unfortunately. They sensed that drugs where the driving force in Jimi's music, but like Jimi they couldn't handle it.
His image and live performances inspired and inspires most of us. That being said, I have always been trying to create my own sound and way of playing the guitar.
What's your favorite Hendrix moment, and why?
My favourite song is "The Wind Cries Mary," simply because it was the first track I ever listened to. It's something about that song that still gives me the shivers. The production is so full of life and feeling. I think his opening guitar line has probably been copied a million times.
Of his live performances my favourite is Isle Of Wight festival. You can sense it's getting closer to the end but little did Jimi know. He is delivering a show out of hell.
Later I learned to love Frank Marino and the Mahogany Rush. I think he is the guitar player that developed and carried Jimi's legacy the best. Check out "King Bee" from his Live album. I think Jimi would have been proud.
STEVE LUKATHER
STEVE LUKATHER
What did Jimi Hendrix mean to you as a player?
It was the aftershock of the Beatles changing the world, then an alien came and landed on our planet to give those that understood, the truth. All that before he was 27 years old.
What do you think Hendrix brought to the guitar?
A total reinvention of the possibilities. He could make a statement with his use of feedback and amazing use of chords and R&B stylings which he made his own. Very loudly! It's like nothing else. I'm not sure anyone could make an impact like that afterwards.
EVH did but he was not on a cultural level because Jimi was part of the 60s anti- establishment scene. Black man with a white band accepted by everyone but I never saw colour, just the sound. It was a colossal sound; the anger and intensity of "Machine Gun" through to the softness of "The Wind Cries Mary."
Goodness knows what he could have gone on to have done!
What's your favorite Hendrix moment, and why?
Impossible. They are all a huge part of my growing up. Kids today might not 'get it' but remember this was 1966! NOTHING like it had happened before or indeed after it.
HANK MARVIN
HANK MARVIN
What did Jimi Hendrix mean to you as a player?
It was probably early 1967 when I first heard the Jimi Hendrix Experience. They were performing their first single, "Hey Joe," on Top Of The Pops and, as we say in the weather bureau, I was blown away.
I loved Jimi's guitar solo, blues but not as we know it and with so much feeling. Jimi opened the door to a whole new world of guitar playing.
What do you think Hendrix brought to the guitar?
I'm not aware of anyone before Jimi using feedback in the way he did, or using the whammy bar to create effects so extreme that it probably contributed to global warming.
He also showed the music world that the electric guitar could be played with the teeth, used as a fireplace and in the right hands be a wonderfully expressive instrument.
What's your favorite Hendrix moment, and why?
The opening riff on "Purple Haze" is hard to beat, but then there's the live version of "Red House" on Hendrix in the West. I love those deceptive bends.
JOHN McLAUGHLIN
JOHN McLAUGHLIN
What did Jimi Hendrix mean to you as a player?
Jimi changed the electric guitar forever. I was exposed to the acoustic guitar playing of Muddy Waters at the age of 11, and it was revolutionary. Jimi started a revolution 25 years later. Now while I was exposed to Muddy, Bill Broonzy and other great blues players at an early age, I got captured by jazz from 15 years old. But on hearing Jimi for the first time, I heard a guitar being played in a way I'd never heard before.
At the same time I could hear the profound influence of Muddy Waters not only in the playing but in Jimi's singing. It was completely new and yet I could hear the history behind his playing.
I mention my love of jazz but there's a connection to Jimi here. Jimi revolutionised the sound of the guitar using distortion to bring in harmonics; by the mid 1960s, John Coltrane began to bring in harmonics into his sound and, while the two styles of Coltrane and Jimi are really diverse, there is something very deep that connects them.
What do you think Hendrix brought to the guitar?
By renewing the influences of the great Mississippi blues players, Jimi brought history up to date with a concept that was not only contemporary, but remains contemporary today.
There are great musicians who have a powerful impact on other musicians, but to create a new concept of playing is even more significant. I think it's safe to say that the concept Jimi introduced, changed the way of playing the guitar for all time.
What's your favorite Hendrix moment, and why?
My favourite piece from Jimi is his interpretation of "The Star Spangled Banner." With a guitar, an amp and a wah-wah pedal, he created not only the most amazing interpretation of the American National Anthem, full of irony, but the most powerful anti-war piece of music I've heard to this day.
STEVE MORSE
STEVE MORSE
What did Jimi Hendrix mean to you as a player?
I loved the way that he created mind-bending, unreal atmospheres with his studio recordings; the backwards solos, the echo effects, Rotovibe, wah-wah, octave box, slide effects, whammy bar, etc.
I was just a young teenager and I just wanted to play "Purple Haze" and "You Experience" solos upstairs in my room with my amp cranked up to get feedback. That is partly how I developed an approach where I mute all the strings but the one I am playing, in order to limit the feedback only to the string I wanted.
What do you think Hendrix brought to the guitar?
All the previously mentioned sounds (backwards solos, echo effects, Rotovibe, wah-wah, octave box, slide effects, whammy bar, etc), but also strong phrasing, soulful, powerful bends, and melodic rhythm playing.
What's your favorite Hendrix moment, and why?
That would be "Are You Experienced." In fact, I wrote a 'in the style of Hendrix' piece called "Well, I Have" as a tribute. The ending part has the backwards solo too!
OZ NOY
OZ NOY
What did Jimi Hendrix mean to you as a player?
Hendrix is the most influential and important electric guitarist that ever lived. His tone, touch, energy, musicality and fire to me are what rock-blues electric guitar is. I loved Hendrix's songwriting, and his sense of rhythm influenced so many guitar players in all different styles of music from rock to funk to R&B to gospel.
Also, to me he is one of the greatest blues players to ever lived, as every time he played a slow blues it was special.
What do you think Hendrix brought to the guitar?
He opened the doors to electric guitar in such a huge way, that I don't think anybody has more influence on the instrument than he did. The tone of both his rhythm and lead guitar is still untouchable. His soloing was obviously amazing, the depth of his blues roots mixed with this new-age rock feel using very loud amps that created a lot of sustain.
I don't think any of that existed before him, and if it did it wasn't on such an extreme level. He was also a very special rhythm guitar player. The use of wah-wah, fuzz and Univibe set the bar for those sounds to this day, really.
Hendrix didn't only change music, he changed our culture!
What's your favorite Hendrix moment, and why?
"Castles Made Of Sand." I also love the intro and the actual song and the guitar tone of "Spanish Castle Magic." I love the rhythm guitar playing; it's hard to choose one!
ORIANTHI
ORIANTHI
What did Jimi Hendrix mean to you as a player?
The first time I heard Jimi Hendrix was when my dad put on the Woodstock video. I was 11 years old. I was blown away. The freedom in his playing and the sounds he created inspired me so much. He was such a force.
What do you think Hendrix brought to the guitar?
He opened people's minds. He was an innovator and was constantly searching. He made the guitar sound like no other. He changed the way people heard it.
What's your favorite Hendrix moment, and why?
"The Star Spangled Banner" from Woodstock. It's just an amazing moment. I also love the acoustic performance of "My Train A Coming."
My favourite tune is "Voodoo Chile" though. I cover it a lot.
ULI JON ROTH
ULI JON ROTH
What did Jimi Hendrix mean to you as a player?
Jimi was my most important influence, artistically speaking, when I was younger. I can't even begin to put into words how much I have learned and soaked up from that man.
To this day, his music doesn't get old, but always sounds fresh and incredibly alive. His contribution to the world of guitar playing and rock music is unbelievably important. Of all the people in rock music, Jimi was simply the most unique and most visionary.
What do you think Hendrix brought to the guitar?
He brought a completely new approach, both in terms of playing as well as forging a sound which had never been heard before. His playing was always so much more than 'just' guitar playing, though.
There was always something deeper, something more meaningful, something mysterious behind the notes. He was one of the great inspired artists of all time, and because of that he will be remembered forever.
What's your favorite Hendrix moment, and why?
There are so many moments that are totally inspired and unique, but if I have to pick one, it would be Axis: Bold As Love. It doesn't get better than that.
JOE SATRIANI
JOE SATRIANI
What did Jimi Hendrix mean to you as a player?
Jimi's heart and soul were evident on everything he played. This had the most profound effect on me as a young player. I still get the feeling that he surrendered himself to the music every time he performed.
For Jimi, every song was a unique opportunity for expression, exploration and exposition. Even though he was a true showman, he still strove for something new, honest and 'of the moment'.
His skills as an improvisor were spellbinding, and convinced me as a young musician that that very skill had to be part of my life's pursuit.
What do you think Hendrix brought to the guitar?
He showed us that the electric guitar could be played with far more expressiveness than previously attempted.
He innovated with his fingers, hands, and his whole mind and body on every song he played.
He proved that the sound of the guitar was a vastly larger tool for musical story telling.
He showed us that you could play like a virtuoso without reminding the audience of anything that sounded like scales and exercises.
I could go on...
What's your favorite Hendrix moment, and why?
Every time someone asks me this question I find a new answer. The problem is, I love all of Jimi's songs! For sheer groundbreaking electric guitar brilliance it has to be "Machine Gun" from the Band Of Gypsys: Live At the Fillmore. For sheer beauty maybe it's May This Be Love or 1983 (A Merman I Should Turn To Be).
But, I can't ignore the magic captured on film at the Monterey Pop Festival when Jimi talks to the audience and introduces the Bob Dylan song "Like A Rolling Stone," and then proceeds to reinvent it, elevate it, and destroy it, along with his guitar!
His innocence, boldness, naivety, audacity, musicianship, showmanship, are all gloriously on display in this once-in-a-lifetime and beautifully captured moment.
KIM SIMMONS
KIM SIMMONS (Savoy Brown)
What did Jimi Hendrix mean to you as a player?
Jimi made me focus on who I wanted to be as a guitarist. He was so flamboyant and multi-faceted that I knew I couldn't compete on that level, so I had to look within and find my own personality and style.
What do you think Hendrix brought to the guitar?
Jimi's guitar playing was Arabesque. It was a mixture of rock, blues, gospel and jazz. He brought a sensuality to the instrument that we hadn't seen before.
What's your favorite Hendrix moment, and why?
"Foxy Lady" comes immediately to mind. It was on his 1967 debut album and the song brings back happy memories of London in that time period.
ANDY TIMMONS
ANDY TIMMONS
What did Jimi Hendrix mean to you as a player?
Jimi's life and music are a continuous source of inspiration and encouragement to explore growth and creativity in a most loving and spiritual way. His true beauty of character emanated through his guitar and his songwriting. Jimi also spoke with the same beauty and eloquence with which he played his guitar and wrote his poetic music.
I encourage you to seek out interviews and documentaries to learn more about the incredible human Jimi was. And is!
What do you think Hendrix brought to the guitar?
I think we largely take for granted much of Hendrix's innovation in technique and tone today. You have to consider what he did, when he did it. Think about the other music that was happening in late 1966 and early 1967!
His masterful command of chordal embellishment, his incredibly soulful bending, his array of tones, his control of feedback, his use of the vibrato bar, his ferocious and charismatic live performances.
All of these elements were certainly beginning to be implemented by other performers and players, but nobody had put it all together in such a highly developed fashion like Jimi.
What's your favorite Hendrix moment, and why?
Though I have many favourites ("Freedom," "Angel," "May This Be Love"), "All Along The Watchtower" has always stood out as a really special Hendrix recording. It's at once dark yet beautiful, haunting yet uplifting. An incredible reading of his hero Bob Dylan's beautiful lyric, Bob's precedent gives Jimi even more confidence vocally. The guitar tones and incredibly melodic soloing take you into the stratosphere!
All that being said, my favourite moment was easy to pick. His performance of "The Star Spangled Banner" at Woodstock is legendary on so many levels: the tone, approach and arrangement, the protest of the war, the sombreness and finally the beautiful love of his country despite its deep flaws.
The moment? Check out the melody that magically appears at 2:10 in the midst of chaos, anguish, air raids, bombs, missiles and terror. Almost like permutated taps. Sombre yet hopeful.
WALTER TROUT
WALTER TROUT
What did Jimi Hendrix mean to you as a player?
It's monumental. He took electric guitar playing to an entirely new place. I was 15 and this friend of mine said, I have this album by this new guy, Jimi Hendrix, come on over. I was into Michael Bloomfield and Scotty Moore and James Burton, and I went over and he put on the first Hendrix album. I said, "It doesn't even sound like a guitar, this is the worst shit I ever heard!"
Then I realised he'd taken what the rest of the world knows about the electric guitar further than anyone had ever taken it. And to this day he's my favourite guitarist. But it was so new that it was shocking to hear it.
What do you think Hendrix brought to the guitar?
He was huge once I came around to what he was doing. I had to listen to "Red House" before I realised he's playing the blues. Even though he was pushing the limits, everything he was doing was based in blues, and R&B and soul music.
He's putting it all together and playing it through an electric guitar like no one had ever done before. I think Jeff Beck is the world's greatest living guitar player, but Jimi was the ultimate.
What's your favorite Hendrix moment, and why?
My favourite track is "Voodoo Child." But I mean the long slow jam version, not the "Slight Return" that everyone plays ad nauseam, every club band. But with that slow blues version, everyone is in the studio and they're just having this great blues jam.
Steve Winwood is on Hammond B3 I think, and they just do this long, slow, 14-minute blues jam. For me, his guitar playing on there is the ultimate of everything that he ever did.
CARL VERHEYEN
CARL VERHEYEN
What did Jimi Hendrix mean to you as a player?
Jimi Hendrix is a huge influence on my rhythm guitar playing. His concepts and chord voicings have saved me countless times in the studio when searching for a part. All you have to do is learn these five songs: "The Wind Cries Mary," "Castles Made Of Sand," "Electric Ladyland," "Bold As Love," and of course "Little Wing."
You'll see that his rhythm licks in D Major are the same as the ones he uses for the relative Minor which is Bm. Learn the rhythm licks and study this Major-Minor concept and you'll be a much better rhythm guitar player.
What do you think Hendrix brought to the guitar?
Jimi was a pivotal musician in the 20th century. Besides his R&B training with Little Richard's Upsetters, he draws on the Delta blues players' deeply moving tradition of acoustic blues. That tradition migrates up the river to Chicago where players like Muddy Waters electrify it, and one-chord Delta blues songs become Catfish Blues and Two Trains Running in Muddy's band.
When Hendrix arrives on the scene mid-century, he turns them into psychedelic rave-ups like "Voodoo Chile" and "Machine Gun," thus carrying the tradition into mainstream rock. Obviously his use of distortion, effects and recording techniques were huge breakthroughs for the electric guitar, but I believe his contribution to popular music will be remembered equally for its deep roots in American blues.
What's your favorite Hendrix moment, and why?
It's really hard to pick one because I love "May This Be Love" as much as "Who Knows" from Band Of Gypsies. But the long version of Voodoo Chile stands out for me because Jimi is baring his soul on this record. Tuned down a whole step, his huge Strat sound completely fills the room.
When I recorded with Jimi's engineer Eddie Kramer a few years ago, I asked him how he got that sound on this 'live in the studio' recording. Eddie said, "That was Jimi's amp bleeding into all the mics: Steve Winwood's Leslie cabinet mic, Mitch Mitchell's drum overheads, Jack Casady's bass amp mic, and the vocal mic." I said, "Weren't you worried about phasing issues?" He replied, "We got lucky!"
I hold this up as one of the greatest Stratocaster sounds of all time. Very lucky indeed!
Originally published in Guitar Techniques issue 314. Subscribe to Guitar Techniques in print or digital.
The new live album, Jimi Hendrix Experience Los Angeles Forum: April 26, 1969 is out now on 2LP vinyl, CD and all digital platforms via Legacy Recordings (streaming links are here)
The new book, JIMI by Janie Hendrix and John McDermott is out
All the latest guitar news, interviews, lessons, reviews, deals and more, direct to your inbox!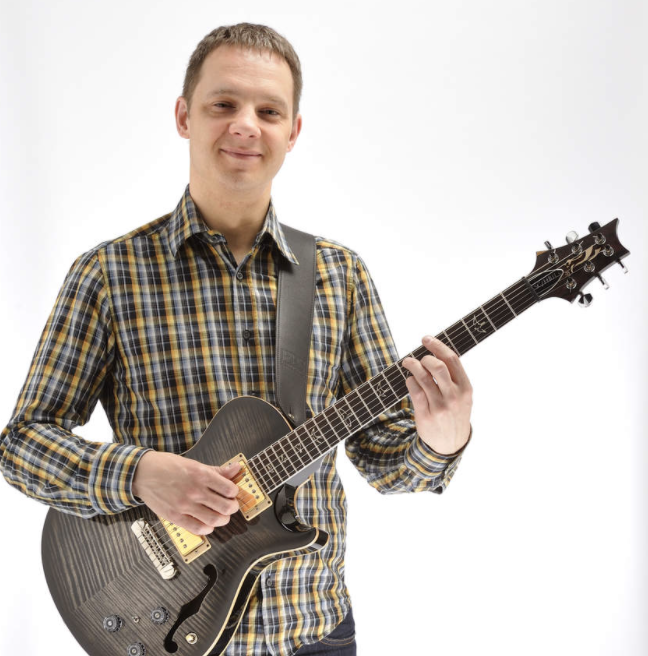 Senior Music Editor, Guitar Techniques
Jason Sidwell (BA Hons, MA, ALCM) is senior tuition editor for Guitar Techniques, Guitarist and Total Guitar who has written and edited over 20,000 articles since 1998. As an educator he is an advisor/guest tutor for UK music academies/examining institutions, a director for the International Guitar Foundation (IGF) and author of How to Play Guitar Step by Step (Dorling Kindersley) and tutorials for The Guardian and Observer newspapers. Outside of journalism, he is a classical guitar performer and works regularly for theatre productions and studio sessions.