Listen to the First Recording by John Lennon, Paul McCartney and George Harrison
Featuring all three Beatles on guitar this lounge rendition of "In Spite of All the Danger" is a monumental moment in music history.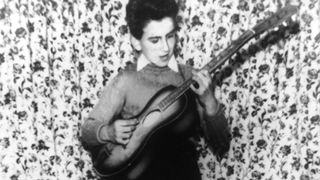 (Image credit: Keystone-France/Gamma-Keystone via Getty Images)
On this day in 1957, John Lennon and Paul McCartney met for the first time.
Their incidental meeting at a church fete in Liverpool marked the beginning of a musical partnership that would later cause seismic shifts in popular culture the world over.
Among the array of food and games stalls, the traditional British event hosted an assortment of entertainment – including an appearance by local skiffle group the Quarrymen.
Comprising drums, banjo, washboard and tea chest bass, the band also featured a 16-year-old Lennon on acoustic guitar and vocals.
Struggling to keep their balance on the back of a moving truck, the Quarrymen performed that afternoon and again for a second time later in the evening.
"I remember coming into the fete and seeing all the sideshows. And also hearing all this great music wafting in from this little Tannoy system," McCartney told Record Collector.
"It was John and the band. I remember I was amazed and thought, 'Oh great,' because I was obviously into the music…
"I just thought, 'Well, he looks good, he's singing well, and he seems like a great lead singer to me.'"
As the Quarrymen were preparing for their performance on the church hall stage, the group's tea-chest bass player, Ivan Vaughan, introduced Lennon to his drainpipe trouser-clad classmate McCartney.
Striking up conversation about music and guitars, McCartney launched into impromptu renditions of the 1956 rockabilly classics "Twenty Flight Rock" by Eddie Cochran and "Be-Bop-A-Lula" by Gene Vincent.
Suitably impressed, Lennon deliberated about whether or not to invite the young maestro to join the group he fronted.
Thankfully, Lennon settled on the idea that he and McCartney would be more likely to compliment each other, rather than compete.
Having pondered over it for a while, McCartney eventually joined the Quarrymen and the following year he recommended his friend George Harrison should follow suit.
Given Harrison's younger age Lennon initially resisted the idea, though he soon relented after watching him play the 1957 hit "Raunchy" by Bill Justis.
In July 1958, just over a year after Lennon and McCartney met for the first time at the church fete, the proto-Beatles were stood in a Liverpool lounge, guitars in hand, recording their first original song together, "In Spite of All the Danger."
Sung by Lennon with the other guitarists providing BV, the song is credited to McCartney and Harrison.
"It says on the label that it was me and George," said McCartney, "but I think it was actually written by me, and George played the guitar solo!"
Over the years, McCartney has performed "In Spite of All the Danger" live, including the historic song in this year's Glastonbury headline set.
Order Anthology 1 by the Beatles here.
All the latest guitar news, interviews, lessons, reviews, deals and more, direct to your inbox!
Rod Brakes is a music journalist with an expertise in guitars. Having spent many years at the coalface as a guitar dealer and tech, Rod's more recent work as a writer covering artists, industry pros and gear includes contributions for leading publications and websites such as Guitarist, Total Guitar, Guitar World, Guitar Player and MusicRadar in addition to specialist music books, blogs and social media. He is also a lifelong musician.