George Harrison and the History of the Fender Rosewood Telecaster
We retrace the fascinating story of this iconic model with Fender historian Martin Kelly and a gorgeous 1969 original from its first, all-too-brief run.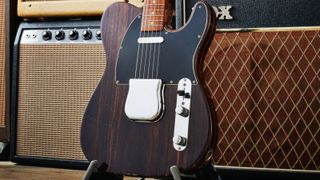 (Image credit: Future/Olly Curtis)
Dark, handsome, and understated, the Fender Rosewood Telecaster has much in common with George Harrison.
Custom-built for the guitarist in 1968 by Fender craftsmen Roger Rossmeisl and Philip Kubicki, it suited him down to the ground, although it was high on the roof of the Beatles' Apple Corps headquarters in London that this unique Tele design was unveiled, at the band's final public performance on January 30, 1969.
The origin of the Fender Rosewood Telecaster likely stems from a meeting at Apple Corp in 1968 set up by Don Randall, Leo Fender's original business partner and head of the company's sales division.
Keenly aware of the importance of product placement, and having courted the Beatles for some time, Randall visited the band's Savile Row HQ, where he met with John Lennon, Yoko Ono and Paul McCartney.
"Don began supplying the Beatles with Fender equipment immediately following the meeting," explains Martin Kelly, guitar historian and co-author of The Golden Age of Fender: 1946-1970.
"During the recording sessions for the White Album, he had already gifted the band a left-handed Jazz Bass for Paul, a right-handed Bass VI that both John and George used, and blackface Deluxe and Twin Reverb amps.
"By the time the recordings that would become Let It Be began in January 1969, the group had been kitted out with brand-new 'drip edge' silverface Twin Reverbs, a Bassman amp with a 2x15 cabinet, a Fender Rhodes electric piano and George's Rosewood Telecaster.
"You can see all this wonderful new gear, complete with hang tags, in The Beatles: Get Back. By this time, Fender had really made their move on the band and were becoming a big part of the Beatles' sound.
"It's scary to think that the rehearsals for Let It Be began just six weeks after the White Album had been released. In the meantime, Harrison had visited Bob Dylan and the Band in Woodstock, where he enjoyed a carefree, relaxed atmosphere. Suddenly he's back in the Beatles fold, and the atmosphere is very different indeed.
"But in the midst of it all, this new Fender gear – including the Rosewood Telecaster – has turned up."
Created by Rossmeisl and Kubicki, the new design appeared at a time when Fender was experimenting heavily with the Telecaster form.
"The Rosewood Telecaster was introduced at the start of a new experimental phase for the Tele," Kelly confirms. "The first time Fender had experimented with the design was in 1959 with the introduction of the edge-bound Telecaster Custom.
"Next came the Blue Flower and Paisley Red Telecasters in 1968, along with the Rosewood Telecaster and the Thinline. The early '70s ushered in both the Custom [a second version released in 1972] and the Deluxe [released in 1973].
"In terms of pickups and electronics, the Rosewood Telecaster is completely standard, as per a regular Tele, with two single-coil pickups and simple volume and tone controls. As with the [original] Telecaster Thinline, Rossmeisl wasn't messing too much with convention." (The Telecaster Thinline changed to a dual Wide Range humbucker design later, in 1971.)
However, when it comes to tonewood, the Rosewood Telecaster was a radical departure from the standard Telecaster's traditional maple neck/ash body construction.
"The first Rosewood Tele was constructed from four pieces of rosewood glued together – two on the top and two on the bottom," Kelly explains. "Harrison's prototype guitar was made from four bits of rosewood, whereas production examples seem mostly to be made using a solid slab of rosewood on the back and a solid slab on the front. All Rosewood Teles feature a thin layer of maple sandwiched in the center of the body.
"George's guitar was chambered – perhaps more so than production models – to alleviate weight. Rosewood is a dense wood, and production Rosewood Teles can often be very heavy, even though they're chambered. They vary a lot in terms of weight, but I'm reliably told George's guitar is lighter than most production examples."
Unlike the production models that soon followed, Harrison's prototype guitar was built using a rosewood neck with a glued-on rosewood fingerboard. Using this method of construction, the truss rod is placed into the front of the neck prior to the board being attached.
This differs from Fender's original practice of making Teles with a one-piece fretted neck, where the truss rod is inserted into a channel in the back. Consequently, the tell-tale "skunk stripe" on the rear and the peghead plug on the front of the fretted neck are absent from his guitar.
"It's interesting, because this was the first time Fender had returned to the skunk stripe on Telecasters since the '50s," Kelly points out. "They weren't making any other guitars that way at the time, and you'll notice a maple [peghead] plug and skunk stripe running down the back of the neck on all production Rosewood Teles.
"The prototype has a satin finish and a pre-CBS decal, but production guitars feature glossy poly finishes and transition decals. I imagine they used a thick transition logo because they wanted it to stand out. If they'd used a contemporary black CBS logo, it wouldn't have shown up against the dark rosewood. (Fender started using solid black peghead logo decals in 1967.)
"While interviewing Phil Kubicki for my Fender book, I asked why he fitted a pre-CBS decal to George's prototype, and he told me, 'Martin, I didn't care what type of decal I used. I just reached for whatever was on my desk and whatever was closest to hand. I was not thinking about whether the main factory had switched to a different type of decal; it just said 'Fender,' and that was all it needed to say.'"
Interestingly, a Rosewood Stratocaster intended for (though never received by) Jimi Hendrix was made alongside Harrison's guitar. This prototype Strat also features a pre-CBS "spaghetti" logo.
"Phil Kubicki was Roger Rossmeisl's assistant in the R&D shop, and they made two Strats and two Teles," Kelly reveals. "I believe they knew the Tele was going to the Beatles, and that the Strat was intended for Jimi Hendrix. Phil told me he knew who they were making them for and there was a sense of urgency to get the Tele ready first.
"This instruction likely came following Don Randall's meeting with the Beatles at Savile Row, and I guess he had told Rossmeisl, 'We're sending the Beatles some stuff. Can you get the Rosewood Telecaster ready first?'
"Roger and Phil constructed two necks and two bodies, but they only finished one of each guitar. Kubicki told me that was their standard procedure. They'd make two, just in case, and they'd pick the best of both.
"They selected the best neck and the best body to make George's guitar, and Phil told me he spent some time getting the satin finish just right by gradually working through grades of wet and dry to bring it to a certain type of sheen. He said it was at Roger Rossmeisl's request that the guitar was finished that way."
Having worked hard to get the Rosewood Telecaster completed, Fender flew the guitar over the pond (it had its own seat on the aircraft), and it was soon in Harrison's hands.
"The Rosewood Tele prototype was sent over in late '68, and George was seen playing it in January '69. But in a pre-internet world, Fender didn't have any immediate photographic evidence. In fact, Phil Kubicki didn't know George Harrison had used his guitar until he saw the rooftop film over a year later! That was the first time he knew it had actually been used."
Nevertheless, within months of being created, the Rosewood Telecaster had popped up on Fender price lists. However, with a distinct lack of accompanying information, it was something of a mystery for customers, not to mention a relatively expensive option.
"The Rosewood Tele first appeared on price sheets in May 1969, costing $375," Kelly says. "Versus a regular rosewood 'board Tele at $269.50, it was over a hundred dollars more. A maple cap Tele was $279.50 [$10 more for a maple cap was standard then]. The edge-bound Telecaster Custom and Paisley Red/Blue Flower Teles were $299.50. So the Rosewood Telecaster was far and away the most expensive at $375.
"The Rosewood Telecaster was on price sheets from May 1969 until April 1970, when it disappeared. It was dropped having never appeared in a single advert or catalog; it only ever showed up on price sheets. Who would even know what that was, or how to order it if they've never seen one in the flesh?
"The price list doesn't describe much; it just says 'Telecaster, (Dual Pickups) Rosewood.' So people wouldn't have known what they were ordering. It was a fleeting idea that was never publicized by Fender at the time.
"I guess the Fender sales team thought, The Beatles have taken one; let's build a few, put it on price sheets, and then see what happens. But there was never any imagery of it provided by Fender. Perhaps they were just testing the water to see if the Beatles would really endorse it. The film Let It Be premiered in May 1970, just as the guitar was dropped and the Beatles split.
"The Rosewood Telecaster remained off Fender price lists throughout 1971 but reappeared in February 1972 marked 'new,' as if they'd never made it before, more than likely the result of demand created by the film.
"It was now $399.50 and on the same price list, a regular rosewood 'board Tele is $283, and a regular Tele with a maple cap [fretboard] is $295. By January 1973, it had disappeared into obscurity once again!"
In 1986, the Rosewood Telecaster briefly reappeared on Fender price lists as part of the Limited Edition Series. Made in Japan, these guitars were initially priced $699 and have garnered a reputation over the years for being reliable, high-quality instruments.
"The mid-'80s Japanese reissues were quite accurate to the original production models," Kelly confirms.
Japanese-made Rosewood Telecasters were also offered in the '90s in Fender's Reissue Series, while the Custom Shop has revisited the design on several occasions over the years, launching the Rosewood Telecaster in 2007 to commemorate their 20th anniversary.
Sporting the George Harrison–style specs of satin finish, a rosewood fretboard, no skunk stripe/plug and a pre-CBS decal, this run of instruments is easily identifiable by a neck plate that reads "Limited Release" alongside the Custom Shop logo and serial number.
"My late friend Alan Rogan [Pete Townshend's guitar tech and guitar expert/ collector] had an early Custom Shop example with the George Harrison–style satin finish, rosewood 'board, and pre-CBS decal," Kelly recalls. "That was a fantastic guitar!"
In more recent years, Fender Custom Shop releases that feature the George Harrison-esque specs also include the 2013 Closet Classic Rosewood Telecaster (the neck plate reads "Limited Edition") and the 2016 Paul Waller Master Built George Harrison Rosewood Telecaster (with a "GH"-prefixed number inscribed on the back of headstock).
In 2017, Fender launched a limited run of 1,000 George Harrison Rosewood Telecasters. As you would expect, these guitars feature the prototype-style specs, and they are set apart by a neckplate marked with an Om symbol and Harrison's signature.
With 2021's The Beatles: Get Back documentary series creating a renewed interest in arguably Fender's most iconic prototype guitar, the George Harrison Rosewood Telecaster was re-released this year.
As per the 2017 iteration, Fender's latest Rosewood Tele offering sports the Om/signature neckplate and features a chambered body, 9 ½-inch radius fingerboard and 1964-style pickups. Priced at $2,899.99, the guitar is touted as a "limited edition tribute."
"The current Fender George Harrison Rosewood Telecaster looks impressive," Kelly remarks. "Overall, I think the design was a nice, subtle rework of the regular Tele, and George Harrison put it to phenomenal use.
"Rosewood Telecasters definitely have their own sound. To my ears, they sound springy. Because rosewood is so dense, it adds a bounce to the sound. They have a thicker, deeper, darker twang. I think the chambering affects things too; they have a different acoustic resonance. I'd be keen to know why Harrison's is lighter than other Rosewood Teles. Perhaps because it's more extensively chambered?"
Be it the prototype or production-style design, Fender's Rosewood Telecaster reissues collectively outnumber the late '60s/early '70s models by a long way. Educated guesses put shipping figures of the original runs in the low hundreds.
"Original '69-'72-era Rosewood Teles are few and far between, and I'd be surprised if more than 250 to 300 were made," Kelly states. "There were other quirky Fender models, like the Swinger, that were never advertised by the company.
"Weirdly though, they did a fair amount for the Custom – the cut-down hockey-stick headstock 'bits-er' guitar that appeared in the 1970 catalog and period ads. Maybe Fender was backing the wrong horse!"
Martin Kelly is the co-author of The Golden Age of Fender: 1946-1970 (Cassell Illustrated). His latest book, Rickenbacker Guitars: Out of the Frying Pan Into the Fireglo, is available via Phantom Books.
Guitar Player thanks ATB Guitars in the U.K. for showing us the Fender Rosewood Telecaster featured here.
All the latest guitar news, interviews, lessons, reviews, deals and more, direct to your inbox!
Rod Brakes is a music journalist with an expertise in guitars. Having spent many years at the coalface as a guitar dealer and tech, Rod's more recent work as a writer covering artists, industry pros and gear includes contributions for leading publications and websites such as Guitarist, Total Guitar, Guitar World, Guitar Player and MusicRadar in addition to specialist music books, blogs and social media. He is also a lifelong musician.