"It Was Really My First Voyage Into Feedback": Paul McCartney on His "Taxman" Beatles Guitar Solo
Macca reveals his inspiration behind the Beatles' riotous 'Revolver' opener.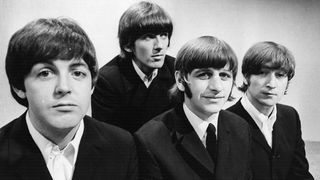 (Image credit: Central Press/Getty Images)
There are many great guitar moments within the Beatles catalog. We all have our favorites. But as far as Paul McCartney is concerned, one of those highlights happens to be the song "Taxman."
And for good reason.
In addition to laying down his unforgettable Motown-style bass hooks on the track McCartney contributed a wild electric guitar solo that would make anyone proud.
Penned by George Harrison and appearing as the opener on the Beatles' 1966 studio album Revolver, "Taxman" was significant in further establishing Harrison as a songwriter and was the Beatles' first overt political statement (British politicians Harold Wilson and Edward Heath are both named.)
It also showcased McCartney's prowess as a bold, imaginative lead guitarist.
"I liked 'Taxman' just because of what it was... It was really my first voyage into feedback," he told Guitar Player during a 1990 interview, having been asked about favorite Beatles guitar parts that he played.
"I got the guitar and was playing around in the studio with the feedback and stuff, and I said to George, 'Maybe you could play it like this.' I can't quite remember how it happened that I played it, but it was probably one of those times when somebody says, 'Well, why don't you do it then?'"
In the same interview, McCartney reveals a source of inspiration for his guitar playing on "Taxman."
As has often been pointed out, Eric Clapton's edgy blues-rock style was pivotal in the evolution of electric guitar technique and tone during the mid-'60s, as evidenced on 1966's Blues Breakers with Eric Clapton album.
Indeed, it appears Paul McCartney and the Beatles were no exception.
"I had this friend in London, John Mayall of the Bluesbreakers, who used to play me a lot of records late at night," recalled McCartney. "He was a kind of DJ-type guy. You'd go back to his place, and he'd sit you down, give you a drink, and say, 'Just check this out.'
"He'd go over to his deck, and for hours he'd blast you with B.B. King, Eric Clapton – he was sort of showing me where all of Eric's stuff was from, you know. He gave me a little evening's education in that.
"I was turned on after that and I went and bought an Epiphone. So then I could wind up with the Vox amp and get some nice feedback. It was just before George was into that. In fact, I don't think George did get too heavily into that kind of thing.
"George was generally a little more restrained in his guitar playing. He wasn't into heavy feedback… When people say, "Great solo on 'Taxman'," I don't think he's too pleased to have to say, "Well, that was Paul, actually."
Order Revolver here.
All the latest guitar news, interviews, lessons, reviews, deals and more, direct to your inbox!