"These Are All Familiar Songs From a Play or a Movie": As He Drops 'Stage & Screen,' John Pizzarelli Celebrates His 40th Year of Recording and Reflects on the Lessons He Learned From His Father, Bucky
The seven-string slinger's landmark album is a collection of familiar tunes from Broadway and Hollywood spanning 90 years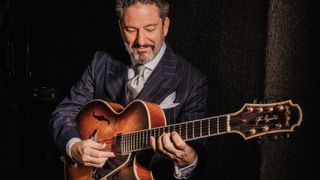 (Image credit: JACI BERKOPEC)
Growing up the son of Bucky Pizzarelli, John Pizzarelli had quite an advantage over the other kids in his Paterson, New Jersey, neighborhood who wanted to pick up the instrument in the wake of the Beatles and the British Invasion. After all, Bucky was house guitarist in the Tonight Show band during the Johnny Carson years, and a ubiquitous session player through the '50s, '60s and '70s, recording with everyone from Tony Bennett, Frank Sinatra and Rosemary Clooney to Benny Goodman, Zoot Sims, Lionel Hampton, Stephane Grappelli, Gerry Mulligan and Buddy Rich. He even appeared on classic pop recordings by Roberta Flack, Aretha Franklin, Anita Baker, Carly Simon, Judy Collins, the Drifters, and Dion and the Belmonts.
"John had a rock and roll band as a teenager," the late Bucky recalled in an interview I did with him for New Jersey Monthly in 2015. "I heard them play, and I said to John, 'Look, you're copying rock and roll solos. You can copy a jazz solo. Here's a record of Django Reinhardt. Copy this.' And he did it very well. And that's when he started to play jazz."
John Pizzarelli, now 63, remembers his father giving him records to learn songs from before they played together in public. "I would learn them and we would practice maybe once or twice," he recalls. "And then we'd go to a gig, and at the end of the set he'd say, 'My son's gonna play 'Honeysuckle Rose' with me now.' And I'd go up and do it. He always threw me in the fire that way, but I loved it. And I realized that the more things I learned, the longer I could be on the stage with him. So I just started to learn songs."
The senior Pizzarelli, who died of complications from COVID-19 on April 1, 2020, at age 94, had switched from conventional six- to seven-string guitar (with a low B string) in 1969 after seeing George Van Eps demonstrate the then-new instrument. "I went down to Manny's Music on 48th Street the next day and bought one," Bucky recalled. "And at that point, it was a whole new ballgame."
By 1980, Bucky's teenage son John was ready to follow in his father's footsteps. That year they released their first duet album together, 2 x 7 = Pizzarelli, recorded when John was 19. They followed with 1984's Swinging Sevens. Both albums, on Bernie Brightman's Stash label, featured father and son playing seven-string guitars. "I got a big education in those years," said John, who also released his first album as a leader, I'm Hip (Please Don't Tell My Father), in 1983.
Pizzarelli went on to become a world-renowned guitarist and vocalist, hailed for reinvigorating the Great American Songbook with his contemporary interpretations. His 33 recordings under his own name include tributes to Nat King Cole, Frank Sinatra, Johnny Mercer, Antonio Carlos Jobim, Duke Ellington, the Beatles (1998's Meets the Beatles) and Paul McCartney (2015's Midnight McCartney). His 2012 album, Double Exposure, featured clever mash-ups of Wes Montgomery's "Four on Six" and the Allman Brothers' instrumental "In Memory of Elizabeth Reed"; the Beatles' "I Feel Fine" and Lee Morgan's "Sidewinder"; and James Taylor's "Traffic Jam" and Joe Henderson's "The Kicker." In 2021, during pandemic lockdown, he made the intimate at-home recording Better Days Ahead: Solo Guitar Takes on Pat Metheny.
Stage & Screen (Palmetto), Pizzarelli's latest, marks 40 years since his debut recording. It's a collection of familiar tunes from Broadway and Hollywood spanning 90 years, from the classic Tin Pan Alley tunes "Tea for Two" and "I Want to Be Happy" from the 1925 Broadway musical No, No Nanette to Jason Robert Brown's "I Love Betsy" from the 2015 Broadway musical Honeymoon in Vegas.
Much of the album's repertoire was inspired by Pizzarelli's weekly Thursday night livestream concerts on Facebook, which are purely spontaneous affairs from home where he takes requests (with digital tip jar). He is sometimes joined by his wife, Broadway veteran Jessica Molaskey, who is also Pizzarelli's co-host for their weekly nationally syndicated Radio Deluxe broadcasts (heard on 70 listener-supported stations across America and online at radiodeluxe.com) as well as his singing partner for their annual fall engagement at the Cafe Carlyle in Manhattan.
"For Stage & Screen, I had the opportunity to find unusual songs as well as tried-and-true standards," he explains. "These are all familiar songs from a play or a movie. I'm very close to a lot of people in the Broadway community because of my wife, and I like old movies. So to have Broadway and film represented here, there's something sort of unique about it."
Accompanied by the young piano phenom Isaiah J. Thompson and bassist Mike Karn, the seven-string guitarist swings his way through standards like "Just in Time," "Too Close for Comfort" and the driving rhythm guitar feature "I Want to Be Happy." The drum-less trio deftly puts together a suite of tunes from the musical Oklahoma! while delivering romantic takes on "As Time Goes By," "Where or When" and "Tea for Two."
Pizzarelli also performs a beautiful solo rendition of Leonard Bernstein's "Some Other Time," a tune from the 1944 musical On the Town, which later became associated with jazz piano legend Bill Evans. He was at his home in Manhattan for this recent phone chat.
For Stage & Screen, it sounds like you alternate between electric and acoustic seven-strings.
Yes, those are the two Bill Moll guitars that I generally use. The nylon-string classical Moll is what I played exclusively on the Metheny project, and the other one is a signature Moll electric with a Florentine cutaway that I've been using for about 15 years. Actually, on two other songs I played a handmade Bulgarian seven-string guitar called a Kremona. My friend Rick Haden, who's the guitar teacher out at Southern Illinois University at Edwardsville, found it and actually shaved the neck down for me and sent it to me.
It's a great little box, so I ended up taking that in the studio and recording "Some Other Time" and "Where or When" on it. And on both of those cuts, I'm playing fingerstyle. For the rest of the tunes on the album I'm playing with a pick.
You interact so well throughout Stage & Screen with pianist Isaiah J. Thompson, who sounds like an old soul in a young man's body. Your call-and-response together on "Surrey With the Fringe on Top" is particularly smoking.
Yeah. We met in 2013 when he was just 16. I was hosting a film and performance series at the Jacob Burns Film Center up in Pleasantville, New York, and I was accompanied by students from Jazz House Kids, the non-profit organization founded by Melissa Walker and her husband, Christian McBride. And so I interacted with these kids, and I remember thinking, Boy, that piano player's got something! I always joked that I would have hired him right away but he had to go to the prom first.
And it turned out that a couple of years later I wrote Christian McBride and said, "My piano player left and I need someone. There's got to be a bunch of young kids out there. You know who they are." So he gave me four names, and the first one on the list was Isaiah J. Thompson. And I said, "That's the guy!" My daughter found him for me on Facebook, and we've been together since 2019.
One thing that you highlight throughout Stage & Screen is that thing of scatting and soloing simultaneously, which is a George Benson signature. How long have you been doing that?
Ever since I learned Benson's version of "This Masquerade." It was a hit song and everybody wanted to hear it back then, so I sort of learned that Benson intro and some of his little licks from it. That whole Breezin' record [from 1976] was such a big smash, so I tried to learn a lot of things off of it, including the scatting and soloing thing. My father actually encouraged me to do that. Every once in a while he'd say, "Sing and play! Sing and play on that."
And you know, we had Slam Stewart in our house from the time I was a little kid. Slam's trademark was his ability to bow the bass and simultaneously hum or sing an octave higher. He and Slim Gaillard had a popular duo called Slim & Slam that had a big hit back in the late '30s called "Flat Foot Floogie (With a Floy Floy)." My father worked with Slam all the time [they had a 1978 album on the Stash label called Dialogue]. So I grew up with that sound in our house. It's just one of those things that I've been doing for a long time, but it did come from George Benson and Slam Stewart.
Did you go through a period as a kid wanting to play rock and roll on a Stratocaster?
Oh sure, I owned a Strat. I totally dug that music. I was a big Beatles fan in my teens. The other thing that was key about my house was we had all the equipment. I had all the amps. My friend Steve would say, "Hey, I want to learn how to play the bass. Can you show me that?" I had a six-string bass at home, so he would play that and I would play guitar. We'd plug into one amp and try to learn Beatles tunes.
So I did a lot of that stuff, even into my 20s, playing weddings and things. And after the Stratocaster. I had a Fender Flame, which was the guitar Robben Ford played for a while. And I played it through a Mesa/Boogie amplifier, which I still have. I had a pedalboard and all those things. I had a lot of fun playing that stuff. But now I have two hearing aids too, so that's the result of that.
At what point did you make the conversion over to seven-string?
When I came home from college in 1980. I went to University of Tampa for three semesters, and whenever I came home, my father would say, "Let's go play a gig, just two guitars." I had learned some of George Barnes' choruses and their arrangement of "Honeysuckle Rose" and other tunes from that duo album they did together [1971's Guitars Pure and Honest].
Then one day I remember we were going to the Morristown Library to play a concert, and Bucky said, "Just play the seven on this, because that way you can accompany me when I solo, and vice versa." And I didn't really even solo then, but again, it was like being thrown into the fire. That's how I learned.
Around that same time, I worked at a day camp that was 10 minutes from our house, and each day they had a thing called Hobby Hour, where the kids would line up behind a sign – "Music," "Softball, "Art"...this and that – and they'd get an hour of whatever they really wanted to do.
So I was one of the music guys, along with another guy who had studied with the great jazz guitarist Barry Galbraith. We started playing duets together and Bucky showed me how to incorporate the seven-string. He said, "You can accompany that guy with bass lines and chords. Do it this way." And he showed me how to figure it out.
So in a nutshell, that's how it all. started. And from there I just started playing the seven-string all the time. There was actually a time when I started my trio in 1990 when I was going to get a little Charlie Christian guitar [Gibson ES-150] or one like Oscar Moore played in the Nat King Cole trio [Gibson L-5].
So I was thinking about that but my father said, "No, Bob Benedetto has a little plywood seven-string guitar that would be perfect for you." So I ended up staying on the seven from there on in. And on the new record you can hear me play a verse on "Tea for Two" and "As Time Goes By" where you hear that seven-string making a difference, I think. You can hear the all those low bass notes that you just don't get on a regular guitar.
There are a couple of tunes on the new album where you do go into the Wes Montgomery-styled octaves and chord melodies. Was Wes a big influence on you?
All of my stuff is from Bucky, but then as I go back, I realize, Oh, so that's where he got that from! Hearing my father play, he would invariably start with single-note solos, then play octaves, and the chord solo was always the third chorus before he turned it over to somebody else.
And I realized later that he got a lot of that from those great Wes Montgomery records I was buying in my 20s, like Wes's Smokin' at the Half Note. It's just amazing what Wes does. He's so natural, it's such a nonchalant kind of thing with him. He's just so loose and everything's just so beautifully played. It's a brilliant thing. And he did it all with his thumb. Just amazing.
Have you acquired any other new guitars since recording Stage & Screen?
Yes, I have a non-cutaway guitar that was just made for me by [Utah-based luthier] Ryan Thorell. When I got COVID last year in February, I had nothing to do. My wife, Jessica, went up to our cabin and I was here alone, so I got on the phone a lot. I called Matt Munisteri and my friend Rick Haden and I was saying, "I want to get one of those Charlie Christian guitars. They're so cool." And they were both like, "You got to get a seven if you're going to get one. Then you'll play it. You know you're not going to play it if you get a six."
So I called Ryan Thorell, who I had met a number of times out in Salt Lake City, and I said, "Do you want to build me a non-cutaway Charlie Christian guitar, seven-string?" So that was how the process started. And I just got the guitar about three or four weeks ago. I've been playing it a little bit on gigs, and I'll probably play that on the road in the next couple of months of touring, just to break it in.
And do you still have a couple of D'Angelicos?
Yeah. I have my father's two: the one he played on Ray Charles' 1960 recording of "Georgia on my Mind" and I also have an early one. So I got two good ones.
I understand that your father's 1978 Benedetto archtop seven-string guitar is hanging in the Smithsonian now?
Yeah. It's a beautiful thing. It's more moving than I would have ever thought. I mean, think about this guy who was just the son of a grocer from Paterson, New Jersey, who applied himself more than anybody ever could to the instrument and ended up playing in the White House. And he played with Benny Goodman and everyone. Just an amazing accomplishment. So it's a beautiful thing to see my dad's guitar hanging there.
And you obviously carry Bucky with you today every time you play.
Absolutely. That was especially true during the time I was recording the Metheny album at our cabin upstate. Watching Bucky learn classical guitar when I was a kid was something I kept relating back to while doing that project. I remember hearing my dad play all this Segovia stuff in this room where he practiced and seeing all the music spread out on this little table he had next to the music stand. He'd wake up every morning, go into that room and work on Segovia, trying to make new discoveries.
And that kind of work ethic rubbed off on me, I think. At the cabin I would get up at six in the morning and I'd sit in this little porch up there and start to play those tunes. And it became a daily routine, learning new tunes and getting to spend six or seven hours a day playing on these things. I was practicing so much I actually got a little tendonitis in my pointer finger on my left hand from all the stretches in the barre chords I was playing. I kept thinking, I hope that goes away, which it finally did. But that was one of those things where I was like, "I actually think I'm playing the guitar too much," which I've never said before.
Then, when I began recording the Metheny tunes up at the cabin, with my seven-string Moll nylon guitar plugged into an iPad through an iRig, I felt like at certain times I could hear Bucky saying to me, "What are you rushing for? Take your time with this. It's a beautiful melody. Let me hear what this melody is." So all those pieces of his advice over the years were in my brain when I was recording that Metheny album.
Order Stage & Screen here.
Visit the John Pizzarelli website for tour info, news, music and more.
All the latest guitar news, interviews, lessons, reviews, deals and more, direct to your inbox!