The History of the Gibson L-5
As the L-5 celebrates its 100th anniversary this year, we take a look back at the evolution of Gibson's seminal f-hole jazzbox with archtop historian Thomas Van Hoose and examine how this watershed design set benchmarks in guitar building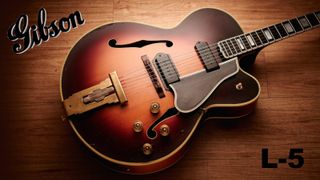 (Image credit: Future)
In the beginning of rock and roll, the archtops were king," acknowledges Texan archtop historian Dr Thomas A Van Hoose. A clinical psychologist by profession, Tom is perhaps better known in more guitar-centric circles as the author of The Gibson Super 400: Art of the Fine Guitar.
"Until the Super 400 came out in 1934, the L-5 was Gibson's top-of-the-line guitar," he tells us. "It's the predecessor to not just the Super 400 but to D'Angelico, D'Aquisto and Monteleone. From a historical perspective, it's quite something."
Recognized as the world's first f-hole archtop, the Gibson L-5 story begins around a century ago with Lloyd Loar – a talented musician and acoustic engineer whose revolutionary designs left an indelible mark on Gibson's history.
"Lloyd Loar worked for Gibson from 1919 to 1924," says Tom. "Originally, he was hired as what we might refer to these days as a design consultant. He came up with a very primitive pickup that he tried to amplify a couple of guitars with, but he didn't do much with it at Gibson. He was a visionary, and I think he saw the future in electric guitars. He was always looking to improve and innovate throughout his career, either with Gibson or afterwards.
"He designed a number of things and experimented quite a bit until he came up with the Gibson Master series of signature instruments. The F-5 mandolin was first, followed by the L-5 guitar and H-5 mandola, then the K-5 mandocello. Those four instruments form what's called the 'Loar quartet' and they were voiced to be played together.
"The f-hole design was one of Lloyd Loar's ideas. As well as being a guitarist of some note, he was quite a gifted mandolin and viola player, and I think he took his cue from the viola. He had extensive musical and performance training before he came to Gibson and he wanted to take guitar design forward and amplify the instrument. He reasoned that the combination of f-holes, a longer body, twin parallel tone bars and tap tuning would make a really good-sounding guitar. And he was right.
"That systematic tap tuning of the top, back and braces during construction made a huge difference in the L-5, because it allowed the guitar to be played in a way that was much louder than the previous oval/round hole archtops and flat-tops. It had quite a voice. It was also very comfortable to play. Players really enjoyed the feel of the L-5. The 16-inch arched top with f-holes, the 24¾-inches scale length, the body depth – all those dimensions are just right. The original version of the L-5 designed by Lloyd Loar standardized a popular layout."
Making its debut in 1923, the L-5's milestone design stood headstock and shoulders above Gibson's existing L-series archtops and quickly began to prove its mettle as an instrument of choice.
"The early L-series guitars [including the L, L-1, L-2, L3 and L-4] were an outgrowth of Orville Gibson's original ideas and were thought of as accompaniment instruments for mandolinists," points out Tom. "It wasn't until Gibson came out with the L-5 that people became really interested in the guitar as an instrument that could hold its own in an orchestra, and it eventually replaced the banjo as a stringed rhythm instrument.
"The L-5 caught on early because it was a superb rhythm instrument. It could be heard in an orchestra, people could also play solo with it and it was comfortable. The guitar really began to be accepted and so Gibson's production began to ramp up.
"As the guitar edged its way into these orchestra settings, it was seen as a rhythm instrument that provided a pulse. The guitarist would play in conjunction with the piano, bass and drums in the rhythm section. Probably the most famous proponent of that – although he wasn't a Gibson player – was Freddie Green, the Count Basie Orchestra guitarist. He played two- and three-note chords and kept a steady four-beats-to-the-bar kind of feel that carried through their music."
Throughout the '20s, guitars were also increasingly being used as solo instruments and to accompany singers.
"Eddie Lang was one of the most famous early L-5 players," highlights Tom. "He was a master jazz player on his early L-5 [Lang is sometimes referred to as the 'father of jazz guitar']. He played accompaniment to singers, he played solo guitar, he played in duets, and he played in orchestras. He was very versatile and that reflected the guitar's versatility. He showed it wasn't just strictly a rhythm instrument and that it could be used for a lot of things. Eddie Lang was the first to really popularize the L-5 both in recordings and in personal appearances.
"Gibson had a whole stable of endorsers that played solo or just sang and played or were accompanists in small combos. Maybelle Carter was one of the first folks we saw that played an early dot-neck L-5. She played well – she did fingerstyle and all sorts of things with her L-5. Country players picked up on that and they liked the sound of it when they would sing and play. Plus, it looked different to a flat-top – and the cowboys liked their fancy guitars!"
Despite the L-5 being particularly labor intensive to build and therefore expensive, Gibson's network of endorsers, dealers and teachers (who also sold instruments) helped keep it afloat and in production. In 1931, however, Gibson found itself facing some very stiff and totally shameless competition in the form of the f-hole-sporting Epiphone Masterbilt range of archtops. Consequently, something of a size war erupted between the two giants as each tried to top the other in a race of 'bigger is better'.
"Gibson and Epiphone were number-one competitors, slugging it out for years until Epiphone was sold [to Gibson owners CMI in 1957]," explains Tom. "Epiphone were competing with the same customer base as Gibson, but the competition was ultimately a good thing, because both companies kept pursuing improvements in their designs and as a result, Gibsons became much more popular in terms of sales figures.
"They made L-5s in the 16-inch format with some changes in terms of the ornamentation and neck profiles and so on, until 1934 when the 17-inch Advanced L-5 models came out. They wanted to boost their sales and so they enlarged the L-5. The 18-inch Super 400 also came in that year.
"Advanced L-5s have X-bracing and a longer 25½-inch scale length, although there are different versions. It may have just been psychological, but folks thought the Advanced L-5 sounded bigger, better and louder. People also liked the Advanced models, because they have more to them in terms of ornamentation and inlays. Appearance mattered, and Epiphone and Gibson both recruited well-known guitarists of that era as ambassadors of their brand to be pictured on print material and news reels.
"But it was being heard that was the main thing – and Gibson L-5s were being heard on recordings. Carl Kress and Dick McDonough both used 17-inch Advanced L-5s. They played instrumental duets together and were very popular. A lot of these people recorded for radio as well. They would play live on radio or the recordings would be broadcast. Their playing was really magical, even for way back then – it was very interesting."
As the guitar became ever more entrenched in popular music as a go-to instrument, players increasingly sought to bring it center stage, and with the introduction of the ES-150 electric archtop in 1936, Gibson suddenly took yet another evolutionary leap forward.
"It was a revolution when the ES-150 – the Charlie Christian guitar – arrived," enthuses Tom. "It changed everything. Once people heard Charlie Christian with the electric sound, it really made a difference in terms of the popularity of the instrument, because then you could just step out front and play like anybody else. He was interviewed more than once about his ES-150 guitar and EH-150 amp and his famous response was, 'I like to hear myself!' The archtop electric allowed these guys to play the guitar where they could be heard and not just comping in the background."
By the late '30s, Gibson had tentatively begun experimenting with electrifying its flagship guitars, the Super 400 and L-5, and by 1939 a Venetian cutaway version, the L-5 Premier (later renamed as the L-5C) was released. Nevertheless, World War II put the kibosh on any further developments for several years and it wasn't until the late '40s that Gibson recommenced building electric guitars.
"Production stopped around '41 or '42," says Tom, "and Gibson converted to producing guide rods for the M3 submachine gun. They also made wooden glider skids that were used in Normandy. We know they started making L-5s again in '47. Those have the pre-war headstock logo and some other cool pre-war features."
After the war, the demand for electric archtops was stronger than ever. By 1947, Gibson's new series of laminated body ES instruments included the revamped ES-125, ES-150 and ES-300, along with its Venetian cutaway sibling, the ES-350 Premier, followed by the Florentine cutaway ES-175 and L-5-derived ES-5 in 1949.
"Going into the post-war era, it was clear to Gibson that the electric guitar was the place they wanted to go," asserts Tom. "There was more demand for it. These were all laminate guitars – not carved tops. But there was also the 'McCarty unit' pickguard they used to electrify the [acoustic f-hole archtops]. When Ted [McCarty] got there in '48, one of the first things he whipped up was this pickguard with either one or two pickups as an accessory for your acoustic L-5 or Super 400. All this then led to the electrification of the L-5 internally with the release of the L-5CES.
"The L-5CES and Super 400CES appeared in '51 with P-90s. These were Gibson's flagship models. They learned with the pre-war electrics that solid tops could feed back easily, so on the L-5CES and Super 400CES they went to parallel bracing and spread it out so the pickup holes in the top wouldn't get in the way. They also put cross braces in where the pickup holes were like a little box. Over time they made the braces thicker to inhibit feedback."
As the electric guitar began to boom in the '50s, leading to an explosion of popularity in the mid-'60s, jazz music flourished and a new generation of guitar heroes emerged with colorful new sounds and styles.
"Wes Montgomery was the leading ambassador of the L-5 for many years," recalls Tom. "I got to examine Wes's single-pickup 'heart' guitar – which is probably the most famous L-5 – and discovered it is not an L-5CES, as is sometimes thought. When we lifted out that PAF, you could see the top braces had been cut through and the label said 'L-5C'. And there were two little holes at the [end of the fretboard extension] where a DeArmond pickup had been.
"L-5 guitars were most popular with jazz guitarists like Wes. Some of the early rock and rollers like Scotty Moore used L-5 electrics, but the feedback problems, the size of instruments and the fact guitarists were jumping around on stage more meant the ES guitars were better suited. Think about Chuck Berry: he didn't start with an L-5CES or Super 400CES; he started with a Les Paul Custom early on then went to the ES-350T. Perfect. And from there, he went to the ES-335, 345 and 355 and stayed with those.
"So the L-5CES was relegated away from rock and roll and back to jazz and solo guitar, and the sales kind of reflected that. But it all had to start from somewhere!"
Guitar Player would like to thank ATB Guitars in Cheltenham, U.K., New Kings Road Vintage Guitar Emporium of London, U.K., and Thomas Van Hoose.
All the latest guitar news, interviews, lessons, reviews, deals and more, direct to your inbox!
Rod Brakes is a music journalist with an expertise in guitars. Having spent many years at the coalface as a guitar dealer and tech, Rod's more recent work as a writer covering artists, industry pros and gear includes contributions for leading publications and websites such as Guitarist, Total Guitar, Guitar World, Guitar Player and MusicRadar in addition to specialist music books, blogs and social media. He is also a lifelong musician.