"Every Track on the Record Is a Must-Hear": Jim Campilongo Says 'Django Reinhardt et Stephane Grappelli' Changed His Life
"That said, one can't go wrong with almost any Django selection," explains the Telecaster master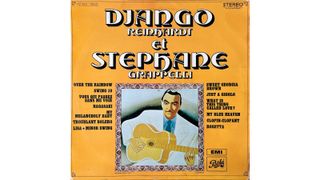 (Image credit: Pathé Marconi/EMI)
Way back in 1974, when I was in high school, I took a ceramics class from a teacher named Mr. Rafello. My specialty was ashtrays. The big perk of the class was that we had a community stereo. Students could bring music to play as we worked.
After a month or so, Mr. Rafello noticed I was bringing albums by Cream, Jimi Hendrix, the Allman Brothers Band and so on. One day he pulled out a selection of his own: Django Reinhardt et Stephane Grappelli, a compilation of recordings with the Hot Club of France.
The album jacket was covered with dried clay and dust, and featured an illustration of a debonair Django. "Jim, you should hear this," Mr. Rafello said as he put the disc on the turntable.
It was like hearing music by divine aliens. I was knocked out: the shredding guitar phrases, the driving quarter-note rhythms, and a sound so real it was like nature. Immediately, I stopped bringing in my own music and would play Django Reinhardt et Stephane Grappelli every day.
After a few weeks, Mr. Rafello gifted the album to me. Of the small mountain of records I own, it remains one of my most cherished.
Released in France in 1970 on Pathé Marconi/EMI, Django Reinhardt et Stephane Grappelli features the classic sound of the Hot Club of France with Django on a Selmer guitar, Grappelli on violin and Django's younger brother, Nin Nin, on rhythm guitar.
A second rhythm guitarist may be present, and there is a mystery pianist I suspect might be Grappelli doing double duty. There are hardly any album credits, and what's there is in French, with no mention of the sidemen.
Django was a Gypsy. As is well known, when he was 18, he was badly burned in a caravan fire that left the third and fourth fingers of his left hand partially paralyzed and pulled tightly against his hand. Despite this, he adapted his style to fret with only two fingers and went on to play fully developed iconic music with a technical prowess that is absolutely breathtaking.
Never mind that he played the fretboard with two fingers – Django sounds like he has an extra four digits on his fretting hand.
Influenced by recordings of Louis Armstrong, Joe Venuti and Eddie Lang, he went on to collaborate with Grappelli and formed the Hot Club of France.
All of Django's fire, technique and limitless musicality are evident on Django Reinhardt et Stephane Grappelli. Classics like "Minor Swing," "Sweet Georgia Brown," "My Blue Heaven" and "Over the Rainbow" are played with a fresh perspective and a bravado of discovery.
One standout is "Nagasaki," where Django sounds like a stallion busting out of the gate. His solo is stupendous, full of life and certainty as he plays basically everything a guitarist can: ripping arpeggios, crying bends, flashy pull-offs and rapid-fire 64th-note rhythm accompaniment. And this is all as early as 1936! This and every track on the record is a must-hear.
That said, one can't go wrong with almost any Django selection. Fortunately, he was one of the most-recorded guitarists of his era.
Personally, I love his underrated electric guitar playing, and the bootleg recordings of Duke Ellington with Django are fantastic. He combines his Gypsy roots with a post-bop Charlie Christian vocabulary.
Django was a musician who kept growing and evolving until his unfortunate early death in 1953, at the age of 43. Sadly, he didn't trust medicine.
Sometimes I think good deeds cause a "ripple." If I hold a door for someone, they might be kind to someone later. Sometimes a ripple can turn into a tidal wave.
I experienced this firsthand when Django Reinhardt et Stephane Grappelli changed the course of my life.
Thank you, Mr. Rafello.
All the latest guitar news, interviews, lessons, reviews, deals and more, direct to your inbox!
Jim Campilongo has 14 critically acclaimed instrumental records available on vinyl, CD and digital download here.