"We Were One of the Early Heavy Metal Bands Without Knowing It": How Eric Clapton, Jack Bruce and Ginger Baker Turbo-Charged the Blues With Cream
The original supergroup pioneered a fusion of blues-rock that directly influenced a generation of musicians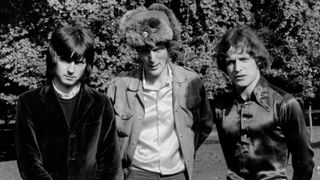 (Image credit: David Redfern/Redferns)
The world's first supergroup, Cream existed for a scant two years – from July 1966 to November 1968 – during which time they recorded four albums.
Guitarist Eric Clapton, bassist Jack Bruce and drummer Ginger Baker pioneered a fusion of blues rock that directly influenced a generation of musicians and the course of rock music over the next decade.
Before Cream came along, most British pop music stuck fairly rigidly to a verse/chorus format, and any instrumental solo was generally confined to repeating the melody.
Cream changed all that.
For example, they took the two-note riff that comprised Willie Dixon's "Spoonful" and stretched it from two and a half minutes to six and a half – and that was just the studio version. They also exaggerated and improvised around it with a dazzling display of virtuosity.
This wasn't a new idea, but it had been largely confined to jazz, a style that by the mid '60s, as Frank Zappa remarked, "wasn't dead, it just smelled funny."
The dynamic that propelled Cream hinged on Baker's and Bruce's jazz backgrounds and Clapton's blues roots.
Clapton might not have had the kind of musical knowledge and technique that Baker and Bruce possessed, but he had a gift that allowed the group to justify its audacious name.
"I was full of very big ideas about what I felt we could do," Bruce explained. "It was sort of rewriting the blues, if you like. I felt there was the possibility of a new kind of language with this band."
More significantly, Cream proved that there was an audience for the music.
Their first album, Fresh Cream, released at the end of 1966, went Top 10 in the U.K. and spent four months in the chart.
Within a year, fuel-injected blues bands such as Ten Years After, Peter Green's Fleetwood Mac and the Jeff Beck Group were reaping the benefits.
Cream's albums sold in huge numbers in the U.S., and their gigs were standing room only. But the relentless touring took its toll. Weeks spent on the road in America poured fuel on the volatile relationship between Baker and Bruce.
Well over five decades later, the group's few albums comprise its stunning legacy.
"I think we were one of the early heavy metal bands without knowing it," Eric Clapton has said. "After we disbanded, Led Zeppelin filled the void."
Order Fresh Cream here.
All the latest guitar news, interviews, lessons, reviews, deals and more, direct to your inbox!
Guitar Player is the world's most comprehensive, trusted and insightful guitar publication for passionate guitarists and active musicians of all ages. Guitar Player magazine is published 13 times a year in print and digital formats. The magazine was established in 1967 and is the world's oldest guitar magazine.
When "Guitar Player Staff" is credited as the author, it's usually because more than one author on the team has created the story.