"I Try to Trust that First-Thought Mentality": Courtney Barnett Talks Writing and Recording
Stripping away the heavy rock guitars of her previous albums, the experimental songsmith starts afresh with 'Things Take Time, Take Time.'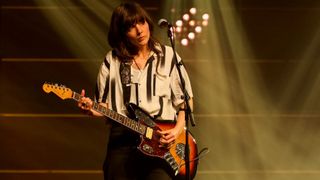 (Image credit: Dave Simpson/WireImage)
Two decades after Kurt Cobain redefined mainstream rock with his raw, uncompromising songwriting and anti-guitar hero way of playing guitar, a left-handed guitarist and art school student in Hobart, Australia, took inspiration from his example.
Courtney Barnett knew the rock music of several eras, thanks to a neighbor's mixtapes, and her own modest CD collection consisted mainly of Nirvana albums.
While playing right-handed guitars upside down at first (due to the unavailability of good lefty guitars), she developed a unique way of playing rhythm and lead with her thumb and fingers, since she didn't like the sound of a pick against the strings.
By the early 2010s, Barnett was playing in bands and appearing as a co-writer and guitarist on recordings by local singer-songwriters.
After a stint as a slide guitarist and co-lead singer in the psych-country-folk group Immigrant Union (you can hear her on their sophomore album, Anyway), Barnett released her debut EP, I've Got a Friend Called Emily Ferris in 2012 on Milk! Records, a label she cofounded with fellow artist and then-partner Jen Cloher.
The 34-year-old's widely eclectic take on indie rock can be gleaned from a playlist of influential songs she curated for a streaming service for many years following those first band experiences.
Her selections show a wide tapestry of musical input, ranging from her parents' favorite jazz singers to the '90s bands of her generation, like the Lemonheads, EMF, Pavement and the Breeders, as well as Jimi Hendrix, Yoko Ono, PJ Harvey, Leonard Cohen, Sonic Youth, Neil Young, Joni Mitchell, Patti Smith and Sharon Jones & the Dap-Kings.
Barnett signed with Marathon Artists in 2013 and combined her first EP with a new collection of songs as The Double EP: A Sea of Split Peas.
Momentum quickly built. The international music press picked different tracks as their "favorite of the week," while Barnett got booked on American late-night TV shows and landed a slot at the Coachella festival.
Her 2015 debut album, Sometimes I Sit and Think, and Sometimes I Just Sit, became her commercial breakthrough and was lauded as a rock – not indie-rock – classic.
Her infectious songs were a meeting of uncompromising noise rock and American roots music, combining an exhilarating mix of sharp stream-of-consciousness lyrics and humor, delivered in an instantly recognizable half-singing vocal that sometimes recalls Lou Reed.
The album was accompanied by a series of fun music videos that revealed a self-deprecating artist who also played many of the album's fills and solos on her black Telecaster.
You don't see that too often, and people welcomed her with fervor.
It's not hard to grasp what intense adulation can do to a person who suffers from anxiety and depression, as well as to their art, where it can be tempting to keep giving the audience the musical identity that they love, but that you are starting to outgrow.
And so Barnett started to expand her ways of expression on her 2018 follow-up, Tell Me How You Really Feel. This new direction is also noticeable on her new album, Things Take Time, Take Time, a lockdown memento born of change and calamity.
Barnett was struggling following her breakup with Cloher, the pandemic lockdown and the terrifying Australian bushfires of 2019-2020, known colloquially as the Black Summer.
When a friend suggested she make a list of what she looked forward to, Barnett gave it a try, focusing on small things: a cup of coffee, sunrise. That, in turn, gave birth to the songs on Things Take Time, Take Time, a collection of sprawling songs built from the minutiae of everyday things.
To record it, Barnett chose a studio that was new to her – Golden Retriever in Sydney – and worked without her usual gear or her band featuring bassist Bones Slone, drummer Dave Mudie and guitarist Dan Luscombe.
Instead, she created and coproduced the record with Warpaint drummer Stella Mozgawa, who had previously performed on Barnett's 2017 collaboration with guitarist Kurt Vile, Lotta Sea Lice.
"Maybe that was a subconscious effort to push myself out of my comfort zones and try something different," Barnett says of her decision to work amid so many changes. "I wanted to work with Stella again, and the timing was perfect because both of us were in the same country. If the pandemic hadn't been there, we would've been busy with our other projects."
The time is ripe for Barnett to enjoy a resurgence.
She's the subject of director Danny Cohen's brand-new documentary, Anonymous Club, which offers insights into the creative process and struggles of an artist Cohen refers to as an anti-influencer, a recluse acclaimed by audiences, and a strong female performer in conflict with herself.
We recently spoke to Barnett in Los Angeles, as she was kicking off her recent U.S. tour together with Sloane and Mozgawa.
Is surprise an important component to your music?
Not so much trying to surprise other people, but I think embracing the spontaneity. I've often gotten the majority of the song ready, where I know what it's gonna do, but there are always bits that I don't have planned.
Normally it's things like guitar solos. A lot of the time, I leave them until the last minute to see what happens. Often, it's that first thing you do that ends up being the best one. And every time I try to overdub a better guitar part or solo, it never has that same energy.
I think that's what I try to capture; sometimes that's what that slightly deranged thing is. There might be wrong notes and small things that aren't completely right, but it captures a certain energy, and I try to trust that first-thought mentality.
"Small Poppies" [from Sometimes I Sit…] is a great song filled with beautiful '50s retro guitar references, even though they also have that twist.
That is actually my friend Dan Luscombe who played on the song. I played pretty minimal rhythm guitar on it. Dan played on my first few albums, and I listened to that song the other day. His guitar playing on it is so incredible.
But after I finished that album and was ready to go on tour, I found out that he couldn't join me, so I had to learn all of his amazing parts and all these different skills. It really pushed me as a guitar player, and I find him to be really inspiring.
How did you develop your playing style? Were there any influences, choices, or decisions on what not to do? We're thinking of St. Vincent, who once said in an interview that she really tries to avoid playing "muscle memory licks."
It's hard to see what my own style is, because it's what I know and what I've figured out over the years.
The muscle memory comment is a really good one, because I think it's easy to fall into that comfort zone. I guess I try to keep myself on the edge of it, so that I'm not too comfortable but always learning new things.
Part of my style is playing rhythm and lead at the same time. I was 18 when I started my solo career shows; I played acoustic guitar and had to bridge this gap between rhythm and lead.
Over the years, as I started bands, I always tried to get a second guitarist to do the lead bits, but I've played as a three-piece for so much of my musical career that I had to learn how to blend the two out of necessity.
How would you describe your guitar aesthetic?
I would probably avoid doing that. It's a combination of lots of ideas and trying to find the perfect blend of everything.
On Things Take Time, Take Time, you've moved away from the rock songs with punchy hooks and the feedback-driven solos that made your debut album a huge hit with fans and critics. This work is a lot more low-key, with a warm and comforting sound palette that mirrors the ruminating lyrics you've written. What brought about this new direction?
Over years of playing live, I've recognized that one of my safety fallbacks was to use a lot of distortion pedals: When in doubt, just make a big noise. And I recognized that it started to feel a little bit lazy and repetitive.
Obviously, it's fun to do that, and a lot of the songs called for it. But – thinking of that thing St. Vincent said – I was looking for different angles: different ways to show emotions and find dynamics in the songs.
It's easy to rely on the same tricks in songwriting or in the studio. I wasn't trying to change patterns completely but just be aware when something came up that felt familiar and try a different way.
How did you and Stella work out the song arrangements?
For this album, we tried to use different instruments, and when things were sounding familiar or just a bit same-same, we would mix them up.
I only took one electric guitar into the studio, my sunburst Fender Jag [Kurt Cobain model with stock pickups]. I always get the best sounds out of that guitar. I also used a lot of acoustic guitar [a custom Maton] to thicken up guitar parts.
But a couple of times, we'd work on a song that sounded like it had too much guitar, and so I'd take the guitar totally out of it, highlight a Wurlitzer [electric piano] or something else instead, and replay the song from that angle. And that created a sonic space that allowed the lyrics to breathe differently.
You used a drum machine and percussion instruments, and throughout the album one can hear these little rhythmic accents popping up in the songs. It seems like they're a central part of the arrangements because they sound like hooks, but in an understated way.
Yeah, I wanted that to be a feature. It created a meditative, repetitive feel that would build over the course of the songs. A big part of this album is the percussion, and a lot of the rhythms are the equivalent of a riff or a refrain. I thought it'd be so cool to find a different approach instead of using a melodic guitar riff or piano line.
Stella is an amazing drummer and percussionist. The rhythms might sound simple at first, until you tune into all the little things happening and realize how complicated it is, without being over the top.
You once said in an interview that you look for left-field sounds to make things interesting in headphones. Did that apply to this album as well?
I mean, always. That's the fun part of recording. Doing the weird things, like banging a case against the floor and affecting sounds in ways that we aren't used to hearing.
On my last album, I recorded the sound of my kettle boiling [on "Hopefullessness," which also features a great feedback-driven solo]. It comes in halfway through the song and slowly creeps up and up like a weird, anxiety-inducing, drone sound.
On this album, we did a lot of field recordings. I'm not sure they made it onto the album, but they were inspiring to capture and hear. On one part of a song, I played my guitar with a cello bow to create a droning, synthy string sound.
Parts of your album are about healing after a breakup, and one of the songs, "Here's the Thing," has an instrumental passage that feels very cinematic and blue. It has lush rhythm guitars and these otherworldly-sounding notes that are floating above the chords. Is that a vocal or a guitar?
That's actually the song with the cello bow. There are strings underneath it, and sometimes they sound like trumpets. It was just a weird frequency. But that main melodic door-bell type of sound that you're referring to is an Omnichord [an electronic autoharp-synthesizer] that we had in the studio.
We messed around for quite a while, trying to find the right sound and the right idea, and then we probably put it through some effects as well just to make it more wobbly, like it was underwater.
What amps and effects did you use on the album?
I didn't take any gear with me besides my electric guitar. I know I used the studio's Mesa/Boogie and Roland Jazz Chorus [JC-120] amps. I also didn't have my usual pedals, which forced me out of my comfort zone.
I used their [Death by Audio] Reverberation pedal a lot, and the [Electro-Harmonix] POG for the chorusy, wavy and wobbly sounds. The studio also had a vintage vibrato pedal and some overdrives that I used.
Are all your songs and solos created through inspiration by just staying open to whatever comes, or do you ever set up any sort of framework?
No, it's normally pretty feel-based. I try to just trust that instinct and feeling.
You're known for your lyrics, which tend to be conversational, often with a dry or wry sense of humor, and full of great observations about people and mundane things. Do lyrics inform your guitar playing in any way?
It happens sometimes. It's fun to find the emotional match. In "Take It Day by Day," which is a bass-driven song, the lyrics are slightly playful and cheeky, and the guitar kind of matches that. The bass is a little bit overdriven and bratty. When the guitars and the synths do the riff [sings a staccato melody], it also has a bratty quality to it.
You also went to a visual arts school when you were 18 to 20 years old, and you're often involved in the making of your music videos and album cover art. How does art influence your music?
The visual stuff and music inspire each other. Just like the power of silence in music, there's the power of negative space in visual art. It all overlaps, and there's no formula. It all depends on the song and the moment.
And when one creative avenue dries up, it's good to explore another one until the ground gets more fertile again.
Exactly.
Danny Cohen has made a documentary about you called Anonymous Club, where he followed you on the road for a couple of years. How did you connect?
Danny is a really good friend of mine, and he's made a couple of my video clips. He came on tour with me pretty much from the album cycle for Tell Me How You Really Feel. He was on and off tours around the world, and made this really beautiful and pretty simple film.
What did you talk about, and what was the filming experience like for you?
We talked a lot about the art-making process and the fears behind being an artist. There was so much deep and personal stuff. So even if there was some confronting, for the most part it was an interesting process.
Browse Courtney Barnett's catalog here.
All the latest guitar news, interviews, lessons, reviews, deals and more, direct to your inbox!