Watch PJ Harvey Slay the Audience with a Gibson Firebird VII
Drummer/co-producer Rob Ellis recalls the magic of this powerhouse three-piece.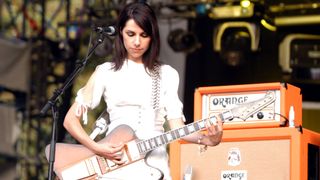 (Image credit: Jean Baptiste Lacroix/WireImage)
Some guitarists find large pedalboards difficult to negotiate. But in high heels? While strapped with a reverse Gibson Firebird VII? In front of a massive festival crowd? Hats off to PJ Harvey.
"Yeah, exactly. That was quite a heavy thing, and she's not a big person," agrees PJ Harvey drummer and co-producer Rob Ellis.
In this unforgettable performance at the UK's 2003 V Festival, PJ Harvey goes beyond effortless cool as she outright owns the festival with a rendition of "Dress" from her debut album Dry.
Alongside Ellis and bassist Mick Harvey it was PJ Harvey returning to form in the guise of a power trio.
You guys are on fire here. What do you remember from this period?
"I remember that tour well. We went back to the original three-piece idea: bass, guitar, and drums. For Polly and I it was like revisiting the original line-up after we stopped being a three-piece in '93. It was back to basics.
I played the best gig of my life on that tour. The three of us had been watching the Led Zeppelin DVD on the bus just before we went onstage and then we went out and played this blistering performance.
It was always a very physical thing playing drums with Polly, and I remember I had absolutely no stage nerves for the first time ever in front of a huge crowd. We were just completely going for it. Suddenly everything coalesced between the three of us.
It certainly appears as if there's some great chemistry happening between the three of you…
I think we all had a lot of confidence, and Polly was a lot more relaxed. It was about five albums in. It was in between Stories from the City, Stories from the Sea and Uh Huh Her. It felt like Polly and I had come full circle, like we were admitting we had this musical relationship which worked really well.
Tell us about the song "Dress" – one of the first things you worked on with PJ Harvey…
Yeah, "Dress" was one of the very first things we did. I co-produced it. That whole recording process was a mixed bag of different people being involved but there was a core of me and Polly and a few others.
It was recorded at The Icehouse in Yeovil [Somerset, UK]. It was [Howard 'Head' Bullivant] Head's place. He put a studio together in the '80s and we used to hang out there a lot. We started hanging out with Polly later on, and that's where we did those first recordings.
Was the entire Dry album recorded in Yeovil?
We did four songs there initially and one of those was "Dress." All four ended up on Dry. We actually rerecorded the whole album in London but ended up scrapping it and going back to Yeovil to record the other songs there.
We recorded in London because Polly had moved there for her sculpture course. I think she was living in Tottenham. At that point, Polly's rig was very basic. It was just a hollowbody Gretsch electric guitar and a Marshall amp.
Buy Dry here.
All the latest guitar news, interviews, lessons, reviews, deals and more, direct to your inbox!
Rod Brakes is a music journalist with an expertise in guitars. Having spent many years at the coalface as a guitar dealer and tech, Rod's more recent work as a writer covering artists, industry pros and gear includes contributions for leading publications and websites such as Guitarist, Total Guitar, Guitar World, Guitar Player and MusicRadar in addition to specialist music books, blogs and social media. He is also a lifelong musician.